Karen Fitzgerald
Making the most of every minute
Karen Fitzgerald says the most rewarding part of her job, as a pediatric nurse practitioner and professor at The University of Akron (UA), is "knowing that, on a single day," she made "a little bit of a difference – even if only for an hour or so."
To those who know her, such a statement is woefully inadequate.
The truth – which Fitzgerald is too modest to admit – is that almost every single day she makes a very big difference, and for much more than an hour.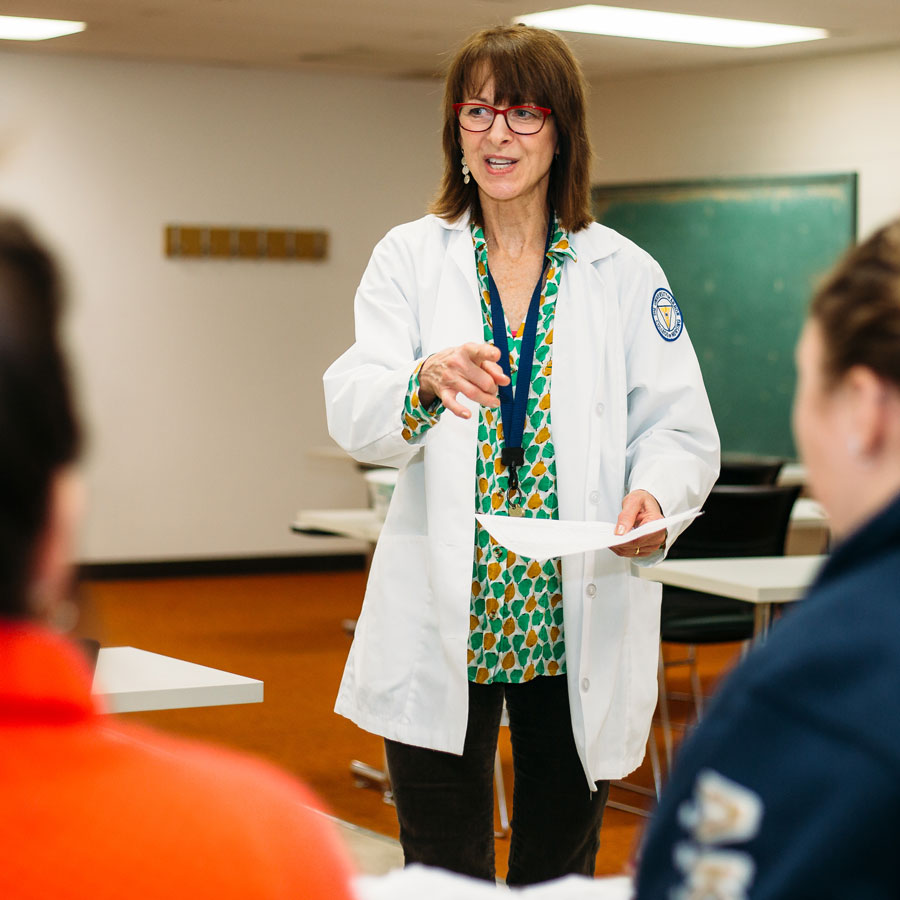 Karen Fitzgerald: "I tell my students, when they leave us — because I teach at the senior level — I tell them to go out there and be compassionate and understanding nurses."
Take just one of those hours, for example.  
From 4:30-5:30 a.m., Fitzgerald visits a 94-year-old neighbor, tends to her needs, feeds her cats, grabs her newspaper, and leaves a friendly note on the way out.
And that's just one gratis patient on the list.  
"Another elderly man up the street, he's 87, a single man with no family locally, and he's just lost his ability to drive," Fitzgerald says. "So we had to make connections in the neighborhood for him because I work full-time. …I go over there and I help clean and bring him food as he needs, and help him sort out all his medical problems."
And then there's the other octogenarian.
"I make sure that she gets her hair washed and cut, and that she has food, and I take her to the doctor's appointments – she's had a bout with colon cancer," Fitzgerald says.
Then there are the hours Fitzgerald has spent, over the course of years, doing medical exams on local Bhutanese refugee children.
And don't forget the countless hours spent making a difference at the University, where Fitzgerald prepares her students to work with vulnerable populations and sets them up in social service agencies – such as the ACCESS shelter for homeless women and children in Akron, which Fitzgerald visits every Monday night, often taking students with her.
And then there are those hours in which she and her students served the senior members of the House of the Lord church in Akron, and assisted local homeless veterans, and taught social-emotional self-regulation skills to at-risk preschool children.
Call for compassion
"I tell my students, when they leave us – because I teach at the senior level – I tell them to go out there and be compassionate and understanding nurses," says Fitzgerald, who received her B.S.N. from Kent State University and her M.S.N. from UA. "Don't ever become one of those callous nurses, remember to listen to what your patients are saying, and remember that when a child is acting out, it's a symptom that something's going on, whether physically or emotionally – it's not because they're a bad child."
Her lessons continue to inspire her former students.
"Ms. Fitzgerald's class was one of the most influential of my health care education," says Andrew Emerson, a resident physician at Western Reserve Hospital in Cuyahoga Falls, Ohio, who received his B.S.N. from UA in 2013 and his D.O. from the Lake Erie College of Osteopathic Medicine in 2017. "Her unabashed passion for her work was inspiring, and her stories and lessons about underserved populations still guide me to this day. These groups lack the resources to improve their lives and need someone like her to fight for them. She remains one of my role models and heroes."
Toughest task
Of all the hours that Fitzgerald spent making a difference, undoubtedly the most painful were those spent at the Children's Center of Medina County, where she cared for victims of sexual abuse for 12 years, oftentimes having to appear in court to testify on their behalf.
"It was a very difficult job," Fitzgerald says, having resigned from the clinic in October to spend more time with her family.
But she always took comfort in "the simple things, just seeing one of those children smile, and letting them know that somebody cares for them."
Such solicitude is characteristic of UA's nursing faculty, she says.
"Our faculty are really concerned about their students and want them to be successful," Fitzgerald says. "I mean, you'll see them, on a daily basis, working one-on-one with students, and they'll come in on weekends to work with them, and be available to them through email, text messaging, phone calls."
Recognition
The School of Nursing has recognized Fitzgerald's achievements by giving her the Outstanding Undergraduate Faculty Award (2009) and the Mary E. Gladwin Award (1996).
She has also been recognized by the Sigma Theta Tau International Honor Society for Excellence in Nursing Education (2012) and by the National Residence Hall Honorary as an Outstanding and Distinguished Faculty/Staff member (2014), and she is a recipient of the Rising Up and Moving On Recognition from the Medina County Child Protection Agency of Community Service (2012), among other honors.
When Fitzgerald is not collecting awards, writing papers, giving speeches or serving patients and students, she enjoys running – and even makes a difference there too.
"We run as a family at the homeless race here in Akron every single year," she says, "and the next race that we run all the time is the St. Malachi [Parish] race up in Cleveland, where they do a lot for the homeless in the area."
For those still counting, the question, really, is no longer whether Fitzgerald has made "a little bit of a difference…for an hour or so," but whether there has ever been a waking hour in which she has not made a difference.