EX[L] Center for Experiential Learning
We strive to enable students to emerge as civically engaged, skilled and adaptable leaders, ready to take on real-world challenges.
---
Spotlight
Unclasses
Our unique interdisciplinary courses that already think outside the classroom, are expanding even further. Our documentary filmmaking unclass is nearly finished with their Forgotten Dead - Schneider Park film, that has unfolded into more than just a documentary. The poor souls in unmarked graves at Schneider Park will come alive this summer on screen, on stage and in a book.
The 2019 EXL Awards
The 2nd annual EXL Awards Ceremony was May 3, 2019. See the award recipients and more details about the program.
Pitch Competitions
See past pitch compeition winners.
Student Success
UA student drops out, rebounds with EXL Center in this student success story. EbaNee Bond recalls the self-doubt that led her to drop out of UA, and the unexpected call that brought her back. She credits the EXL Center for restarting her academic career and opening up a future of endless possibilities.
News
Coolest Internship Award
Northeast Ohio Student Venture Fund (NEOSVF), an ACIP who employs EXL student Alizeh Khalifa, received the "Coolest Internship" award at the 2018 Expys - an event that honors excellence in experiential learning.
EXL co-director attends prestigious summit
Dr. Carolyn Behrman was selected to participate in the inaugural DELTA Summit by DCAL and NSEE. Educators and program directors described as "highly imaginative, passionate leaders and big-thinkers in the field of experiential learning" were brought together to explore big questions and challenges in higher education.
Remembering Ian Schwarber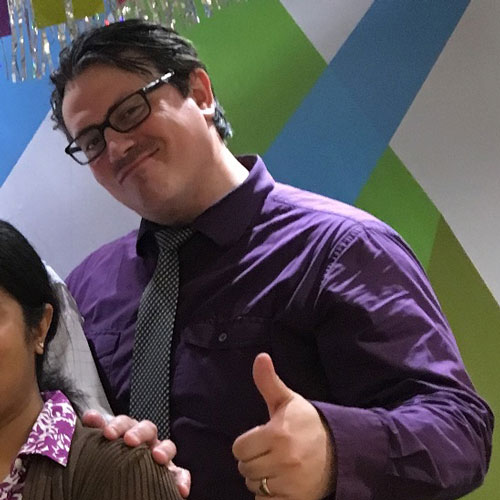 Today we learned that EXL's Founding Director, Ian Schwarber, has passed away. Our hearts are heavy. Ian was a tour de force of ideas and energy, and our Center would not exist without his incredible vision and indefatigable passion. Countless University of Akron students called him a mentor and a friend -- a true testament to his kindness and generosity.
We will miss his intelligence, wit, energy, and ideas. Our community is immeasurably less bright today than it was yesterday. Our deepest condolences go out to his family.
(posted: 9/17/2019)