Carmen Roscoe: From field hospital to classroom and career she loves
12/06/2012

Nine days after veteran Carmen Roscoe arrived home from her deployment in an emergency room in Afghanistan, she was back in a UA classroom, resuming her progress toward a nursing degree.

In part because of UA's veteran-friendly orientation, Roscoe will cross the stage on Dec. 15 to receive a B.S. in Nursing at the 2 p.m. commencement ceremony. Further, she has been chosen to speak on behalf of the Fall 2012 Class as the student responder. She is one of three student-veterans who have been awarded the honor for fall commencement ceremonies.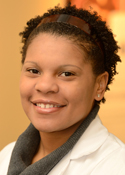 Carmen Roscoe
---
On Sept. 11, 2011, Roscoe was deployed with an Ohio Army National Guard unit to Afghanistan, putting her graduation plans on temporary hold.
"At the clinic where I was stationed, we saw everything," says Roscoe. "We had a basic emergency room, a makeshift operating room and a makeshift intensive care unit. We treated everything from basic health issues to injuries. We stabilized the patients for transfer to a bigger facility."
Roscoe expected to be deployed a year, but her time in Afghanistan coincided with the drawdown of troops, and she was given the option to come home early.
"It was a bittersweet choice," says Roscoe. "The people you serve with become your family, and I considered it an honor to serve. But this was an opportunity to get back in time for the spring 2012 semester."
Staying on track to graduate
Through her time at Akron, UA made it easy for Roscoe to keep on track to a degree, even with her military obligations. Roscoe credits her adviser, Cheryl Buchanan, coordinator of the baccalaureate program in the School of Nursing, with keeping her on track through all her absences from campus for military and medic training.
See Also:
Carmen Roscoe, like other student veterans at UA, used the comprehensive support services offered at the Military Services Center and Adult Focus as they planned their academic careers.
Visit the Graduation website for details on the upcoming commencement ceremonies.

Read about her fellow student responders: Christian Turner and Eric Downing.
"All I had to do was e-mail her and she got me into the classes so I could always pick up where I left off," says Roscoe.
Since April, Roscoe has worked a few shifts a week as a patient care assistant in the Emergency Department of Southwest General Hospital. This experience, combined with her clinical rotations and work as a medic, has made Roscoe all the more certain she is in the right field.
"I've taken an interesting path to get to this point," notes Roscoe. "My goal now is to work in an intensive care unit and earn a master's of science degree in nurse anesthesia to become a certified registered nurse anesthetist. That is another aspect of nursing that I love — the constant room for growth. The learning never stops because there will always be innovations in the field. I love the challenge."
Nursing wasn't her first career path.
When Roscoe graduated as valedictorian of her class at John F. Kennedy High School in Cleveland in 2001, she focused solely on her talents in math and science to choose a career.
Following her strengths
"I always loved math – I was in competitions in middle school and high school," says Roscoe, who was awarded a full academic scholarship to Shaw University in North Carolina. "I thought computer science was a field with a good future and one that would be challenging."
She excelled, earning a summer internship with NASA Goddard Space Flight Center in Maryland at the end of her sophomore year and a cooperative education assignment the following spring.
Even so, Roscoe began to have misgivings about her major. "It was challenging to me, at times, but it didn't exactly fit my personality," explains Roscoe. "I thought I could still make it work."
Homesick, she returned to Ohio, enrolled at UA and finished a B.S. in Computer Science in 2006.
But she was not happy, and chose to work in retail management while she explored her options, even taking career testing to help her match all her talents with the right profession. Nursing, she soon found, had it all.
Career course set
"I am a person who likes variety, and I saw that nursing would fulfill that need for me," explains Roscoe. "It is the kind of career where you can go from one area to the next and get a completely different experience."
It was when she returned to UA in 2007 that Roscoe had enlisted in the Ohio Army National Guard. While her service concludes in May 2013, she is grateful for the many ways her military experience has enriched her personal and career goals.
"Joining the Army was something that I always wanted to do," says Roscoe. "The structure, the training, the teamwork on a large scale, the leadership opportunities — they all provide a good foundation for whatever you want to do in the future."