The University of Akron Bands
Welcome to The University of Akron Bands. On behalf of the 300 music majors in the School of Music, and countless other academic majors represented in our band program, we want you to become a member of the UA Bands.
Every ensemble in our program is open to ALL students regardless of your academic major. Students who are enrolled at Wayne College are also eligible to participate in the UA Bands.
—
UA BANDS
Are you interested in joining UA Bands?
—
UPCOMING EVENTS
Events for High School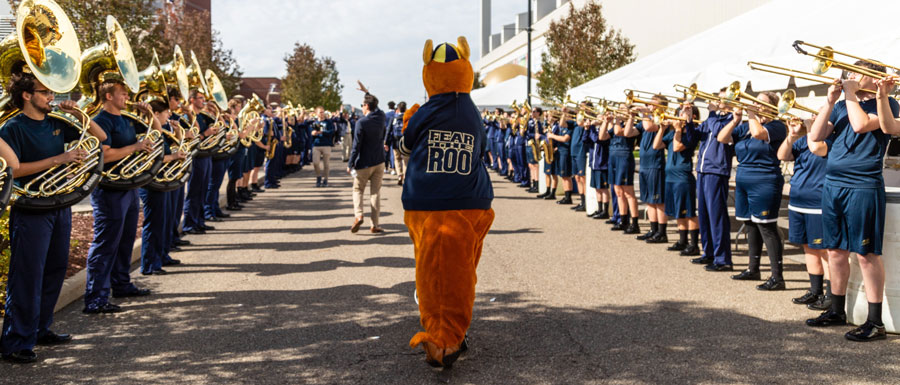 YOU can be in Zippy's All-Star Marching Band!
We invite high school band members to join Zippy's All-Star Marching Band on Saturday, Sept. 18, 2021. See how to join
More high school events:
Zips Invitational High School Band Show, Saturday, Sept. 25, 2021 See more
High School Junior/Senior Day: Saturday, Oct. 23, 2021 See more
---
Ohio Band Directors Conference — Dec 4th
The University of Akron Bands celebrates the 50th annual Ohio Band Directors Conference this year on Saturday, December 4, 2021. More details to come.
Conference
This year's conference will resume in the UA Student Union, and we are thrilled to announce the 2021 OBDC Guest Composer, Mr. Johan de Meij.
Featured ensembles will include:
Wadsworth High School Wind Ensemble, Dana Hire, conductor
Hudson High School Wind Ensemble, Beverly O'Connor, conductor
Grove City Symphonic Band, Jason Graham, conductor
Honor Band
The OBDC High School Honor Band will be conducted by Dr. John Climer, Director of Bands - University of Wisconsin-Milwaukee, and former UA Alumnus, '81.
Deadline for audition submissions is Monday, October 18, 2021.
—
QUESTIONS?
Contact us if you have any questions about our UA Bands or review some of our more Frequently Asked Questions (FAQs) for Concert Bands and Athletic Bands.
Contact us