The Greater Akron Civility Center
hosted by
The Ray C. Bliss Institute of Applied Politics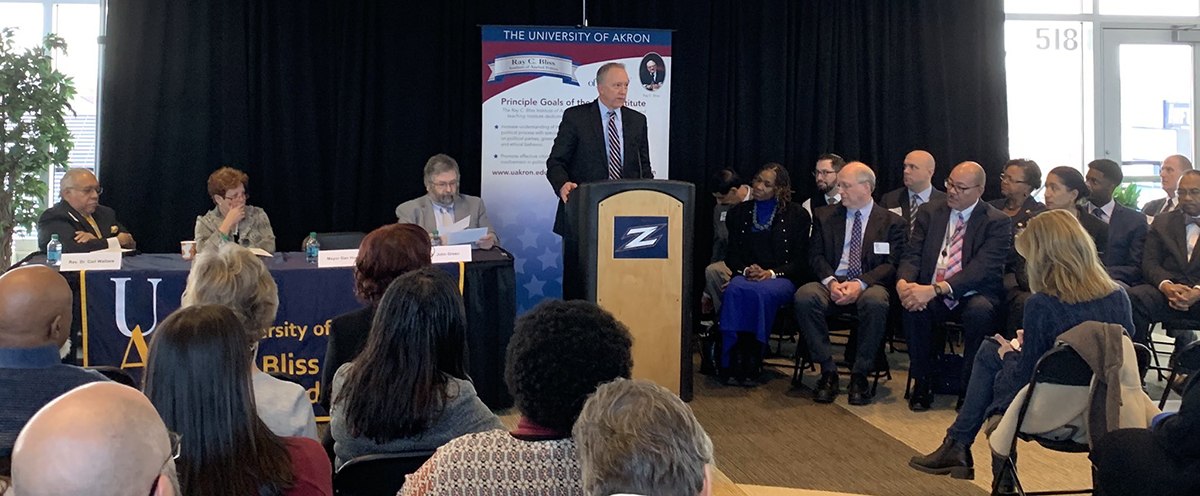 "Since I began actively working to improve civility and create more productive public engagement eight years ago, I've been saying that civility isn't just about being nicer to each other - civility allows us to do a better job of serving the public through dialogue and compromise. I believe that making self-government function again will be the work of my generation, our great challenge. I salute The University of Akron and I'm proud that a university from my home town is helping lead the charge for this important cause."
- Ohio Secretary of State Frank LaRose
---
Events
Pulizer Prize Winning Author George Will (Oct. 7)
Former Secretary of Defense Robert M. Gates (March 15).
---
Mission
To set standards for civility; provide resources to promote civility and prevent incivility; coordinate an annual summit celebrating civility; and, most importantly, create a culture of civility in the Greater Akron community.
Civility Standards
Listen.
Seek truth.
Show respect.
Words matter.
Act with integrity.
Appreciate differences.
Seek constructive engagement.
Base differing opinions on common facts.
Civility begins with you and ends with all of us.
Through listening to our differences we find a common way.
ALSO SEE
Sign the Pledge
Greater Akron Civility Center Pledge 2020
During this election season and beyond, I pledge to treat others—especially those with whom I disagree—with dignity, respect, and kindness. I believe that open, civil conversation and debate is critical to the health of our democracy and will model civility in my conversation and actions this election season and beyond. Below are Civility Standards that help me practice civility:
Listen
Seek truth
Show respect
Words matter
Act with integrity
Appreciate differences
Seek constructive engagement
Base differing opinions on common facts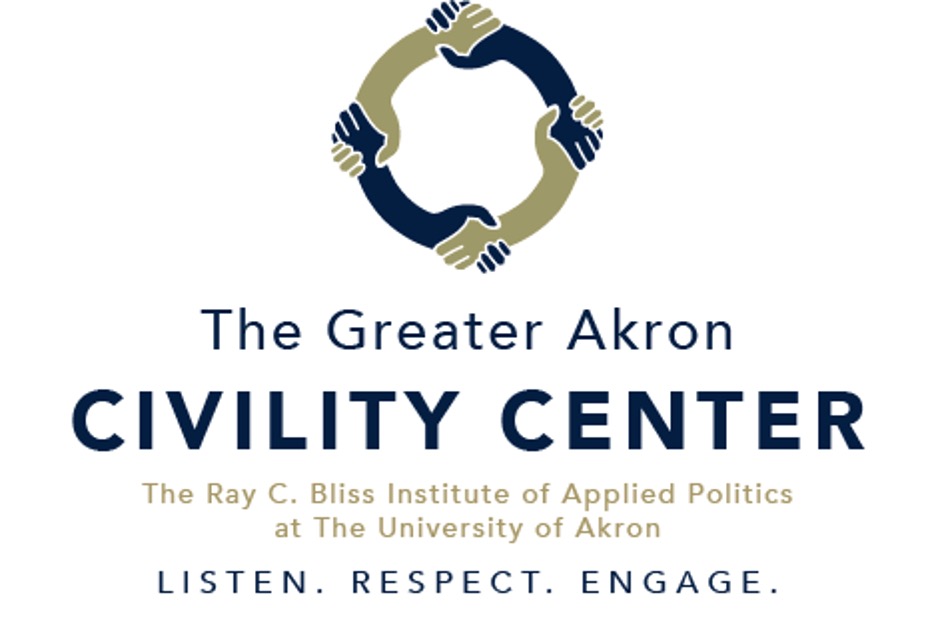 Advisory Committee Members
Dr. John Green
Director Emeritus Ray C. Bliss Institute of Applied Politics, Distinguished Professor of Political Science

Ms. Carla L. Chapman
Director of Community Relations, Akron Public Schools

Ms. Greta Johnson
Assistant Chief of Staff and Public Information Officer
Office of Summit County Executive Ilene Shapiro

Coach Kemp Boyd
Executive Director, Love Akron

Mr. Bruce Winges
Former Editor and Vice President, Akron Beacon Journal and Ohio.com

Mr. Joe Tucker
Executive Director, South Street Ministries


Jessica A. Vasiliades
Graduate Assistant, The University of Akron

Dr. Matthew P. Akers
Public Liaison, Office of the President, The University of Akron
Associate Director, Ray C. Bliss Institute of Applied Politics
Watch the ceremony
Questions?
Contact Dr. Matthew Akers at akers1@uakron.edu.