Dr. Stephen Brooks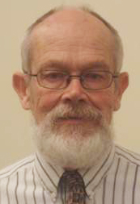 Title: Professor Emeritus, Ray C. Bliss Institute of Applied Politics
Associate Director, Ray C. Bliss Institute of Applied Politics
Dept/Program: Political Science
Office: 325 Olin Hall
Phone: 330-972-5182
Email: sbrooks@uakron.edu

---
Biography
Dr. Brooks' research and teaching interests include political communication, public policy and public administration. His courses include campaign communication, public policy agendas, policy process and methods. The courses make use of visits by community leaders and hands-on projects by students. He also is increasing the use of multimedia and Internet instructional activity.

As Associate Director of the Bliss Institute, he serves as advisor for Applied Politics students, assists in the Bliss Internship program and coordinates the academic programs of the Institute. His research work on campaigns has appeared in a number of book chapters, Ohio Speech Journal and Campaigns and Elections. Articles about policy agenda setting have appeared in book chapters and Public Opinion Quarterly.

Currently he is working on projects that examine the campaign cycle in Ohio Senate elections, campaign communication techniques in local elections and the use of social marketing techniques. With his work on local elections, he is a frequent speaker on local politics and campaign advertising including commentary on radio, television and newspapers. In addition, he is active in the community in support of child welfare issues, especially adoption and multi-cultural activities.
Ph.D., Northwestern University, 1982, Associate Professor and Associate Director of the Ray C. Bliss Institute of Applied Politics.
Fields: Public Policy; Political Communication
---
Education
Ph.D. Northwestern University
---
Courses
3700: 402/502 Politics and the Media
3700: 477/577 Lobbying
3700: 668 Seminar: Agendas and Decisions
3700: 672 Seminar: Political Influence and Organizations
---
Areas of Responsibility
American Politics
---