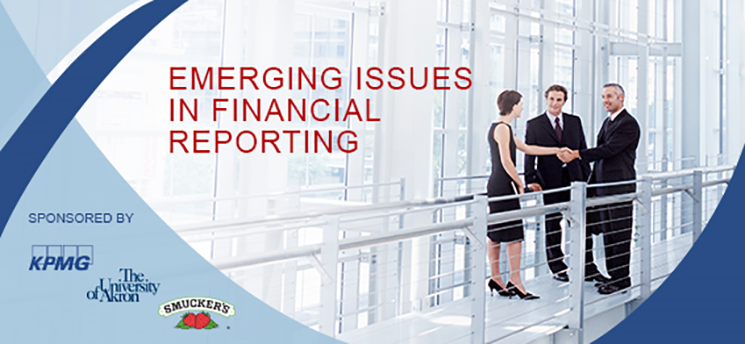 Date: March 22, 2019
Time: 8:00 a.m. - 4.30 p.m.
Location: The University of Akron
What direction will the economy take us? Does blockchain live up to its hype? What are the SEC's focus areas for 2019, and how should we respond? Now more than ever, finance executives need to stay current on the latest reporting developments.
Join KPMG, The J.M. Smucker Company and The University of Akron's George W. Daverio School of Accountancy as we discuss emerging issues and the latest innovations that drive your financial reporting decisions.
Date

Friday, March 22, 2019

Time

8:00 a.m.– 4:30 p.m.

Location

The University of Akron Student Union
303 East Carroll street
Akron, OH 44325
Featured Presentations
CFO Roundtable
SEC Hot Topics
2019 Economic Outlook
Breaking Down Blockchain
Creating Change Leaders
Registration
Upon registration, you'll receive a confirmation. The week of the event, you will receive a communication with instructions for downloading our event app.
More Information
Contact Shelly Stata at 216-875-8064.
Continuing Professional Education (CPE)
This session is ideal for professionals in audit, finance, treasury and financial reporting. You may qualify for up to seven (7) CPE credits for this seminar. This is a live, intermediate-level program and no advanced preparation or prerequisites are required.
By the end of the course, the participants will be able to:
List the key issues facing CFOs today and the evolving CFO agenda
Describe the SEC's key areas of focus for today's financial reporting environment
Describe key aspects of the 2019 economic outlook
Describe the key impacts and benefits of blockchain
Discuss the capabilities needed to help lead through change