Complete your Master's Degree in Child and Family Development ONLINE from UA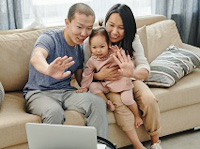 The Master's in Child and Family Development program is to develop leaders and innovators in the Child and Family Development field through providing an advanced interdisciplinary and experiential education that prepares professionals who will contribute to the well-being of individuals, families, and global communities through careers in child and family development.
See application requirements .
---
About Our Program
Our 33-credit 100% online program is designed to prepare graduates for careers in diverse human services positions. Students will take coursework in the following domains:
Core Courses, including Orientation, Child Development, and Intimate Relationships
Human Development
Diversity
Early Childhood Programming
Law and Policy
Family Life Education & Consumer Issues
Family Dynamics
Applications to Child and Family Development
Research Foundations
Internship
Completion of a certificate or minor
Learn more about coursework requirements.
About Our Program
Our 33-credit hour online program is designed to provide advanced training in:

Knowledge in Child and Family Development
Skills and Career Competencies in Child & Family Development
Understanding Advanced Diversity in Child and Family Development
Professional Development & Leadership within an Interdisciplinary Context

You can tailor your training experience by:

Choosing elective courses that align with your career goals
Choosing your Capstone Experience – complete a thesis, project, or practicum

You can earn your Master's degree in as little as three semesters*. *Dependent on course availability
Learn more about coursework requirements.
What Our Alumni are Saying
"I think the faculty is a huge part of what made this program so amazing. I received encouragement and support every step of my journey at Akron. Many of my courses had a small class size which allowed me to become close with fellow students and the staff. During COVID my professors were so supportive and understanding, especially since I lived across the country. I was able to have weekly or monthly check-ins to answer any questions I had or just to say hi! I still stay in contact with some of these people even after graduation!
With being a military spouse, it's been difficult to find the exact career I want, but I've had the pleasure of being a nanny for 3 young boys recently and have volunteered a lot of my time with the youth living on the Air Force Base! I was able to actually share my Masters project that was focused on military children with several families and give my advice on situations that their children were going through.
I've been so honored to have had such a positive experience at the University of Akron in the Child and Family development program and it has allowed me to share my knowledge with so many military and civilian families!"
— Britney Shimko, 2021 Graduate
Questions about the Program?
Contact Dr. Shannon R. Zentall, Program Director
Phone: 330-972-8158
Email: szentall@uakron.edu