Fond memories of UA inspire alumnus to establish scholarship, help students
01/10/2018
Dr. George Anastos only lived in Akron for seven years, but the experience – and especially his time at The University of Akron – remained a positive force throughout his life. So much so, that Anastos established a scholarship at UA to honor his late wife and remembered the University with a generous gift just months before his own passing in December 2017.
Anastos arrived in Akron as a teenager in 1935 and vividly recalled the always-present smells of burning rubber from the city's tire factories and the aromas from the bakery where his father worked. Anastos would later work at that same bakery to pay his way through The University of Akron.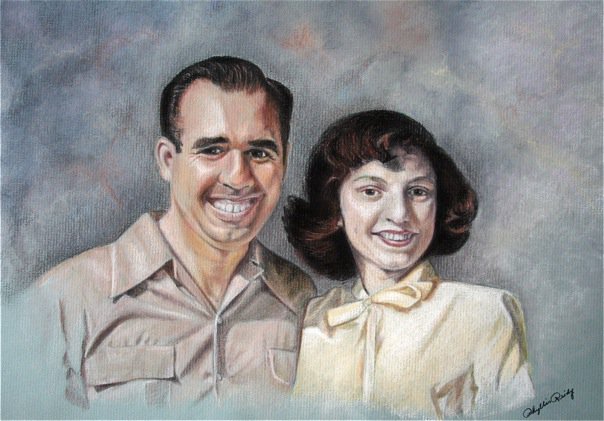 George and Angelica Anastos
Growing up during the Great Depression, Anastos was accustomed to economic hardships, which he credited for driving his professional achievements. After earning his bachelor's degree in biology from UA in 1942 – following a senior year fully immersed in campus life – he left Akron but took wonderful memories with him. A collector of lapel pins, Anastos frequently showed off one of his favorites: a block "A" from his time at UA. "You had to qualify as a big man on campus to get one of those," he used to say.
Anastos went on to serve in the U.S. Naval Reserve from 1942-1946 and fashioned a career in higher education and public service. He earned his master's degree and Ph.D. from Harvard, was named a Guggenheim Fellow in 1958, and later served as head of the Department of Zoology at The University of Maryland. His career also included posts with the World Health Organization's Regional Conference Center and service as secretary general of the International Congress of Entomology.
For seven decades, Anastos also remained dedicated to his wife, Angelica, whom he met at a Greek church in Massachusetts. At the time, her family was uncomfortable with her spending time with strangers, so he invited himself to dinner at her family home – typical of the focus and dedication he demonstrated throughout his life.
That legendary dedication, in fact, was at the heart of his establishing a scholarship in her honor. The George and Angelica Anastos Endowed Scholarship was created in 2017 to support undergraduate UA students who display the personal characteristics Anastos valued, including a strong work ethic, a dedication to service, and a commitment to UA and campus involvement.
Anyone wishing to support the Anastos Scholarship in memory of the founding couple may do so by contacting Eric Ryan at 330-972-7967.