Area benefactor's estate assists UA Audiology
01/02/2018
Charles "Chick" Bittner spent many of his 101 years highly observant of the world around him and enjoyed few things more than time on a golf course. He loved the manicured courses and taking in the sights and sounds of nature as he played the game he loved.
It was that desire to enjoy golf and other pursuits at the highest level that led to Bittner's affiliation with The University of Akron School of Speech-Language Pathology and Audiology. There, he received support for his hearing loss and saw the important work being done with children and adults, many with economic need. His friends say the experience had a moving impact on Bittner, who passed away in July 2017.
To express his gratitude, Bittner designated that his estate establish The Charles (Chick) and Marie C. Bittner Advanced Hearing Technology and Therapy Endowment Fund. Created in November 2017, the fund supports UA's Audiology and Speech Center, which provides a full range of clinical speech, language, and hearing services for children and adults in the greater Akron-Canton area and Northeast Ohio. The fund covers advanced hearing technology for recipients with financial need.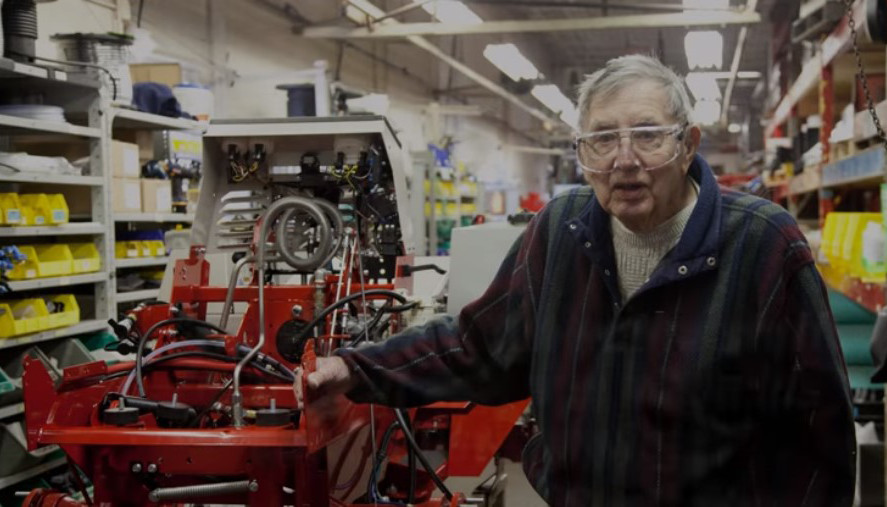 Charles Bittner and a Ventrac tractor
Bittner, a longtime resident of Coventry Township, Ohio, lived on 3.8-acres in a house he and Marie built in 1949 following his return from World War II. Bittner proudly served on the Township's Board of Appeals for 37 years, and he was passionate about caring for his own acreage, riding his Ventrac mower - winter or summer - whatever the weather.
Scott Shookman, an area Ventrac operator, happened to notice Bittner riding one day and was struck by the odd durability of both man and machine. Shookman stopped and struck up a conversation that grew into a fast friendship.
Their relationship led to a factory tour of Ventrac's Orville, Ohio, plant for Bittner, and he had a near-starring role in one of the company's promotional YouTube videos. His bond with Shookman, as well as his connection to UA, were relationships that Bittner cherished.