Annual giving: 'Calling All Zips!'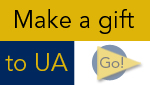 The "Calling All Zips" telemarketing program is a year-round fund raising effort within the Department of Development's Annual Giving Office. Dedicated and enthusiastic UA students contact alumni, parents and friends to generate private support while fostering a positive relationship.
Through these phone calls, our student callers contact thousands of alumni and friends each year to talk about the latest happenings on the campus, update contact information and offer the opportunity to support student success through a philanthropic contribution. Those who choose to make a gift through this program are able to designate their contribution in support of scholarships, programs, departments, colleges or any other interest at UA.
Located in the Polsky Building at The Gary L. and Karen S. Taylor Institute for Direct Marketing, UA students learn valuable communication skills while assisting The University of Akron with current fundraising goals. Needless to say, our student callers are ready to work with you!
Every gift makes a difference!
The University of Akron Annual Giving Program is the perfect way for alumni, parents, friends, faculty and staff to demonstrate their commitment to the University through annual financial support.
Every year, thousands of dedicated individuals contribute to the Annual Giving Program. Please join them by donating to the designation of your choice. Every gift impacts the University from supporting student scholarships and providing college and program support, to supporting our libraries, athletics and unrestricted accounts. Whatever your interest, we invite you to give back to this very important cause!