Cynthia Lynn Badran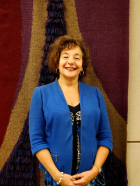 Title: Staff Accompanist
Dept/Program: School of Dance, Theatre and Arts Administration

---
Biography
Cynthia Lynn Badran was born and raised in Akron, Ohio and completed her Bachelor of Music Degree in Piano Performance, with an emphasis in Accompanying/Collaboration from the University of Akron, in 1986. Her teacher and mentor was Pat Pace. She joined the Dance Institute at the University of Akron as a Staff Accompanist in 1994 – being encouraged and extensively trained by Lana and Andy Carroll – and has spent her life involved with playing for Dance ever since. Throughout the years she has had the opportunity to play for dance teachers and choreographers in many different types of classes and settings – providing appropriate music and meeting the students wherever they happen to be in their dance journey.

Cynthia is Staff Accompanist for the School of Dance, Theatre and Arts Administration at the University of Akron also. She has played for Masterclasses with Verb Ballets, Ohio Ballet, Joffrey Ballet, Cleveland-San Jose Ballet, STEPS Dance, LINES Ballet and many touring solo artists throughout Northeast Ohio.

Outside of the dance world, Cynthia has a Certificate from the Ohio Department of Education to teach music in the state of Ohio and has taught K-8 in the Catholic Schools. She has served as pianist/organist at many different denominations of churches throughout Northeast Ohio- leading worship and working with choirs, cantors and soloists.

Cynthia currently teaches private lessons and small group lessons at the Academy of the Arts at St. Sebastian Parish and private lessons at Front Street Music. It has truly been an honor and a pleasure to have worked with all of the wonderful dancers, choreographers and artists that Cynthia has met through her work.
---