Christine Howe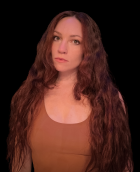 Title: Assistant Lecturer, Dance
Dept/Program: School of Dance, Theatre, and Arts Administration

---
Biography
Christine Howe (she/her) is a dance educator, performer, and maker currently serving as an Assistant Lecturer at The University of Akron where she teaches a variety of courses including Modern Technique, Composition, and Dance Theory. She holds a BFA from The University of Akron Honors College and an MFA from The University of Iowa with an emphasis in performance. As a graduate student, she received the Iowa Arts Fellowship and served as a Graduate Teaching Assistant working closely with dance scholar Rebekah Kowal. As an educator, she strives to create community environments in the classroom to support spaces of exploration and experimentation to leave students with a sense of creative individuality, an investigative curiosity, and a deep passion to move.
As a performer, she has worked with companies and choreographers such as Dance Works Chicago, Neos Dance Theatre, Armando Duarte, Robin Prichard, Alexandre Munz, and Charlotte Adams. These works have been performed at events such as The American College Dance Association, Iowa Arts Festival, Iowa Dance Festival, Ohio Dance Festival, Emergence Dance Concert, Heinz Poll Summer Dance Festival, and The University of Iowa Gala Concert.
As a maker, her choreographic works have been presented by Columbus Contemporary Dance Company, The University of Akron Dance Company, The Cleveland Dance Festival, Cummings Center for the History of Psychology, Take Up Space in Chicago, and Lindenwood University in St. Louis. Her choreographic research works deeply with performance techniques to dance beyond just spectacle into creating empathetic and humanistic connections.
---