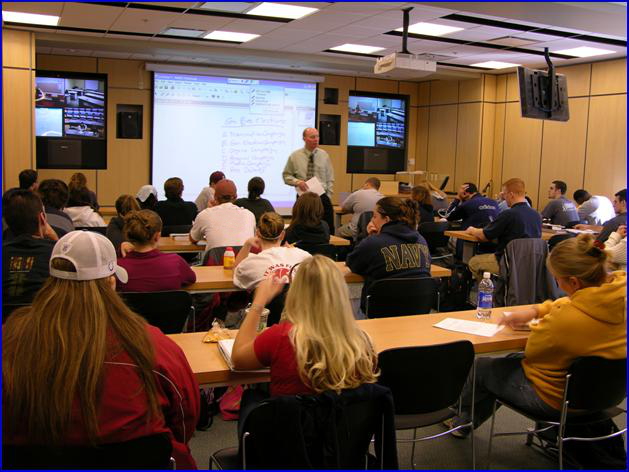 Distance Learning Services
The University of Akron's distance learning network includes 25 classrooms located on or off the main campus. Additionally, instructors may use our on-campus rooms to teach remotely to individual students.
Since 1999, The University of Akron has committed millions of dollars to its synchronous distance learning facilities and infrastructure required for videoconferencing technology. The result has been one of the most advanced and sophisticated synchronous distance learning networks in the state of Ohio.
Distance Learning Services connects to hundreds of locations around the world for classes, meetings and conferences. In addition to nearly every state in the country we have hosted events to the following cities around the world:
Berlin
Buenos Aires
London
Madrid
Mexico City
Moscow
Rio de Janeiro
Tokyo
Our facilities are equipped with the latest multimedia and videoconferencing equipment available. Our state-of-the-art facilities allow instructors and students a virtual ability to expand the classroom to limits that only their imaginations can define, which make the outstanding educational resources at The University of Akron available to anyone…anytime…anywhere.
View a sampling of Distance Learning classes in session and watch perspectives on Distance Learning from College Credit Plus students and our teaching faculty.
To reserve a DL room, please fill out either a classroom request for classes or an event request for non-classes, and submit it according to the included instructions. Our numerous rooms have different seating capacities to accommodate a wide range of participants.
Additional Resources