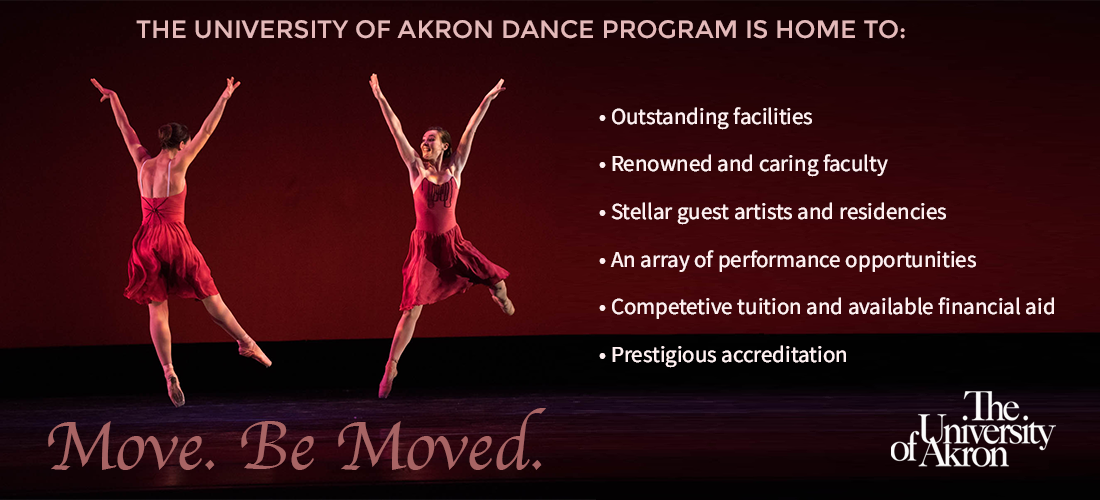 ---
The University of Akron Dance Program
---
Explore UA Dance
---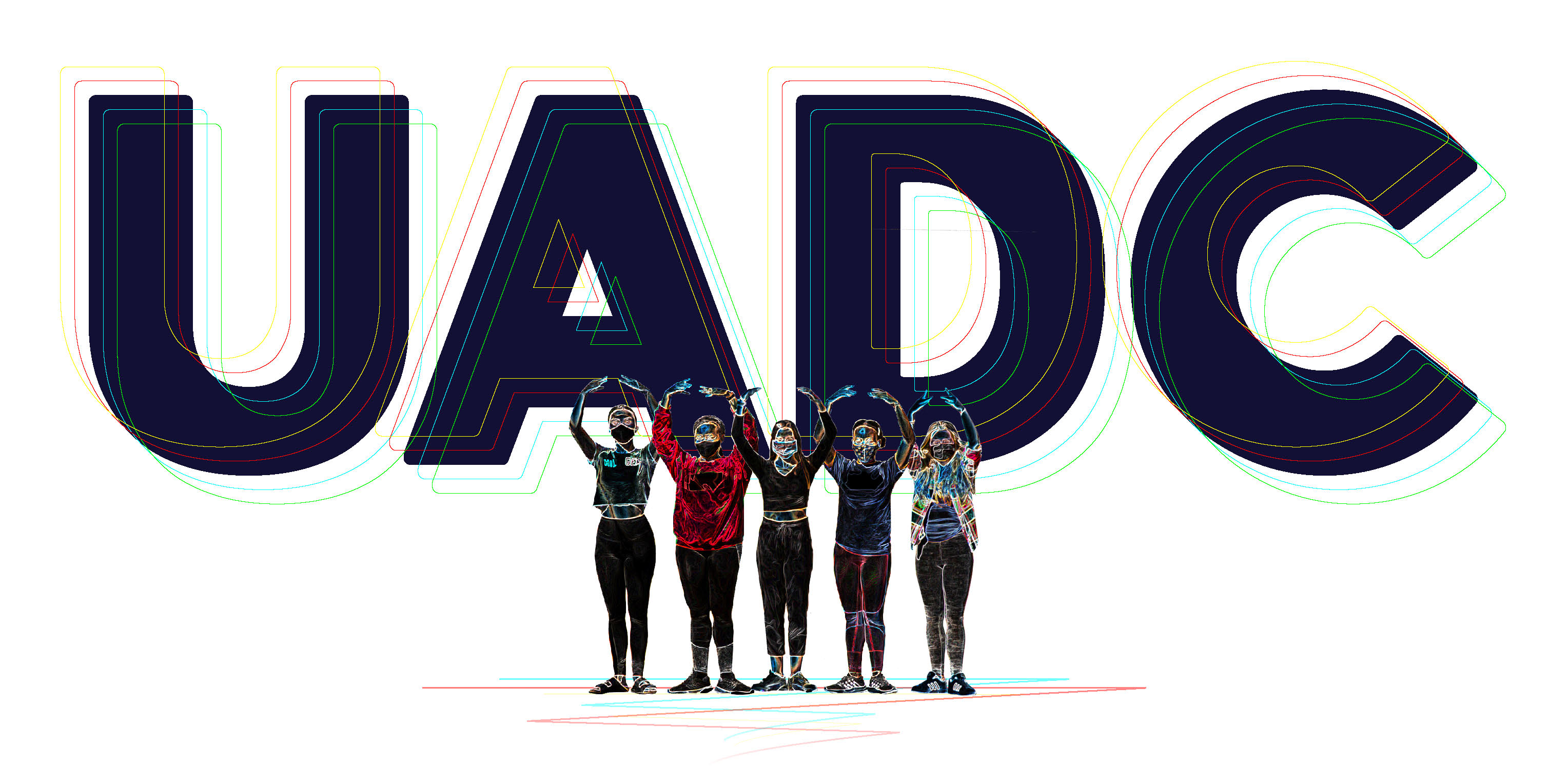 We Dance On: A Movement Collaboration
---
Fall 2020 Audition Details
---
Deadline to submit Audition Materials is Saturday, November 21, 2020.
Video Auditions should include the following information:
Your name

V

ideo clips demonstrating

components

from

each dance style in which

you

are

experienced

.

Audition Materials are used to inform your level placement in technique classes.
If you are not experienced in a specific dance style, you will be placed in Level I.

You

may be moved into higher level during the first two weeks of the semester based

on performance in class.

Upload your video to an online site - like YouTube - and email the link with your contact information to 

dance@uakron.edu
Tap 
P

hrase right

+ left

P

ullbacks

W

ings
Jazz 
Ballet 
Barre work: Tendu combination from 5

th

right +

left

;

Rond

de jambe combination right + left

Center: Adagio,

pirouettes from

4

th
Modern
Center phrase

Traveling phrase
For more information on admission and auditions click the button below
Dance Program Audition and Admissions
---
Alumni Spotlight: Feather Weldon
---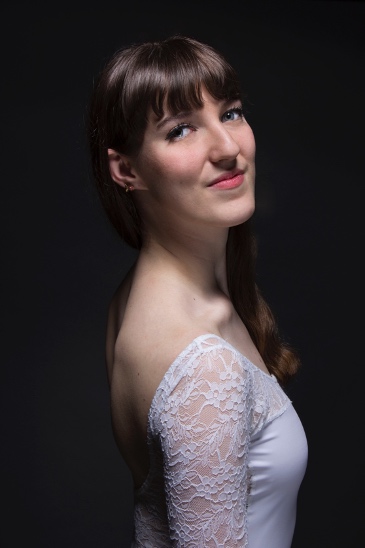 Meet Feather Weldon! A 2017 UA grad with her BA in Dance with a Business Cognate and a minor in psychology, Feather is now an apprentice member of Ad Deum's Professional Second Company, AD2. The company is currently working on a variety of performance projects that will be adapted from indoor venues to outdoor and virtual formats. She also serves as the company's photography assistant, pilates rehab instructor, and a member of the worship team. Click here to read Feather's full feature.
---
Celebrating our 2020 Graduating Dance Students
UA Dance is proud of graduating Dance program majors and minors for the 2020 year.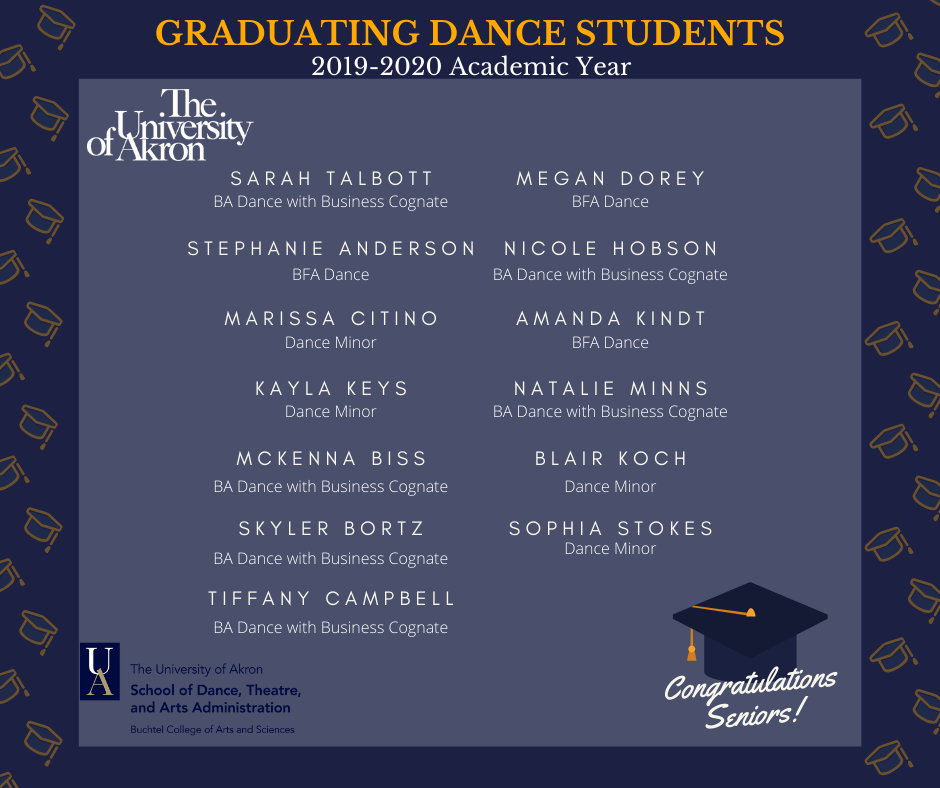 Check out student features on our Student Features page.
2020 Graduating Student Features
Congratulations 2020 graduates!
---
NCCAkron and The University of Akron School of Dance, Theatre, and Arts Administration Announce Exciting New Collaboration


9 Artists to Teach Series of 21st Century Dance Practices
The National Center for Choreography at The University of Akron (NCCAkron) and ​The University of Akron School of Dance, Theatre, and Arts Administration ​(DTAA) are proud to announce ​Ideas in Motion​, ​a joint initiative ​supported by NCCAkron, The University of Akron, The University of Akron Foundation, and the Mary Schiller Myers Lecture Series in the Arts. Kicking off this initiative is a new survey series called "21st Century Dance Practices" with classes led by some of the most exciting dance artists working today. Each spring beginning in 2020, nine artists will visit DTAA's Modern V-VIII course with some classes being opened up to students from other disciplines to drop in as well.
The Spring 2020 artists are pictured above — from left to right, Samantha Speis,Brian Brooks, Dianne McIntyre, Liz Lerman, Raja Feather Kelly, Taja Will, Mustapha Braimah, Nicole Klaymoon, and Compagnie Hervé Koubi.
For more information on this exciting collaboration, visit​ ​nccakron.org​.
---
UA Dance student pairs up with a tiny-yet-mighty-dancer
See how students in UA's dance program and the Dance Institute helped a 10-year-old ballerina recover after a cancer diagnosis — one step and twirl at a time.
---
Stories Shared by Our Dance Students
Our dance students feel at home in Akron and enjoy everything our dance program has to offer. Listen to Rebekah Gray's story, and learn more from our Dance Student Focuses!
---
Home of the National Centre for Choreography (NCCAkron), an ongoing partnership with UA Dance program
The University of Akron Dance Program is proud to continue their ongoing partnership with the National Centre for Choreography (NCCAkron).
In 2015, The University of Akron and DANCECleveland launched NCCAkron—only the second in the nation—where the country's finest dance professionals will create new work. NCCAkron supports the research and development of new work in dance at the highest level.
---
Neos Dance Theatre to Engage Students Across All Disciplines
Wesner can now call E.J. Thomas Performing Arts Hall his dance company's headquarters, thanks to an agreement with The University of Akron and Neos Dance Theatre as part of the University's ongoing search for adventure and positive collaboration.
---
UA Dance Past News, Performances and Events
---
Visit UA Dance Past News and Events to explore past guest artists, events and performances.