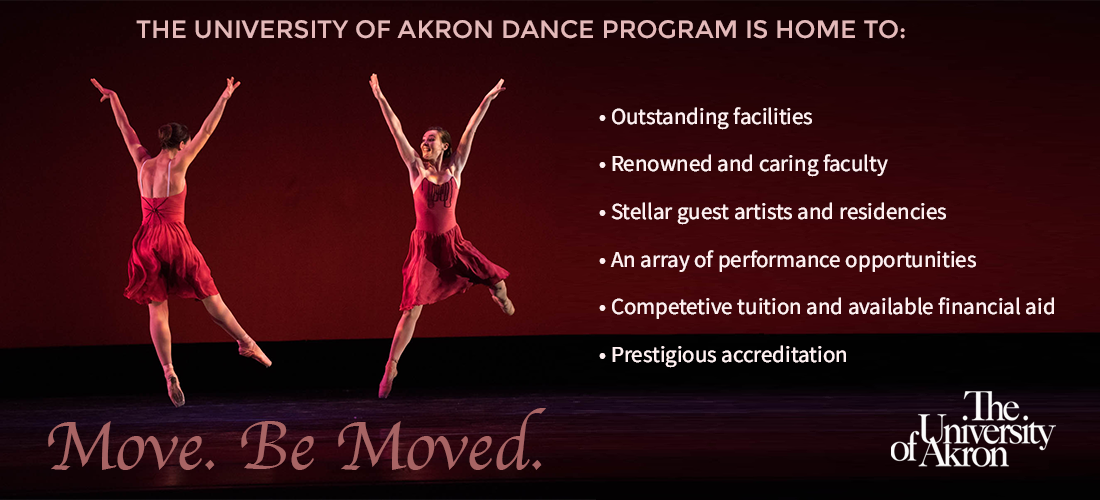 ---
The University of Akron Dance Program
UA Dance News
---
UA Dance student pairs up with a tiny-yet-mighty-dancer
See how students in UA's dance program and the Dance Institute helped a 10-year-old ballerina recover after a cancer diagnosis — one step and twirl at a time.
---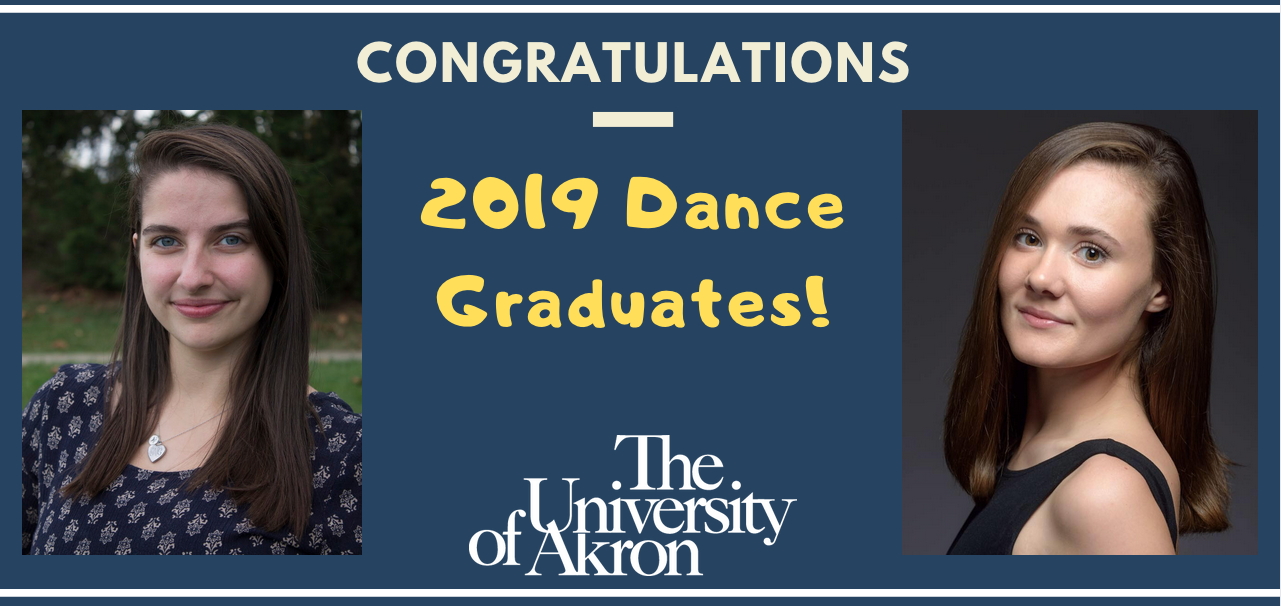 The University of Akron Dance Program celebrates seven majors who will use their UA degrees to achieve new heights in the world of dance. The Spring 2019 Dance Graduates include Lily Adams, Rachel Burger, Rebekah Rose Mayfield, Dominique Patton, Teresa Catterlin, Kayla Chilcote, and Olivia Patton.
Here's what some of our most recent graduates have been doing post-graduation:
Lily Adams has moved back to her hometown of Bellevue, Ohio. She is now the Owner and Artistic Director of the Fremont Ballet School, the same dance studio where she grew up. The school is in its 56th dance season, and Lily is currently very excited to be in the process of choreographing their upcoming Christmas program, an educational program performed in elementary schools of the area.

Kayla Chilcote has been working as a teacher and administrator with Lisa Renee's Dance and Enrichment Studios and her Enrichment Competition Team. She also is working as an assistant teacher at ChildTime Learning center. A big congratulations to Kayla who is also busy planning her wedding coming up November 3rd.
Congratulations to our Spring 2019 graduates and we wish them good luck in all their endeavors.
---
Stories Shared by Our Dance Students
Our dance students feel at home in Akron and enjoy everything our dance program has to offer. Listen to Rebekah Gray's story, and learn more from our Dance Student Focuses!
Make Your Move
What is it about the University of Akron Dance Program that students are excited to be a part of? Whether it's the diverse classes, astounding professional dance companies and choreographers, or excellent faculty, see what makes them move!
Neos Dance Theatre to Engage Students Across All Disciplines
Wesner can now call E.J. Thomas Performing Arts Hall his dance company's headquarters, thanks to an agreement with The University of Akron and Neos Dance Theatre as part of the University's ongoing search for adventure and positive collaboration.
Home of the National Centre for Choreography (NCCAkron) - only the second in the nation
On may 14th, 2015, The University of Akron and DANCECleveland launched a new center for choreography — only the second in the nation — where the country's finest dance professionals will create new work. NCCAkron supports the research and development of new work in dance at the highest level.
UADC premiers at E.J. Thomas Hall
The UADC (University of Akron Dance Company) 2015 Dance Concert featured the new work "Youth with Caution" by guest choreographer Alex Munz in Spring 2015.