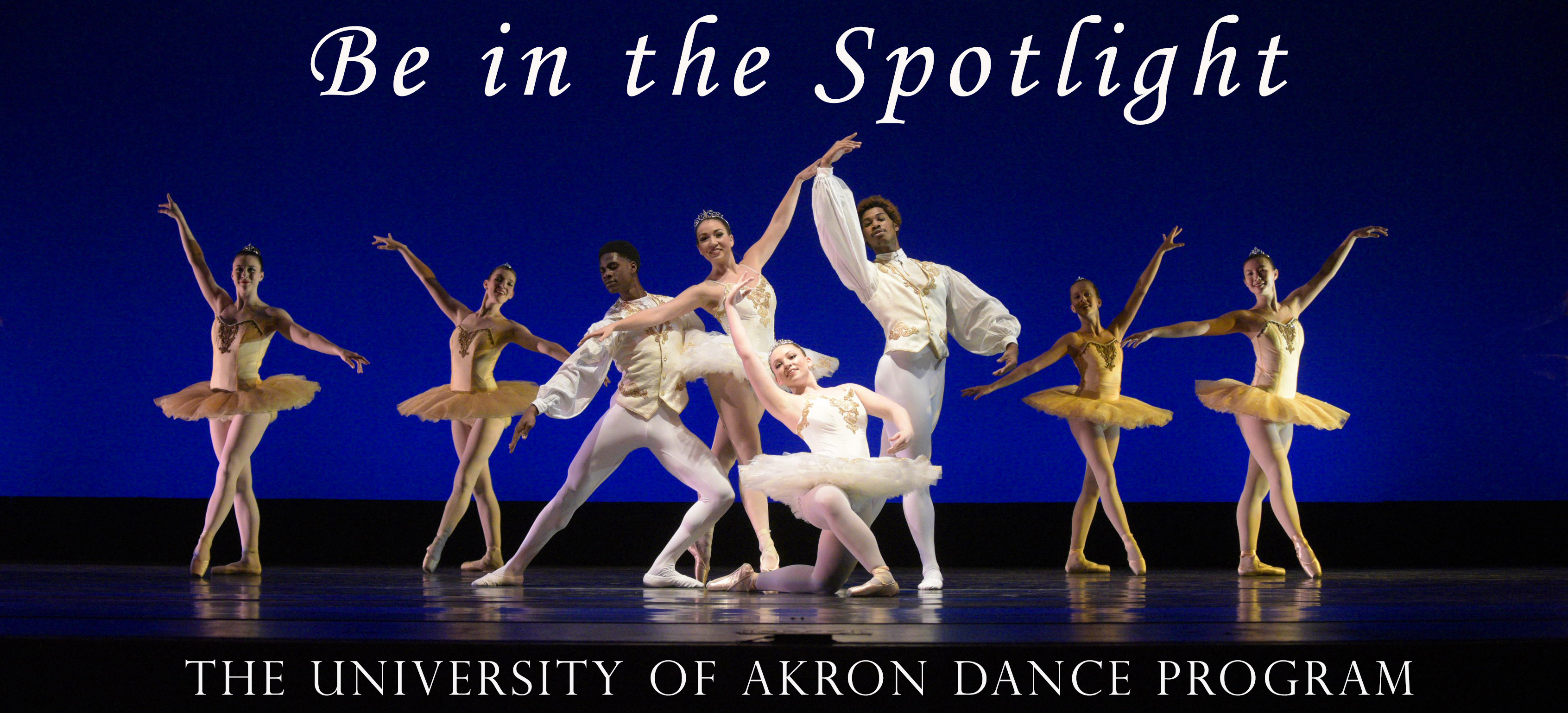 ---
Explore What's New in UA Dance
---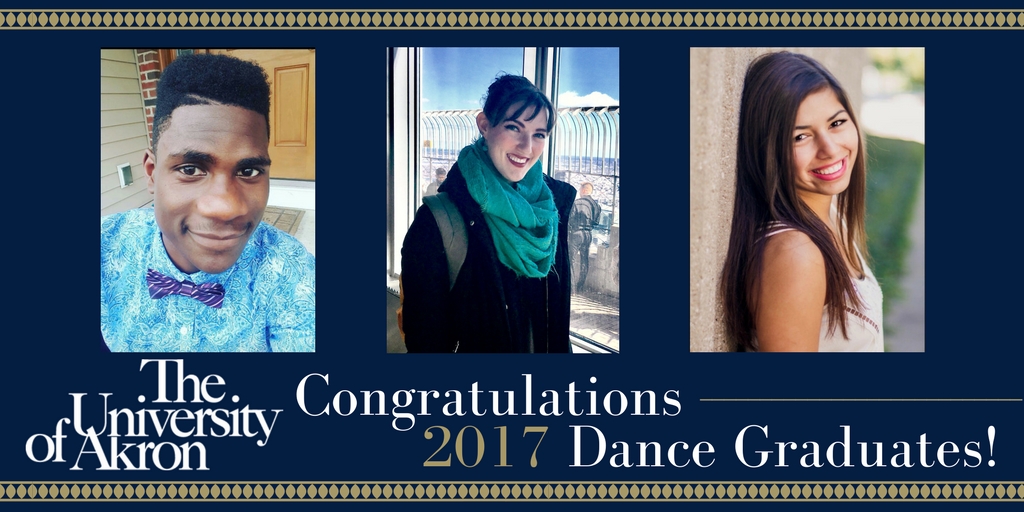 The University of Akron Dance Program celebrates three majors who will use their UA degrees to achieve new heights in the world of dance. The Spring 2017 Dance Graduates include Kweku Bransah, Feather Weldon, and Abby Brinker. Each has a chosen path to follow after commencement. Kweku Bransah shared that he will move to Chicago to dance with Chicago Dance Crash; Feather Weldon has accepted a trainee position with Charlottesville Ballet in Virginia and will be completing her Pilates certification; Abby Brinker plans to utilize all of the knowledge she was given over the last 18 years of her dance training to fulfill her dreams as a cruise ship performer. Congratulations Kweku, Feather, and Abby on graduating from The University of Akron's Dance Program!
Stories Shared by Our UA Dance Students
Our dance students feel at home in Akron and enjoy everything our dance program has to offer. Listen to Rebekah Gray's story, and learn more from our Dance Student Focuses!
Make Your Move
What is it about the University of Akron Dance Program that students are excited to be a part of? Whether it's the diverse classes, astounding professional dance companies and choreographers, or excellent faculty, see what makes them move!
Neos Dance Theatre to Engage Students Across All Disciplines
Wesner can now call E.J. Thomas Performing Arts Hall his dance company's headquarters, thanks to an agreement with The University of Akron and Neos Dance Theatre as part of the University's ongoing search for adventure and positive collaboration.
National Center for Choreography to launch at The University of Akron - only the second in the nation
The University of Akron and DANCECleveland announced that they will launch a new center for choreography — only the second in the nation — where the country's finest dance professionals will create new work. The center will be located on the UA campus.
UADC premiers at E.J. Thomas Hall
The UADC (University of Akron Dance Company) 2015 Dance Concert featured the new work "Youth with Caution" by guest choreographer, Alex Munz, in Spring 2015.
---
UA Dance Program Performances
---
Current Performance Season
Our UA Dance Program offers performances and student visitation days open to the public and campus community. Explore all the outstanding performances and events offered by the School of Dance, Theatre, and Arts Administration.


---
Alumni
---
Started at Akron, Starred on Broadway
Enjoy this short video featuring a Tony Award Winning alumnus, then explore more featured UA Dance Program alumni.