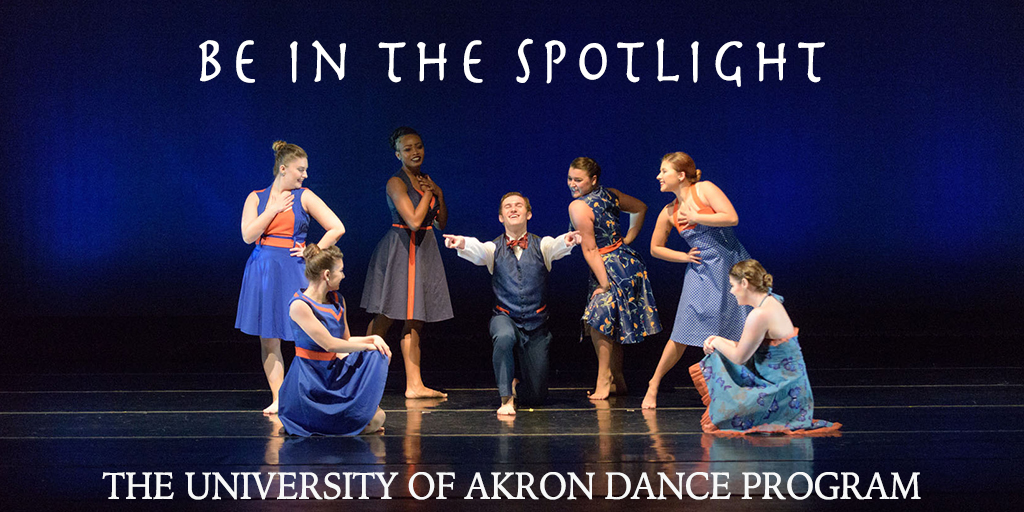 ---
The University of Akron Dance Program
What's new in UA Dance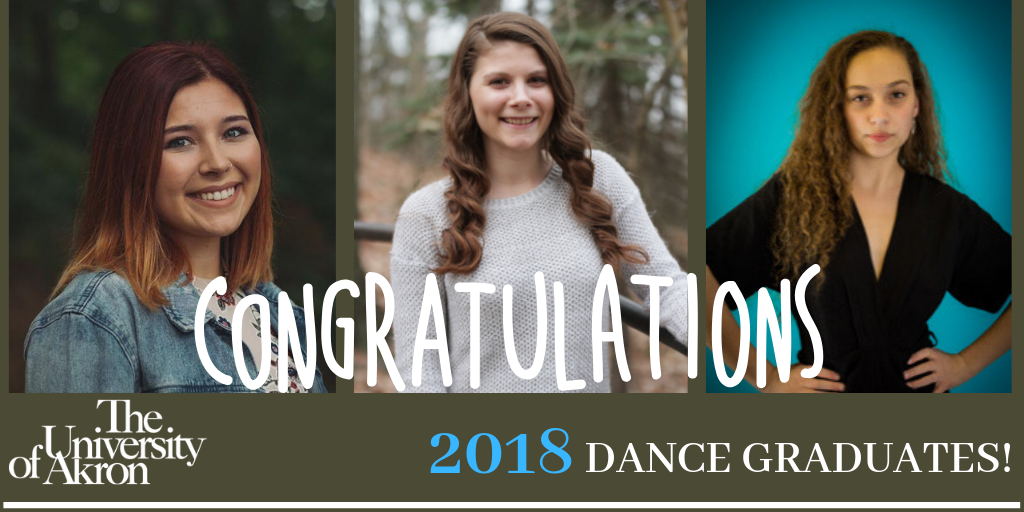 The University of Akron Dance Program celebrates three majors who will use their UA degrees to achieve new heights in the world of dance. The Fall 2018 Dance Graduates include Lilia Bailey, Jessica Doughtery, and Kelsey Harkness.
Bailey is graduating with a B.A in Dance with a Business Cognate. After graduation, she hopes to go onto obtain her Master's in Dance with a specialty in choreography.

Upon graduation, Doughtery will be staying in the area to teach dance at a City recreation center and for ArtSparks, a local educational outreach program. In the future, she plans to move to a bigger city to dance professionally and eventually go back to school to receive her Master's degree.

A year ago, Harkness opened her own dance studio. After graduation, she will be focusing on maintaining a successful studio for young dancers.
Congratulations Lilia, Jessica, and Kelsey on graduating from The University of Akron's Dance Program!
Stories Shared by Our Dance Students
Our dance students feel at home in Akron and enjoy everything our dance program has to offer. Listen to Rebekah Gray's story, and learn more from our Dance Student Focuses!
Make Your Move
What is it about the University of Akron Dance Program that students are excited to be a part of? Whether it's the diverse classes, astounding professional dance companies and choreographers, or excellent faculty, see what makes them move!
Neos Dance Theatre to Engage Students Across All Disciplines
Wesner can now call E.J. Thomas Performing Arts Hall his dance company's headquarters, thanks to an agreement with The University of Akron and Neos Dance Theatre as part of the University's ongoing search for adventure and positive collaboration.
National Center for Choreography to launch at The University of Akron - only the second in the nation
The University of Akron and DANCECleveland announced that it will launch a new center for choreography — only the second in the nation — where the country's finest dance professionals will create new work. The center will be located on the UA campus.
UADC premiers at E.J. Thomas Hall
The UADC (University of Akron Dance Company) 2015 Dance Concert featured the new work "Youth with Caution" by guest choreographer Alex Munz in Spring 2015.