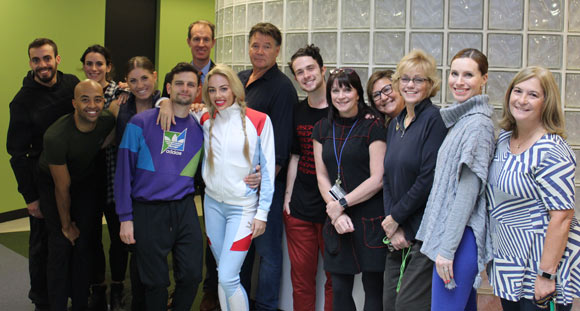 Parsons Dance
DANCECleveland is back in Akron! We believe that bringing the best national and international dance companies to Akron enriches the education of UA dance students and provides remarkable performance experiences for the Akron community. Akron has long been a hub of dance in northeast Ohio and we are thrilled to bring NY-based Parsons Dance to Akron!
Parsons Dance performed at E.J. Thomas Hall on Saturday, October 12 at 7:30 P.M. in an evening of remarkable contemporary works that showcased the uplifting dance company's stunning dancers and effortless movement. The company has toured on six continents and has been seen on PBS, Bravo, A&E and the Discovery Channel.
Parsons Dance will also present a week-long educational residency for UA dance students, allowing them to engage directly with the Parsons company dancers. These annual residencies focus on experiential learning, uniquely prepare students for the professional dance field, and make The UA Dance Program distinctly dynamic.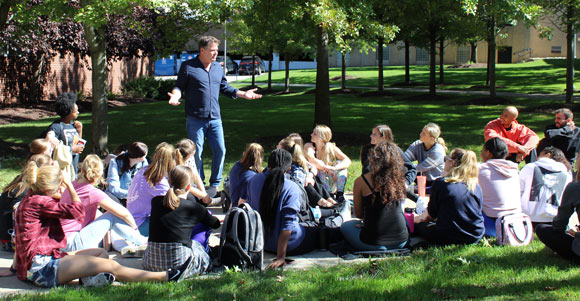 Over the course of the fourteen-year partnership between DANCECleveland and The University of Akron, we have engaged artists whose works break artistic boundaries and feature unique choreography styles. Having David Parsons and his remarkable dancers on campus is coming full circle as the company last performed here at the opening of the Guzzetta Dance & Theatre Center. It is a pleasure to welcome them back and share their artistry with the entire Akron community.
---
---

Touring Ensemble
Sponsored by the Akron Children's Concert Society, Touring Ensemble is a course in which students create an educational and interactive dance production for performance in elementary schools around the Akron area. The production is based on content that children are learning in schools, such as biology, geography, and the environment. In recent years, Touring Ensemble themes have included endangered species and animal habitats from around the world. UA dancers teach science through the medium of dance - an awesome way for kids to learn!
Dancing for the Kids
Since 2012, The University of Akron Dance Program has partnered with Akron Children's Hospital for the fundraiser "Dancing for the Kids" to raise money to support pediatric cancer patients and their families. UA dance majors and alumni are paired up with celebrities from the Akron community to create a dance and perform at the event in front of judges. Everybody is a winner in this competition!