Dr. I-Chun Tsai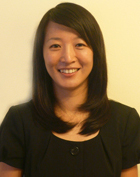 Title: Associate Professor
Program: Instructional Technology
Dept/Program: LeBron James Family Foundation School of Education
Office: Zook 305
Phone: (330) 972-6774
Email: tsai1@uakron.edu
Curriculum Vitae: Download in PDF format

---
Biography
Dr. I-Chun Tsai is an Associate Professor in Instructional Technology in the LeBron James Family Foundation School of Education at the University of Akron, Ohio. Dr. Tsai received her Ph.D. in the School of Information Science and Learning Technologies from the University of Missouri in May 2008.
---
Research
Dr. Tsai's expertise and research focuses on social computing, online learning community of practice, online learning experience, computer supported collaborative learning (CSCL), computer mediated communication (CMC), visualizing social interaction of virtual learning environments, and design and integrating technology in K-12 settings.
Currently, Dr. Tsai has several ongoing projects in studying: Impact of Self-Regulation of Online Learning; Using 3D Printing Tools to Support Learning of Neuron Science; Using Virtual Reality and 3D Printing Tools to Teach Anatomy, and Applying Social Network Analysis to Examine Impact of Social Interaction in Online Learning Environment.
Education
Ph.D. School of Information Science and Learning Technologies, University of Missouri-Columbia, Missouri
M.A. Educational Technology, Tamkang University, Taipei, Taiwan
Bachelor of Business Administration, Tamkang University, Taipei, Taiwan
Teaching License for Secondary Education in Taiwan: Business
Teaching License for Secondary Education in Taiwan: Computer
---