Student Employee of the Year
04/29/2013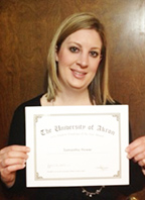 Samantha Hower, an Education major, received UA's 2013 Student Employee of the Year award at an April 12 ceremony.

Hower, a senior education major, is a student manager for the Starbucks locations in the Student Union and on Exchange Street. Chester Howard, general manager of national brands in Dining Services, nominated her for the honor because Hower "has demonstrated superior leadership qualities for all UA's Starbucks locations, providing customers the highest level of outstanding service."

Please join the College of Education family in congratulating Samantha Hower.