Dr. Craig Menzemer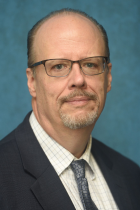 Title: Interim Dean, College of Engineering
Dept/Program: Engineering Dean's Office
Office: ASEC 201
Phone: 330-972-7911
Email: ccmenze@uakron.edu

---
Biography
Structural Engineering

Education
Ph.D. Lehigh University, 1992
Experience:
1981 - 1982, United States Steel Corporation, Field Engineer , Construction Management Group
1985 - 1996, Alcoa , Alcoa Technical Center, Technical Specialist, Product Design and Mechanics
1996 - Present, Associate Professor of Civil Engineering, The University of Akron
Courses Taught:
Statics
Mechanics of Solids
Advanced Mechanics of Solids
Steel Design
Advanced Steel Design
Fracture Mechanics for Civil Engineering Applications
Research Projects:
Steel Wire Reinforcement for High Pressure Hose
Excessive Wear on Dump Body Truck Beds
Development and Evaluation of Structural Systems for Freight Cars
Strength of Joints in Kevlar Webbing
Friction Grip Joints in Aluminum
Post Buckling Behavior of Welded Aluminum Plates
Block Shear Models for Connecting Elements
Angles Attached by a Single Leg
Fatigue Strength of Strand Splice
Hot Spot fatigue Behavior of Joints
Aluminum Alloys for Buried, High Voltage Conductors
Representative Publications:
Kostem, C. N. and Menzemer, C. C.


Finite Element Analysis of Structural Details in Large Steel Bridge Superstructures

,
Computing in Civil Engineering, Proceedings of the Fourth Congress, ASCE, 1986.
Menzemer, C. C., Hinkle, A. and Nordmark, G.


Aluminum Orthotropic Bridge deck Verification

, Materials and Member Behavior,
Proceedings of the Structures Congress, ASCE, 1986.
Menzemer, C. C. and Fisher, J. W.


Bridge Repair Methods U.S./Canadian Practice

, Bridge Evaluation, Repair and
Rehabilitation, NATO ASI Series, Series E, Vol. 187, Kluwer Academic Publishers, 1990.
Fisher, J. W. and Menzemer, C. C.


Fatigue Cracking in Welded Steel Bridges

, Transportation Research Record #1282,
Transportation Research Board, 1990.
Sharp, M. L., Nordmark, G. E. and Menzemer, C. C.


Fatigue Design of Aluminum Components and Structures

, McGraw-Hill, 1996.
Menzemer, C. C.


Aluminum Materials and the Infrastructure

, ASCE Special Report, TBP.
Menzemer, C. C.,


Emerging Materials and the Infrastructure

, Alminum Alloys and the Infrastructure, American Society of Civil Engineers, State of the Art Report, October 2000.
Xiao, Y. and Menzemer, C.,


Ultimate Compressive Strength of Aluminum Plate Elements

Journal of Structural Engineering, ASCE, Accepted September 2002.
Menzemer, C. and Srivatsan, T,


The Effect of Environment on Fatigue Crack Growth Behavior of Aluminum Alloy 5456

, Materials Science and Engineering A, No. A271, Elseveir, 1999.
Iascone, R. and Menzemer, C.,


Re-Establishing the Shear Strength of ALuminum Alloy Fillet Welds

Welding Journal, AWS, Featured Article, April 2002.
Professional Affiliations:
American Society of Civil Engineers
American Welding Society
Sigma Xi
---
Education
Ph.D. Lehigh University, 1992
---