Dr. Zhe Luo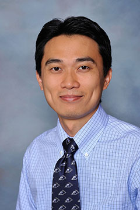 Title: Assistant Professor
Dept/Program: Civil Engineering
Office: ASEC 210E
Phone: 330-972-7292
Email: zluo@uakron.edu

---
Biography
Dr. Zhe Luo is an Assistant Professor of Civil Engineering at the University of Akron. He received his Ph.D. in Geotechnical Engineering from Clemson University and is a registered P.E. in Ohio. He is a Member of American Society of Civil Engineers (ASCE), Member of The United States Universities Council on Geotechnical Education and Research (USUCGER), and Member of Geo-Institute's Technical Committee on Risk Assessment and Management (RAM). He is currently serving on the editorial board of International Journal of Geotechnical Engineering and Marine Georesources & Geotechnology. Dr. Luo's primary research areas include foundation engineering, probability-and reliability-based design, Bayesian model calibration, robust design for resilience, mechanistic-empirical pavement design, and geotechnical asset management.
UNIVERSITY SERVICES
Graduate Committee, Department of Civil Engineering, University of Akron, 2014-present
Seminar Committee, College-wide and departmental seminar series, University of Akron, 2014-present
Student Recruitment and College Scholarship Committees, University of Akron, 2014-present
---
Publications
Das, B.M. and Luo, Z. (2017). Principles of Soil Dynamics, 3rd Edition. Cengage Learning. ISBN-10: 1305389433. ISBN-13: 9781305389434.
---
Education
Ph.D., Civil Engineering, Clemson University, South Carolina
M.S., Highway and Railway Engineering, Tongji University, China
B.S., Civil Engineering, Tongji University, China
---
Courses
4300:201 Statics, University of Akron
4300:314 Geotechnical Engineering Laboratory
4300:414/514 Design of Earth Structures
4300:614 Foundation Engineering I
4300:694 Fuzzy Sets and Neural Networks
4300:717 Soil Dynamics
CE 421/621 Geotechnical Engineering Design, Clemson University
CE 321 Geotechnical Engineering, Clemson University
CE321L Geotechnical Engineering Laboratory, Clemson University
---