Local companies, alumni dedicated to success of UA students
01/19/2017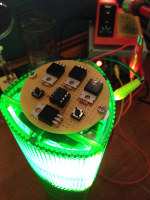 When University of Akron alumnus James Falbo (BSEE '91) began looking for a way to use his passion for electronics to help others learn, he discovered the perfect opportunity to team up with University of Akron faculty and alumni to form the Department of Electrical and Computer Engineering's new Electronics Club.
With help from alumni Keith Suhoza (BSEE '91), senior design engineer AVID Technologies in Twinsburg, and Chris Miller (BSEE '89), senior design engineer at Automated Packaging Systems in Streetsboro, as well as Assistant Professor of Electrical and Computer Engineering Dr. Ryan Toonen, Falbo has mentored and provided hands-on opportunities for more than 20 engineering students over the last several months.
Falbo, VP of Product Development at Agratronix in Streetsboro, says the club benefits students by giving them opportunities for hands-on learning early in their education and introducing them to local tech companies and engineers.
"The club supplements the theory engineering students learn in the classroom," says Falbo. "We provide guest speakers each month so students can learn from and connect with local design engineers well in advance of the day they begin looking for their first job."
Monthly guest speakers discuss a variety of topics, including the soft skills engineers need to be successful in the workforce. Recent discussions have included how to admit you're wrong or behind schedule, how to communicate effectively with co-workers and how to support the team as a whole.
"Akron alumni are providing students with opportunities to connect with people in the industry, learn about companies in the area and what they look for in an employee, as well as how to build connections and interview well," says third-year electrical engineering student Tanya Tebcherani.
"We thank Mr. Falbo, Dr. Toonen and all of the engineers in the region who have participated in this program," says interim dean of the College of Engineering, Donald P. Visco, Jr. "This is a nice complement to the other experiential opportunities our students participate in, such as co-op, undergraduate research and student design teams."
Not long after electrical engineering technology student Brandon Farmer met UA alumnus Ken Burns (BSEE '98 and MSEE '00) at an Electronics Club meeting, he was offered an internship at Burns' Akron-based company TinyCircuits – just a few blocks from the UA campus. At the company, which makes open source electronics for the maker community, Farmer will gain experience in product development, programming, and embedded design.
"Local companies are investing time and money into developing the next generation of engineers," says Farmer. "It's a win, win for students and companies.
The culmination of the club's many activities is a project showcase scheduled January 21, 2017. Students will display their projects and engineers from local tech companies will evaluate them. Many projects were made possible through a donation of Raspberry Pi 3s from Automated Packaging Systems, Darko, Kent Displays, and CK Technologies who donated Raspberry Pi 3s to the club.