The 'next big invention' — the engineering of a Williams Honors Scholar
03/16/2018

Jade Reese used to build things with her father. They would compete to make the "next big invention," says the sophomore mechanical engineering student major.

She would take household items and convert them into makeshift toys, learning, at a young age, that "the point of engineering is to change, to innovate, to take something that exists and make it better."

At Stow-Munroe Falls High School, she approached her schoolwork with the same ingenuity, building her own "mega-iPhone," an amplification device for the smartphone's speaker.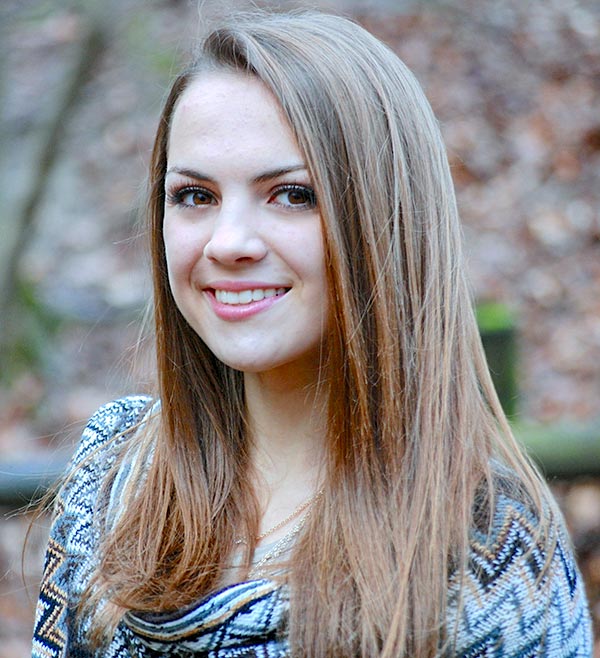 While many of her peers would attend local universities, Reese wanted a change of pace and scenery – something better, she thought.
She attended a school with an extremely competitive engineering program ranked among the top 10 in the nation. Here, she thought, was the opportunity to engineer that "next big invention" —the conversion of a diploma and resume into a lucrative career.
Reese found herself among hundreds of students packed in a lecture hall, a mere "face in a crowd," she says, virtually unknown to her peers, professors and advisors.
"The professor came in, taught the lesson, bolted out of the classroom," she says. "I had an advisor whom I saw once when I first got there. He didn't have the time, because he had so many students he needed to see. He didn't know who I was."
More than anything, Reese felt lonely.
"Although it may sound contradictory, I felt a sense of loneliness there because there were too many people," Reese says. "It was hard to find myself and know who I truly was as a person, since I was constantly competing against so many other students. I focused on who I thought I should be, rather than who I was, and this made it hard to feel like I could be anything. I can count on one hand the amount of quality friends I had, that truly cared about me as an individual and did not want to compete with me."
More innovation needed
Reese had carefully engineered each event of her life to arrive at this school – a masterwork far greater than any modified toy or iPhone. And yet, more than ever, it was time for a change – for an innovation more drastic than anything before.
She remembered that university back home, where many of her peers had gone. It had awarded her, when she was a junior in high school, a Future Engineer Award for her promising achievements – an earnest, perhaps, of things to come. She wondered if it was time to return home and take another look, to blow the dust off that which she had taken for granted. Perhaps it was time for this engineer to be engineered, for that thing which had always existed, in her own backyard, to make her better.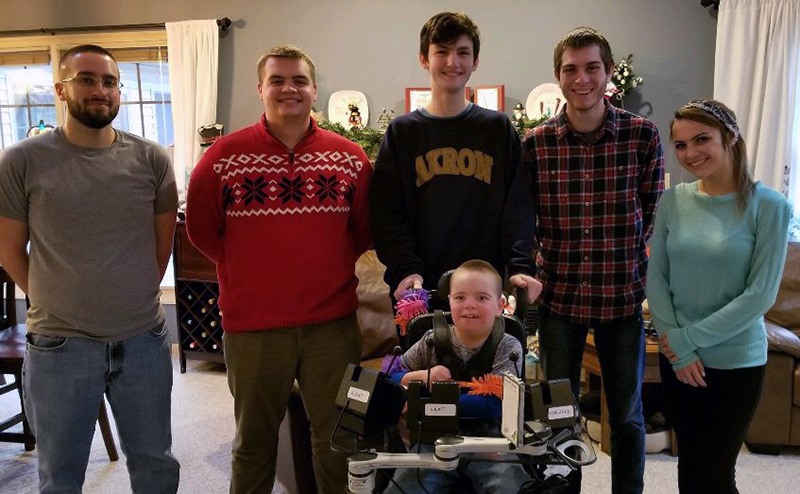 Jade Reese, far right, is pictured here with her fellow members of the Engineering Service Design Team. Together, they developed a more easily operable wheelchair for this young man. Her team members are, from left, Andrew Jordan, computer engineering; Chris Gepperth, mechanical engineering; Kyle Dabbieri, computer engineering; and Kyle Cramer, mechanical engineering.
Reese transferred to UA in the fall semester of 2017, enrolling in The Drs. Gary B. and Pamela S. Williams Honors College. She felt like one who had discovered, in that same backyard, a treasure in plain sight. It was as if that award she received – a dusty plaque – were, upon examination, found to be wrought in gold.
"Akron has almost a negative connotation because 'everybody goes there,'" Reese says, referring to the great number of her high school classmates who went to the University. "But the thing is, everybody goes here because it's awesome. But I didn't realize that."
Finding her niche
Her honors section courses, containing a dozen or so students, were, in comparison to the cavernous lecture halls of her previous school, like warm living rooms, bright with the flame of what Reese calls a non-competitive, "mutual love for education."
"It's amazing, because almost every single person that I've met wanted to help me succeed," she says. "I am surrounded by those who make working in a team enjoyable, constructive and efficient. UA and the students in the Honors College specifically have shown me that I am not alone and that there are people out there that are as enthusiastic about learning as I am."
Anthony Colucci, director of the Honors Experience, says Reese's account is typical at UA.
"What Reese has experienced at UA and the Williams Honors College is being a part of what we commonly refer to as 'The Akron Family,'" he says. "Students here work collaboratively, rather than competitively, and have a great deal of access to their faculty and departmental staff who regularly move mountains for their students."
Reese is currently the outreach chair for the Engineering Service Design Team, responsible for publicizing the team's work with nonprofit community organizations. Students on the team use their engineering expertise to improve the lives of others – including, most recently, developing a more easily operable wheelchair for an eight-year-old boy with cerebral palsy and Down syndrome.
Valuable experiences such as these, Reese adds, are facilitated by professors and advisors who are approachable and personally invested in the lives of their students.
"There's just more of an ability to have face-to-face time with faculty," Reese says. "I can make an appointment and they're excited to see me, they want to know how my experiences are, they want to know how my classes are, and they genuinely care about how I feel."
She adds that, since arriving at UA, the greatest feat of engineering is nothing she has done, but what the University has worked in her.
Rekindled passion
"I changed," she says. "I wasn't the same person at my other school. I was waking up and just going with the motions; I did not enjoy what I was doing. Although I nearly lost my passion for engineering at my last school, I was able to rekindle the passion once I found my place at UA. I think that The Williams Honors College is trying to make the most well-rounded students that there are – and that is something that I didn't experience at my other school. UA allows me to be a genuine version of myself and does not stretch me to feel like someone I am not."
For Reese, it is UA's atmosphere that has made all the difference.
"Had I taken the same classes I took at the other university here, I feel it just would have been completely different," she says. "Same content, just different environment. And it's honestly the atmosphere that is different."
Reese plans to participate in the College of Engineering's co-op program before she graduates and pursues her "dream job" of working for a toy company, such as Little Tikes or Step2, she says.
Fittingly, Reese hopes to make toys again – but this time, she says, for the children she hopes to have someday.
Perhaps those children, too, will discover in those toys – and above all in their mother's story – the "point of engineering," which Reese learned long ago: to change, to innovate, to take something that exists and make it better.
Now Reese, seeking that "next big invention," simply looks in the mirror.