Engineering Transfer Students Q&A
— Meet Miguel Rodriguez —
Major: B.S. Biomedical Engineering, '19
Hometown: Cleveland, Ohio
Transferred from: Cuyahoga Valley Community College
Q. Why did you transfer to UA?
I was a high school dropout. Starting undergraduate studies at Tri-C was very convenient and affordable for me since my wife and I were raising four beautiful children. Becoming an engineer and pursuing a bachelor's degree has always been my dream. Tri-C gave me my second chance, and UA made me an engineer. My Tri-C advisor believed in UA's engineering program and has seen first-hand the success of its graduates. With the support from my family, I was able to transfer to UA. My wife and I are so thankful for love and support from our families and friends during that busy time.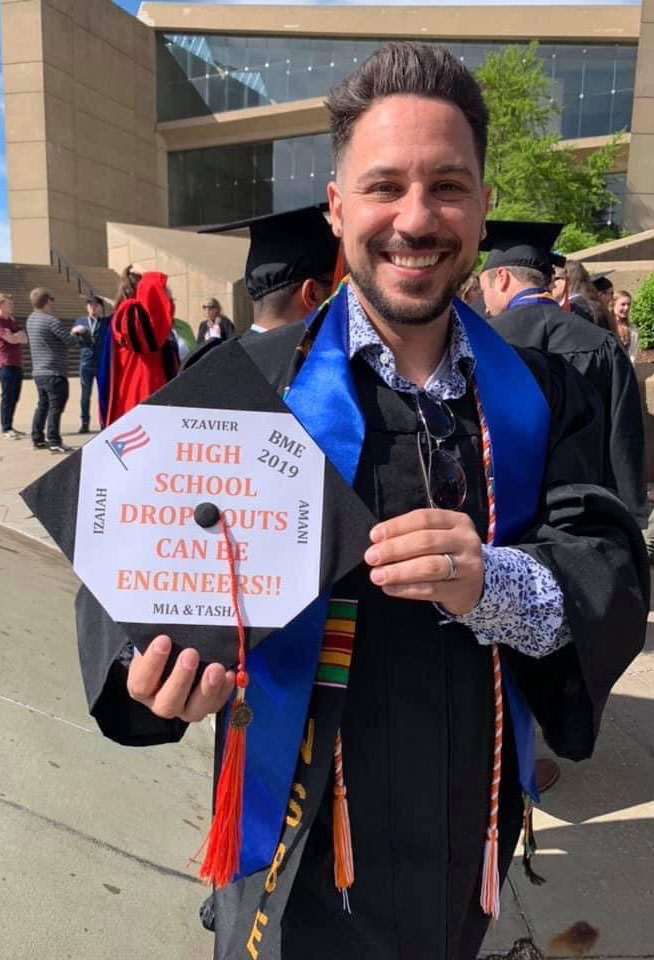 Q. What was transferring like for you?
Before transferring to UA, my academic advisor at Tri-C connected me to an advisor at UA's College of Engineering. Four of us at Tri-C transferred over together. Even with all of the help from our advisor at Tri-C, our advisors at UA, and UA's Transfer Office, I felt the first semester was overwhelming for most of us. We had to learn how to balance family, work and study. I was so thankful that we had each other to lean on.
Q. What are your favorite things about UA?
There is so much opportunity here! The co-op program was great, plus the chance to really problem solve and create. It was also easy to make friends, which made it easier to get through the program because my classmates and I had fun studying together and helping each other out. The Increasing Diversity in Engineering Academics (IDEAs) Program that helped me with my transition during the first year. I mentored younger underrepresented engineering students, and that was very meaningful to me.
Q. Any advice for students starting their college transfer search?
If you know you would like to pursue a bachelor's degree when taking classes at a community college, talk with an advisor at the four-year college you want to eventually attend. Many students do not realize that you could transfer credits back to the home institute for a two-year degree. After transferring to UA, I ended up receiving my associate's degree from Tri-C because of my UA credits.