Concrete Canoe and Steel Bridge teams head to national competition
04/11/2017

The University of Akron's Concrete Canoe team placed first and the Steel Bridge team placed second in recent ASCE student competitions, qualifying both teams for national competition.

The Concrete Canoe team topped more than a dozen teams from Ohio, Pennsylvania and Kentucky at the Ohio Valley Student Conference (OVSC) Regional Concrete Canoe Competition hosted by Ohio State University April 7-9. As the first-place regional winner, UA's team qualifies for the national concrete canoe competition, held June 17-18 in Golden, Colorado.

"Our team received first place in several categories, including oral presentation, final product, women's sprints, co-ed sprints and the men's endurance race," says team captain Jessica Givens, a senior civil engineering student. "The team is very excited to continue onto the national level."

According to Givens, more than 2,000 hours were spent by team members on this year's qualifying canoe.

"We have a strong tradition here with the team being established in the early '70s," says Givens. "We continuously improve upon past successes while promoting future team development."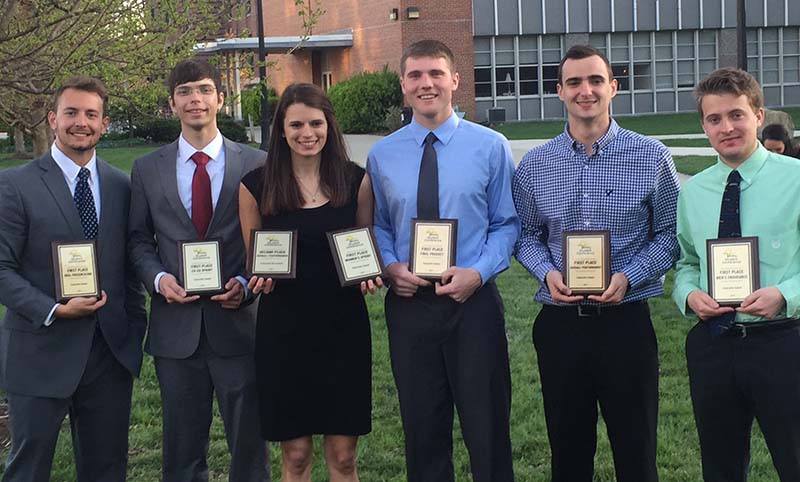 Concrete Canoe team captains, from left: Brad Harvey, Mix Design Captain; Kane Schonauer, Co-Captain; Jessica Givins, Team Captain; Logan Jacobs, Safety Captain; Rick Svetlak, Construction Captain; Charles Pigozzi, Analysis Captain.
Meanwhile, the UA Steel Bridge team finished as one of the region's top teams with its second-place finish in the competition. The 2017 National Student Steel Bridge Competition will be hosted by Oregon State University May 26-27.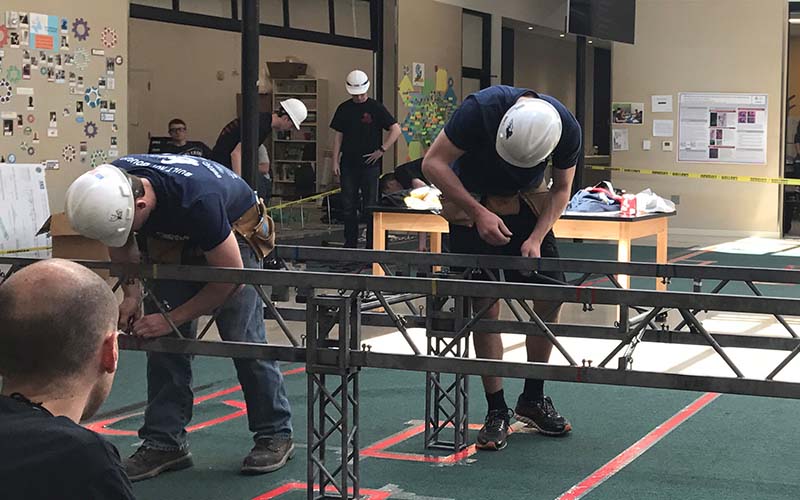 Members of the Steel Bridge team construct this year's bridge at the ASCE Ohio Valley Student Conference held at Ohio State University.
---
Stephen Duirk, associate professor of civil engineering, is the faculty advisor for ASCE, Marcia Belcher, professor of engineering science and technology, is the faculty advisor for the Concrete Canoe team, and David Roke, assistant professor of civil engineering, is the faculty advisor for the Steel Bridge team.