UA to host civil engineering design competitions this spring
12/20/2018

The University of Akron (UA) is hosting the American Society of Civil Engineers (ASCE) Ohio Valley Student Conference on April 11, 2019 and April 12, 2019 and the Regional Student Steel Bridge Competition, on April 13. UA will be entering all hosted competitions including Concrete Canoe, Geotechnical, Surveying, Site Civil Design, Technical Paper, Balsa Wood Bridge, Concrete Frisbee, and Steel Bridge.
Concrete Canoe Team
Concrete Canoe will be competing in the ASCE Ohio Valley Student Conference at Portage Lakes State Park Beach. Competitions like this one provide civil engineering students an opportunity to gain hands-on, practical experience and leadership skills by working with concrete mix designs and project management.
Students from the 25-member team are responsible for designing and fabricating a sea-worthy canoe in the months leading up to competition day. They submit a design paper, give an oral presentation, have their product judged, and compete in a series of races including a men and women's 200-meter sprint and 600-meter slalom/endurance race and a co-ed 200-meter sprint.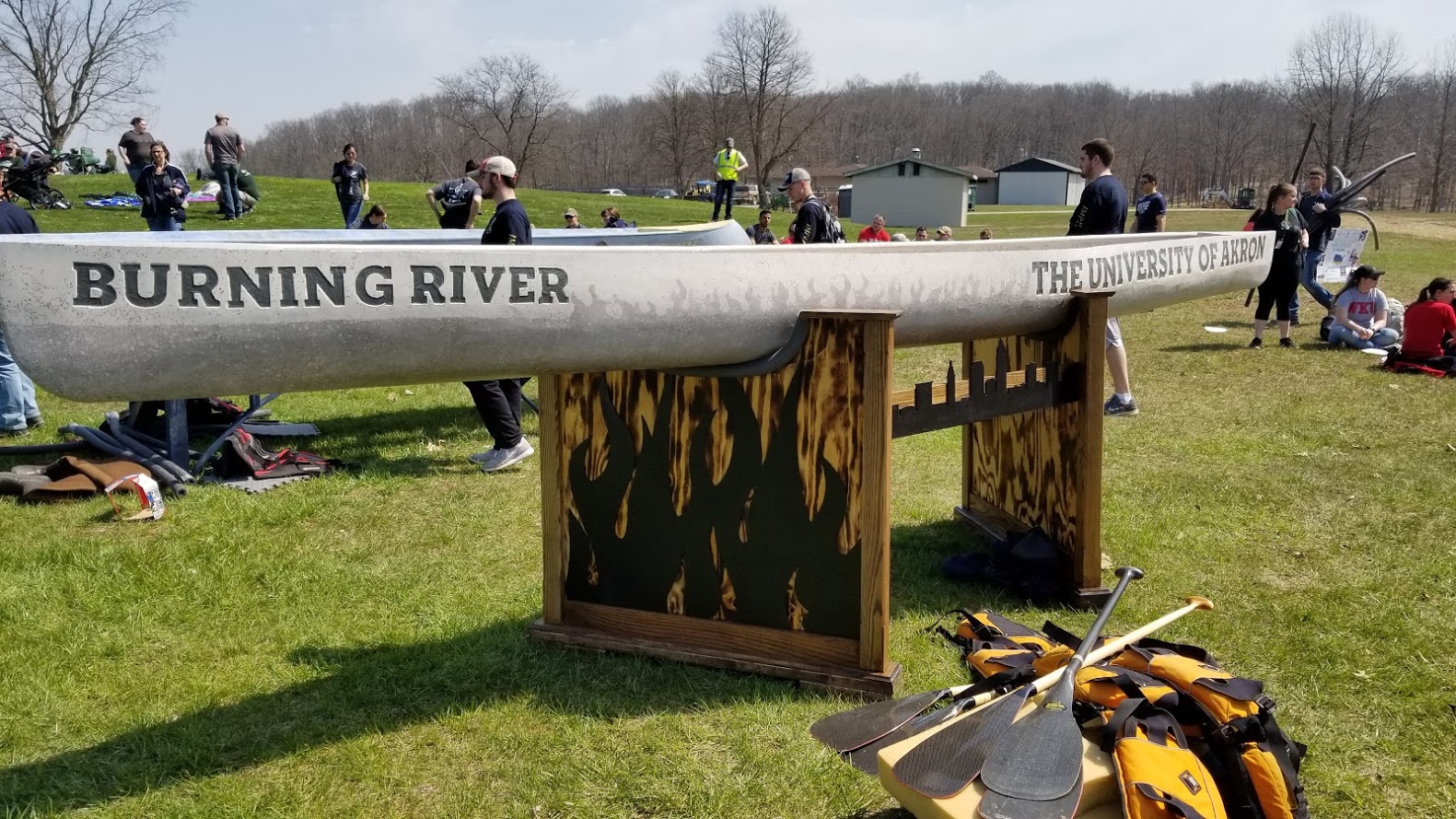 The 19-foot canoe is made of a lightweight concrete mix that is less dense than water. Traditionally, a layer of flexural reinforcement divides two layers of hand placed concrete. The team puts over 2,000-person hours into a new canoe each competition year.
"In my five years on the team, we've never engineered a boat that sunk. Still, the most nerve-wracking moment is pushing it below the surface and waiting for it to come back up," says Zach Taylor, Team Captain.
The UA concrete canoe team feels they have a slight advantage at competition as they know the terrain well – the team has practiced paddling a former canoe at Portage Lakes all year.
The top team advances to the national competition.
Team members are: Zach Taylor (Captain), Rick Svetlak and Logan Jacobs (Academic Co-Captains), Andrew Needs (Mix Captain), Liam Mathews (Construction Captain), Elaina Patitsas (QA/QC Captain), Mike Sedlak (Paddling/Fitness Captain), Erica Roelke (Treasurer) as well as 19 other active younger and newer members.
Steel Bridge Team
The American Institute of Steel Construction Regional Student Steel Bridge Competition competition will be hosted at the John S. Knight Center.
The competition requires team members to use engineering skills for a timed build of a 20' long, 3'-6" wide steel bridge on-site. The bridge must meet the materials and component specification requirements set by ASCE and pass a series of load tests. The team is also judged on aesthetics, construction speed, lightness, deflection (how much the bridge deflects under 2,500 pounds), and overall performance. The top two teams will be invited to the National Student Steel Bridge Competition in May at Southern Illinois University Carbondale.
"This year's steel bridge design will be incorporating a superstructure, which means our bridge will have a better deflection and faster construction time," says William Shea, Team Captain. "We are going to minimize the amount of connections that need to be aligned at once and machine our dovetails with a larger taper, longer tail, and rounded edges so they slide together smoother."
Last year the team assembled their bridge in 8.67 minutes with four people. This year, their goal is under six minutes with three people. Check out a practice assembly video.
The team's biggest competitor is Youngstown State University, who placed first at last year's regional competition. Over 200 schools participate each year.
Team members are: Adam Michel, Adam Pohrte, Adason Stevens, Alistair Seed, Ben Podnar, Brandon Verardi, Charles Cassaro, Carson VanderArk, Danny Schullek, David Johnson, Emmaline Thompson, Erika Howard, Evan Spencer, Gunther Soehnlen, Jacob Dean, Jacob Odson, Jamie Schlitt, John Smith, Lindsey Wilson, Monica Moody, Nate Ackerman, Noor Fahoum, Preston, Schnarrenberger, Robert Yauger, Ryan Talbott, Tavis Rutledge, Trevor Wood, and William Shea.
Good luck, teams!