Students create photo project to promote women in engineering
10/12/2018

Airplanes, detergents, wheelchairs, automobiles, circuit boards, phone apps and bridges. A degree in engineering can apply to a diverse range of industries, but the face of engineering itself is not diverse. According to the Bureau of Labor Statistics, the percentage of women in engineering and architecture-related fields was only 16.2 percent in 2017.

In honor of the 25th year of the Women in Engineering Program, Abigail Palombo, a graphic design major; Jillian Hilenski, mechanical engineering major; and Amanda Jancewicz, chemical engineering major, wanted to share stories of women engineers who have walked the halls of The University of Akron and made a career out of engineering in a male-dominated industry. Their photo project, "We are the 16%," is meant to inspire the next generation of women in engineering and challenge the idea of who an engineer is.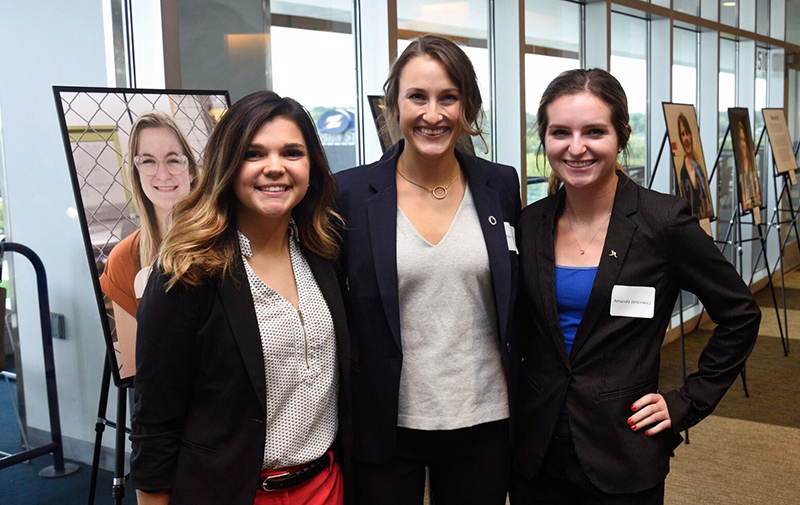 Abigail Palombo, left, Jillian Hilenski and Amanda Jancewicz collaborated on the photo project.
The trio of students interviewed and photographed 16 women, like Alyssa Gill '16, a developer relations engineer for Squirrels LLC, a company that develops streaming and sharing apps, such as Reflector 2 and AirParrot, and Jane Smith '80, who is a senior project engineer at Rockwell Automation.
"For me personally, this project has been an opportunity to advocate for females in the engineering workforce, while also encouraging younger girls to consider a position in a STEM field," says Jancewicz. "When I was growing up, I loved to play with Legos, do puzzles and play on the computer. I think a lot of young women just don't realize what the field actually entails, which is a shame considering that the industry is challenging, rewarding, ever-changing, and makes an impact on society and the environment."
"We are the 16%" will join an already existing exhibit of photographs of alumnae engineers promoting gender diversity in the industry along a wall in the College of Engineering lobby inside the Auburn Science and Engineering Center after Oct. 18.
---
Media contact: Alex Knisely, 330-972-6477 or aknisely@uakron.edu.