DREW ADAMS
Hometown | Alliance, OH
Major | Electrical Engineering
Company | Marathon Petroleum Corporation
Location | Los Angeles, CA
Position | LAR Electrical Reliability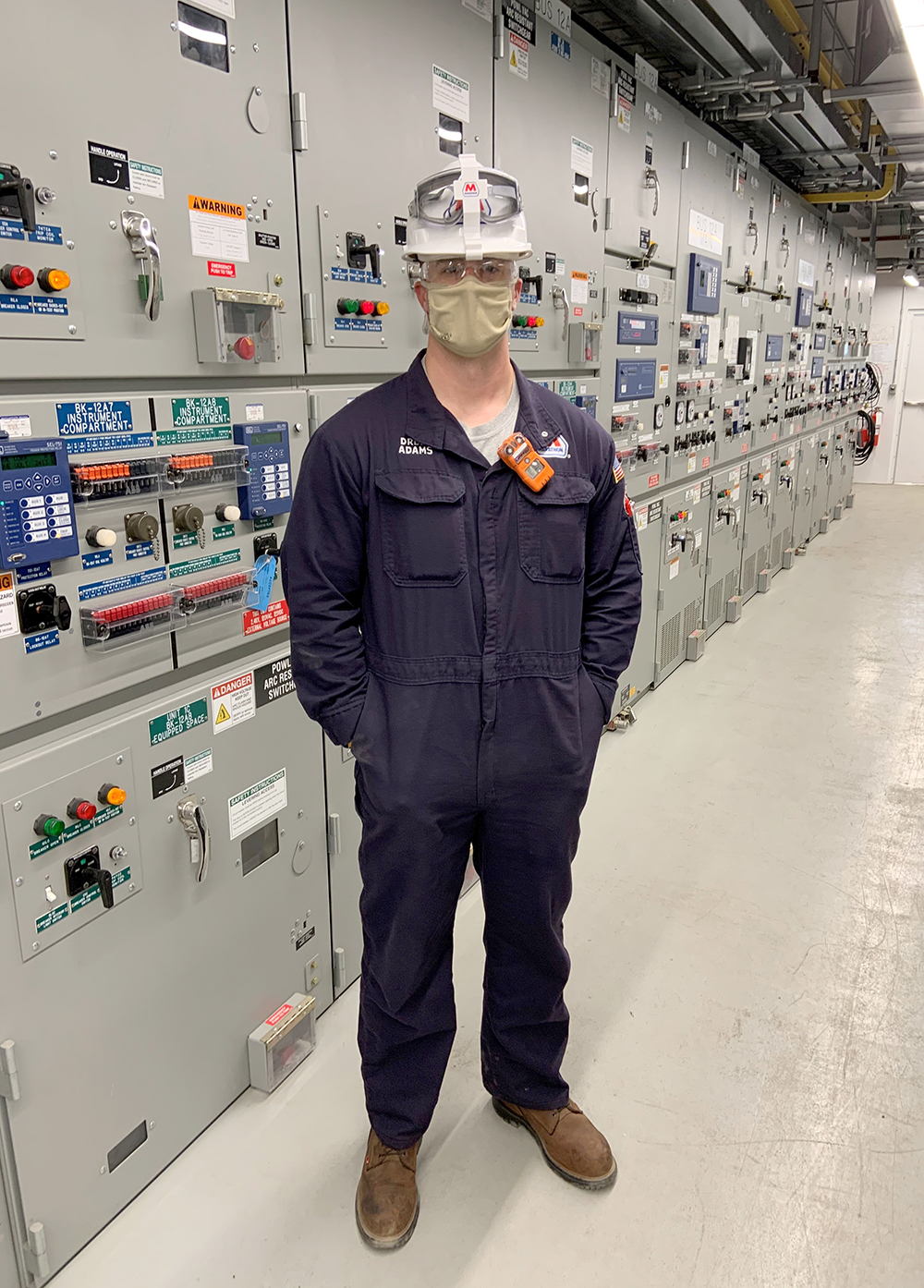 Drew Adams, electrical engineering student at The University of Akron.
Tell us about your current co-op.
This is my first co-op with Marathon and it's in Los Angeles, CA. I am working on Marathon's refinery at the Wilmington site primarily. My position as a reliability co-op is more on the maintenance side, so we maintain the refinery from an electrical aspect. I work 40 hours a week usually with a schedule from 7:00 a.m. – 3:30 p.m. They supplied company housing on Ocean Blvd in Long Beach. The place is beautiful and I have a pretty sweet balcony view. On the weekends it's awesome because you can travel wherever you want throughout California and the food here is amazing.
Why did you choose to participate in the co-op program?
I participated in the co-op program to gain experience in electrical engineering, develop my professional and technical skills, build my resume, and to make money while going to school. I definitely recommend the co-op program!
What unique or exciting projects have you worked on?
My three projects consisted of arc flash study and two motor protection relay replacements. For my arc flash study project, I created arc flash labels for equipment that needed it throughout two substations on the refinery. Arc flash labels are very important on the refinery because without an arc flash label on a piece of equipment, the electricians cannot do any work to that equipment.

An arc flash is an electrical explosion that happens from a fault, or short circuit condition where the electrical current leaves the intended path and passes through the air from one conductor to another. The arc rating will determine what personal protective equipment (PPE) must be worn to work on the equipment. The higher the arc rating, the more PPE must be worn.

I also programmed two different motor protection relays which trip the motor before it gets damaged and an electrician with engineering support can go out and trouble shoot without losing the motor. Motor protection relays are so important on the refinery because if a motor gets damaged due to overcurrent, that section of the refinery could be down for awhile which can stop production, meaning a huge loss of money.
What is the coolest part of your co-op?
Working on the refinery is a great experience overall. You get exposed to a lot of different problems that go on throughout the refinery and you get to be a part of projects that keep the refinery running. You work in the office but also get to go into the field.

Also, the work environment here is super fun to be around. My mentors and supervisor are always helpful and take their time to answer questions. Everyone I've met here have been extremely welcoming and helpful and always make you feel like you're a part of the team.
What advice do you have for the co-op search process?
Take advantage of the co-op program. For example, go to the workshops or events your school offers. I went to an interview skills workshop where the co-op office gave me advice on how to be professional and set yourself apart from others in an interview. I feel like going to events like that really helps.

Talk to people who have been on a co-op before for advice, such as how they prepared for their interviews, how they dressed, and what are good questions to ask. Ask them what they did to have a successful co-op rotation. Whenever you get an interview with a company, always come to the interview with a few questions on your mind. Whenever they ask you, "Do you have any questions for us" it's important to have questions or else they will probably think you aren't really interested in working for them. The best way to get an interview is to go to the career fairs and get out of your comfort zone and talk to these companies. That is how I received all my job interviews.