OUR MISSION: To enable students to emerge as civically engaged, skilled and adaptable leaders, ready to take on real-world challenges.
---
News
Akron Community Internship Program: Summer openings
Through ACIP students spend 100 hours and earn $1,000 working on a specific activity with a clear deliverable. The internships may be eligible for credit, depending on your department. View current openings.
Request for Proposals: $5,000 fellowship for professional development
The EX[L] Center is accepting applications from full time UA faculty members for the first annual Matt Lee Faculty Fellowship (MLFF). The MLFF awards the recipient $5000 to support one year of focused professional development that aligns with both EX[L] objectives and the faculty member's own disciplinary work.
Deadline for applications is Aug. 1. ► Download the request for proposals.
Dr. Matt Lee (formerly UA Sociology) is the newly appointed Director of Empirical Research at Harvard University's Program on Integrative Knowledge and Human Flourishing. An inspiring teacher and scholar, Dr. Lee will be missed as a part of the EX[L] and UA community. While at UA, he was instrumental in the development of the EX[L] Center and served as a founding member, and then chair of the Faculty Advisory Council. His many innovative courses engaging students' "heads, hearts, and hands" and his generous participation in a teaching community of practice have had a lasting impact on the way experiential learning happens at UA. Dr. Lee led by example, dedicating his sabbatical time last year to the sort of activity this Fellowship seeks to encourage. The Fellowship is named for him and it is our hope that his insights and approach to teaching and research will catalyze further growth and development among faculty here.
The MLFF awards the recipient $5000 to support one year of focused professional development that aligns with both EX[L] objectives and the faculty member's own disciplinary work.
A primary goal of the Fellowship will be to advance scholarly engagement with the EX[L] Center. In addition to stimulating the faculty member's research and teaching practices, this engagement should do one or more of the following: explore and further develop relevant pedagogical philosophy, build capacity or enhance the effectiveness of EX[L], enrich communities of practice on campus.
UA students explore ghost stories surrounding Akron's Schneider Park and mass graves
Another EXL unclass is in the media spotlight. Instructor Mira Mohsini says this unclass gives anthropology students a taste of researching history and in-the-field interviewing techniques. This group of UA students have spent months exploring whether stories or legends of strange or paranormal activity have popped up since another university-sponsored research effort last year uncovered evidence of mass graves in the park.
UA student drops out, rebounds with EX[L] Center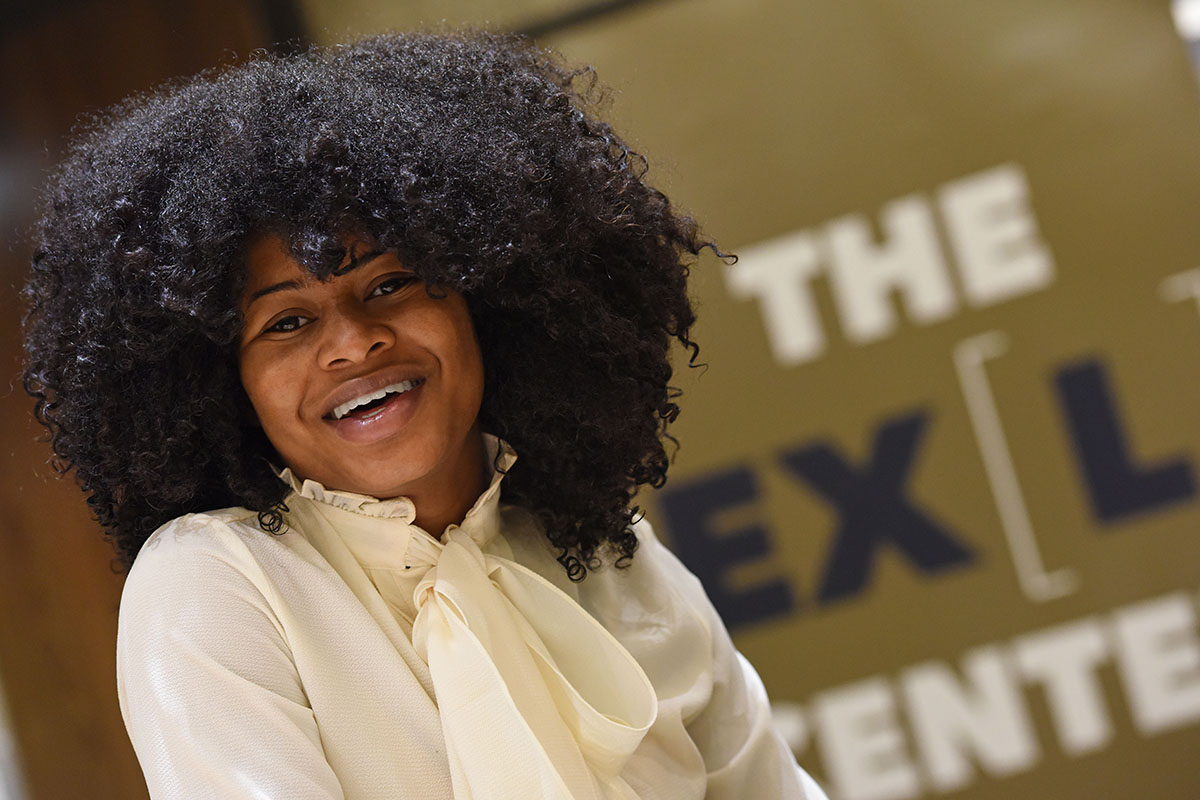 In this student success story, EbaNee Bond, overcomes the self-doubt that led her to drop out of UA, among other reasons. With an unexpected call that initially brought her back to UA, she still faced years of upward battle. While still struggling, Bond spotted a sign for a networking event hosted by the EXL Center which led to the changing point in her academic career. Bond found in the EXL Center encouragement, guidance and the confidence that is leading her to a future of endless possibilities and hope.
In an [Un]class of their Own
In their latest blog post: In an UnClass of its Own, on The Institute for Human Science and Culture website, UA students share their work in Digital Humanities in the Archives unclass. Students in Digital Humanities are learning archiving skills while making postcards from the fabulous The David P. Campbell Postcard Collection accessible to the public and scholarly researchers from a wide range of fields.
Spring 2018 Pitch Competition - Social Entrepreneurship Edition
A holistic approach is an essential part of social entrepreneurship focusing on the triple bottom line- economic, environmental, and humanitarian. #BeTheChange10K gave UA students a chance to compete for a top prize of $10,000 to benefit the community and make the world a better place. Details here!
Faculty CEC award recipients for Spring 2018
EX[L] is pleased to congratulate the most recent 2018 award recipients of grants up to $1000 for Community-Engaged Courses.
Applications are reviewed on a rolling basis: download the guidelines.
HungerPerks wins $10K in Fall 2017 Pitch Competition
$10,000 awarded to HungerPerks and $800 to each of the five finalists to go towards their startups. Details here on the event, sponsored by the Burton D. Morgan Foundation, and the six of the finalists.