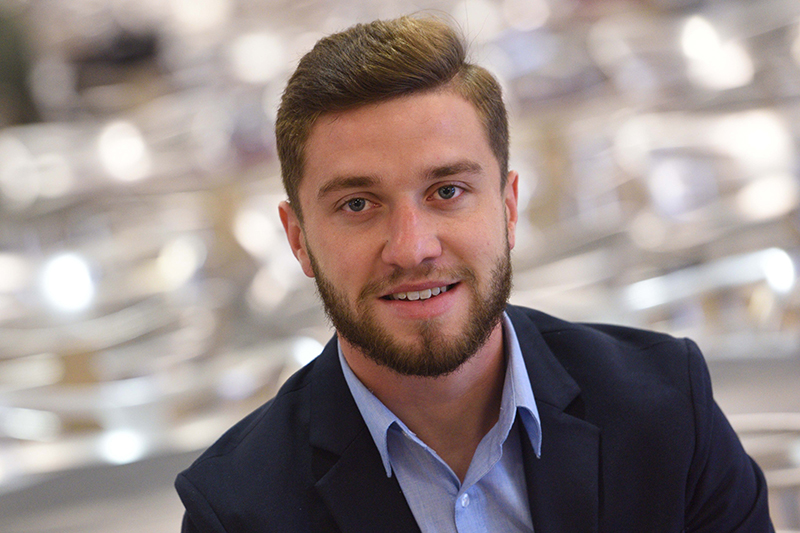 Class of 2017: Soccer is his love, and soon, his business
Dener dos Santos will be the student speaker at the Fall Commencement ceremony on Saturday, Dec. 16, at 6 p.m. He is a Williams Honors Scholar graduating with bachelor's degrees in Marketing Management and Sales Management, magna cum laude. He also has played the position of midfielder on the UA's men's soccer team.
Hometown: Joinville, Brazil
High School: Elias Moreira, in Joinville. Dulles High School, in Houston, Texas.
What's next?
I have accepted a position with Major League Soccer in which I will be trained to work in the sales department of a professional soccer club.
Q: Best advice you ever got from a professor?
A: "Every day is an interview," from Professor Deborah Owens. I trust that throughout my years at Akron, whether that was on or off the field, I applied this advice to my routine. This definitely shaped my personality and attitude toward the different tasks and duties I had within the University. Because of that advice, I made great connections and have been mentored by great leaders within the Akron community.
Q: What's your advice to incoming freshmen?
A: I believe that a higher education today is often taken for granted because many students expect the university to do and give for them, which in reality, is the opposite. Put yourself out of your comfort zone, whether that is joining different organizations, having job experiences, or doing research within your field of study. Having our backs against the wall and being uncomfortable is often when we learn the most, and ultimately, we will learn greatly about ourselves and eventually learn how to help and impact others' lives
Q: What's your ultimate career goal?
A: My ultimate career goal is to be a positive influence on the growth of soccer in the United States. I believe that there is vast room for improvement in many areas of the game and I intend to study and involve myself to an extent where I can be a leader and influence children, players, communities and the country to love the game as much as I do.