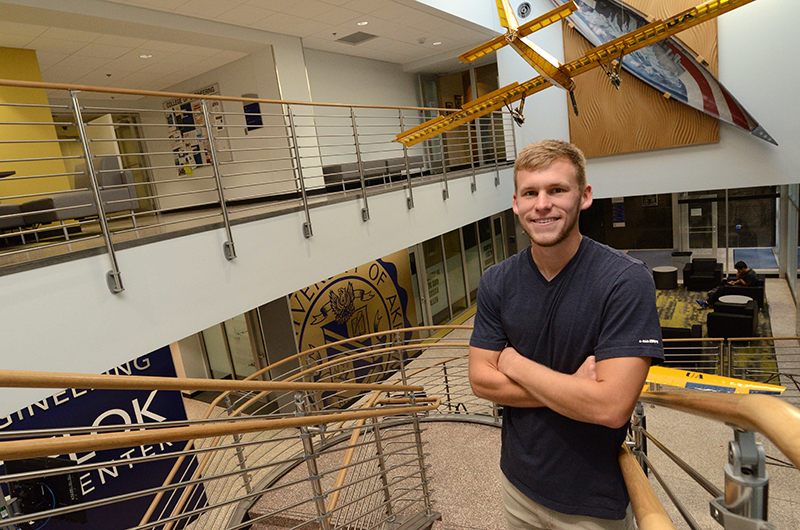 Bradley Ruhaak: Hopes to engineer a career in soccer
Bradley Ruhaak is the student speaker at the Fall Commencement ceremony on Saturday, Dec. 17, at 2 p.m. He is a Williams Honors Scholar graduating with a B.S. in Mechanical Engineering, magna cum laude.
Hometown: Akron, Ohio
High School: Copley High School
What's next?
Currently striving toward playing soccer professionally. (He played the position of defender on the UA's men's soccer team.)
Q: Best advice you ever got from a professor?
A: The best advice was given to me by Michael Dunbar in my third Honors Colloquium class. His advice was short and to the point: "If you want to experience what the world has to offer and expand your views, travel." Since that class, I have been fortunate enough to travel to Brazil (Sao Paulo & Rio de Janeiro) and Cape Town, South Africa. The beauty of both of these places was breathtaking and I will never forget either trip. Within the unforgettable views and once in a lifetime experiences, what I remember most is the culture of both of these places, and I believe that is what my professor meant when he spoke about the things the world has to offer.
Q: What's your advice to incoming freshmen?
A: After all of my experiences at The University of Akron, my best advice to incoming freshmen would be to get involved and step out of your comfort zone. The college experience truly is what you make of it, and to make the most of your time here, being involved in many things can make the time worthwhile. Whether this means volunteering, joining student organizations, participating in intramural sports, doing research with your favorite professor, the opportunities here are endless. Relationships will form and you will become intertwined within the University before you know it, which means you are one step closer to leaving a lasting impression on The University of Akron.
Q: How do you describe your Akron Experience?
A: If I had to use one word to describe my Akron Experience, I would say it was memorable. From my first day of classes to making it to the College Cup in Kansas City last fall to being chosen as the student speaker at my commencement, my experience is full of lasting memories. Everyone who has made it to graduation has grown immensely since starting this journey, and I am no exception. I created lifelong friendships, became involved in many groups, persevered through my mechanical engineering curriculum, and because of all of these things, I have grown as a person. I am extremely thankful for my Akron Experience and will never forget where I have come from —wherever I end up choosing to go in my future.