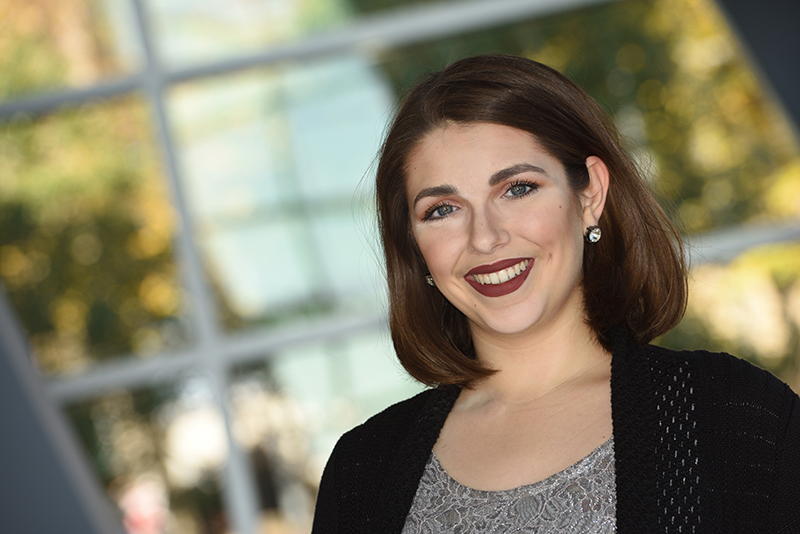 Class of 2017: Communications career may lead her to 1600 Pennsylvania Ave.
Abby Zerull will be the student speaker at the Fall Commencement ceremony on Saturday, Dec. 16, at 10 a.m. She is a Williams Honors Scholar graduating with a B.A. in Public Relations, magna cum laude.
Hometown: Twinsburg, Ohio
High School: Cuyahoga Valley Christian Academy
What's next?
I hope to find a job at a public relations or campaign firm.
Q: Campus involvement?
A: I have been involved with the speech and debate team, Alpha Gamma Delta, the University Communications Committee, Campus Focus, PRSSA and several honorary organizations, including Lambda Pi Eta, Omicron Delta Kappa, Gamma Sigma Alpha, Order of Omega and Rho Lambda.
Q: What's your advice to incoming freshmen?
A: My goals as a freshman are completely different than the dreams I have exiting The University of Akron. At the beginning of my collegiate career, I attended another Ohio college, where I studied musical theatre. I had spent my whole life dreaming of a career on Broadway. Quickly, I found myself unhappy with, and unchallenged by, my school work. I was terrified to step outside of my comfort zone and reactivate my dreams. But, when I transferred and pursued a different major, I realized that the risk was worth it. I became a better person by entering a world with which I was unfamiliar. I learned that nothing is set in stone – you and you alone dictate your future. I learned that you can only meet your goals if you are incredibly passionate about pursuing them. So, if you are unhappy, make the change. Do what scares you. You won't regret it.
Q: What's your ultimate career goal?
A: I am fascinated by crisis communications and public relations campaigns. I have a passion for politics. If I could choose any job in the world, it would be working in the White House communications office. Specifically, I would love to have the honor of serving as press secretary, or as the White House communications director.