Akron Law moot court team reaches semifinals at ABA national competition
04/26/2022
After advancing undefeated through five rounds of the regional ABA National Appellate Advocacy Competition (NACC) in March, The University of Akron School of Law moot court team of Kristo Pantelides and Megan Parker won their first four rounds at nationals to reach the semifinals before falling just short. However, they came away with the award for the fourth best brief in the nation. They were supported by bailiff Kylie Thomas during the 2021-22 season.
"They did a fantastic job," said team coach Mike Gentithes, associate dean of academic affairs. "The NACC is one of the largest and most challenging moot court competitions in the country. All season, Kristo, Megan and Kylie exemplified the intelligence, teamwork and dedication that make Akron Law such a special place. They've made us all immensely proud."
The NACC involved a fictional U.S. Supreme Court case in which the plaintiff, a blind woman, sued a candy company alleging that it was in violation of Title III of the Americans with Disabilities Act because its website does not include software code that would make it accessible to visually impaired individuals like herself using screen-reading software. Title III of the ADA prohibits businesses from discriminating against people with disabilities "in the provision of goods and services, for places of public accommodation."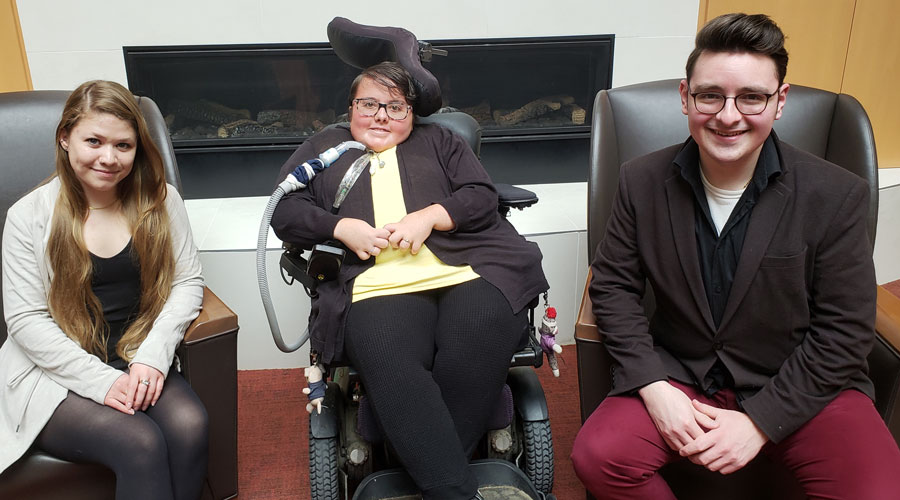 The 2021-2022 Akron Law moot court team included Kylie Thomas (bailiff), Megan Parker and Kristo Pantelides.
The Akron team represented the plaintiff in its brief, arguing that the company's website is "a place of public accommodation" because the language of Title III of the ADA does not limit enforcement to physical locations and Congress intended its application to expand with technology.
Pantelides, a 3L J.D. candidate, is an assistant editor on Akron Law Review and currently interns as a law clerk at Reed Law Offices, LLC, in Canton. He graduated summa cum laude from Kent State University with a Bachelor of Business Administration.
Parker, a 2L J.D./L.L.M. candidate, is an assistant editor on Akron Legal Review. She is a spring intern (virtual) at Copyright Alliance in Washington DC and was a 1L Diversity Fellow at Benesch Law in Cleveland. She graduated summa cum laude from The University of Akron with a Bachelor of Fine Arts.
Thomas is a 2L J.D. candidate focused on constitutional/criminal appellate advocacy. She is an assistant editor on Akron Law Review, a student coordinator in the School of Law Expungement Law Clinic, a Research Fellow in the Center for Constitutional Law, and a First Amendment Law Fellow with the John S. and James L. Knight Foundation. She graduated summa cum laude from Walsh University with a Bachelor of Arts on the School of Law's 3+3 program.
---
More:
Share