Akron Law places in top 10 nationally in ABA Competitions Champion ranking
05/28/2019

The University of Akron School of Law tied for 8th place in the country in the just-released 2018-19 American Bar Association (ABA) Competitions Champion ranking.

The Competitions Champion ranking is based on overall points earned by teams competing in the regional and national tournaments in the four ABA Law Student Division competitions: the Arbitration Competition, Negotiation Competition, Client Counseling Competition, and National Appellate Advocacy Competition (NAAC Moot Court). This year, more than 1,300 students from 154 law schools participated in one or more of the competitions.
Akron Law's Law Moot Court Team, from left: Professor Jen Woloschyn, Lauryn Kitchen (3L), Michael Grund (2L) and Amanda Zganjar (3L).
Akron Law teams competed in two of the competitions. In the NAAC Moot Court National Championship in Chicago, the Akron team of Michael Grund and Lauryn Kitchen knocked out the reigning champion, Oklahoma City University School of Law, in the Sweet 16 before losing a narrow split-decision to Texas A&M University School of Law in the Elite 8. The team had previously dominated the field at the regionals in Boston, where Amanda Zganjar also participated.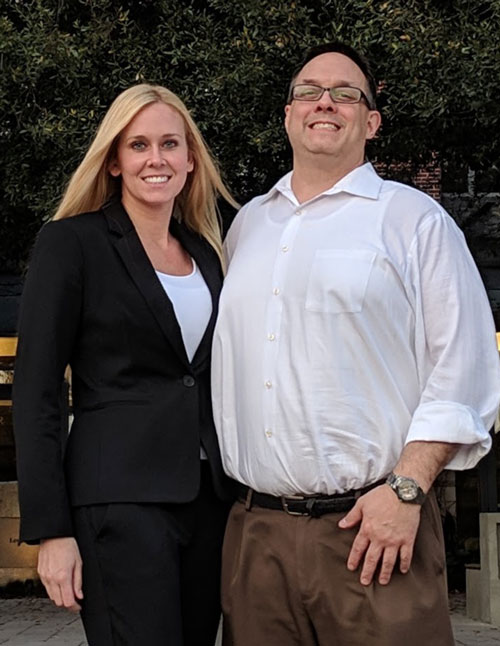 Christina McCrossin and David Wolfram represented Akron Law in the National Client Counseling Competition.
In the Client Counseling Competition, three Akron Law teams made it to the semifinal round of the regional competition in Philadelphia: Kelsey Ewing and Heather Steele; John Pfleiderer and Amanda Wager; and Christina McCrossin and David Wolfram. Wolfram and McCrossin emerged to compete in the National Championship in Waco, Texas, entering as the No. 2 seed and advancing as far as the semifinals. This was Akron Law's third regional title in the last four years and Wolfram's third trip to the nationals, including a third-place finish in 2016.
"We are proud of our students whose exceptional performances in the ABA competitions this year earned us this prestigious top-10 ranking," said Akron Law Dean Christopher J. (C.J.) Peters. "These outstanding results continue Akron Law's long tradition of excellence in legal skills competitions. These competitions are an important part of the hands-on learning experiences we provide our students as we prepare them to become highly skilled lawyers."
The Top 10 ABA Competitions Law Schools by points this year are:
| | |
| --- | --- |
| 1. Texas Tech University School of Law | 54 |
| 2. Southern Methodist University Dedman School of Law | 43 |
| 3. Liberty University School of Law | 41 |
| 4. Campbell University Norman Adrian Wiggins School of Law | 39 |
| 5 (tie). Chapman University Dale E. Fowler School of Law | 34 |
| 5 (tie). St. Mary's University School of Law | 34 |
| 5 (tie). University of Houston Law Center | 34 |
| 8 (tie). Georgetown University Law Center | 33 |
| 8 (tie). The University of Akron School of Law | 33 |
| 10. Texas A&M University School of Law | 31 |