As part of The University of Akron's sesquicentennial celebration — honoring 150 years of our people, place and promises — we are hosting a "Celebration of Academic Excellence" to highlight the history and future of our colleges, schools and academic disciplines.
Today we continue to honor the achievements of the School of Law.
---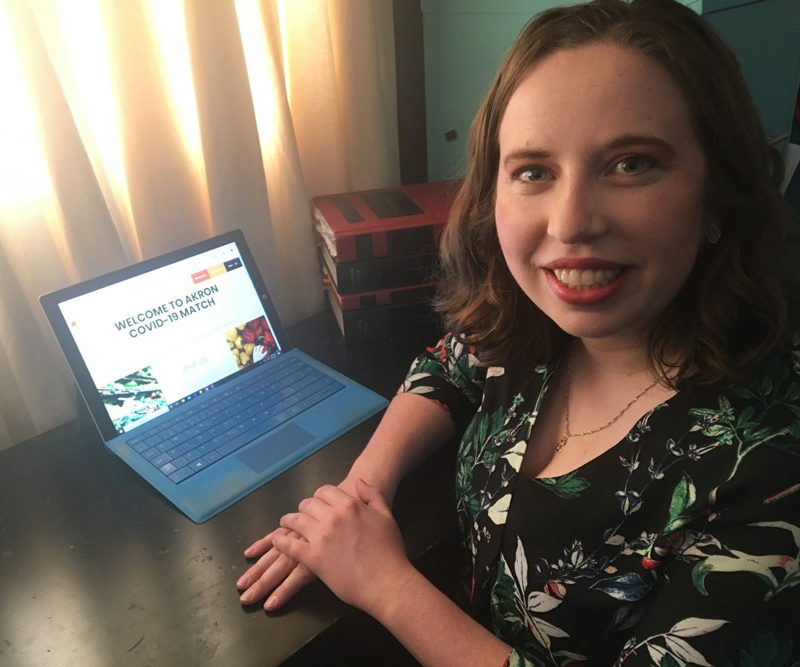 Briana Vamosi designed the website to match volunteers with individuals who need help.
One year ago, amidst the initial waves of shortages, lockdowns, social distancing, and fear, University of Akron School of Law student Briana Vamosi was inspired by a few medical student friends in Cincinnati to do something about it.
Those friends had launched a Cincinnati-Northern Kentucky COVID-19 match website where healthy young adults could be paired with housebound older adults or at-risk individuals to provide them with assistance. Vamosi checked to see if anything like it existed in Akron, and finding nothing, she got in touch with her friends. The next morning, she started building on an Akron version of the website and had it up and running within a few days.
Her initiative was recently recognized by The National Jurist, which named her one of six semifinalists for the magazine's annual Law Student of the Year award.
Although Vamosi had never developed a website before, she had other qualifications for this project. Before starting on a dual law degree at Akron in 2019, she had completed three years of medical school at the University of Cincinnati. She is on an accelerated track to complete her Juris Doctor this year, after which she will return to Cincinnati to finish her M.D. If all this wasn't enough, she has continued with her medical rotations, serving at the student-run telehealth service at the Northeast Ohio Medical University in Rootstown.
"The website had a great response, especially from students at the law school," she said last year. "On the other side, we tried to reach out to anyone over age 65 or anyone who has a co-morbid condition that puts them at a higher risk."
"The younger volunteers can offer to pick up groceries or prescriptions, deliver a homemade meal, or just check in on the person by phone every couple of days," she explained.
When signups slowed after the initial burst of activity, she added a phone number to make the service more accessible for people who aren't online. She also tried to get the word out to pregnant women and organizations that support older people living independently.
"Briana is an exceptional leader, and I'm glad to see that her efforts have received national recognition," said Akron Law dean Christopher (C.J.) Peters. "Like so many Akron Law students, she is strongly motivated to help others, and with her medical and law degrees, she will be uniquely situated to do that."
To register as a volunteer or person in need in the Akron area, visit the Akron COVID-19 Match website or call ‪234-281-3845.
---
NEXT: