Assistant General Counsel at Pfizer to discuss the fight against Covid-19 as keynote speaker at 2022 IP Law and Policy Symposium
02/22/2022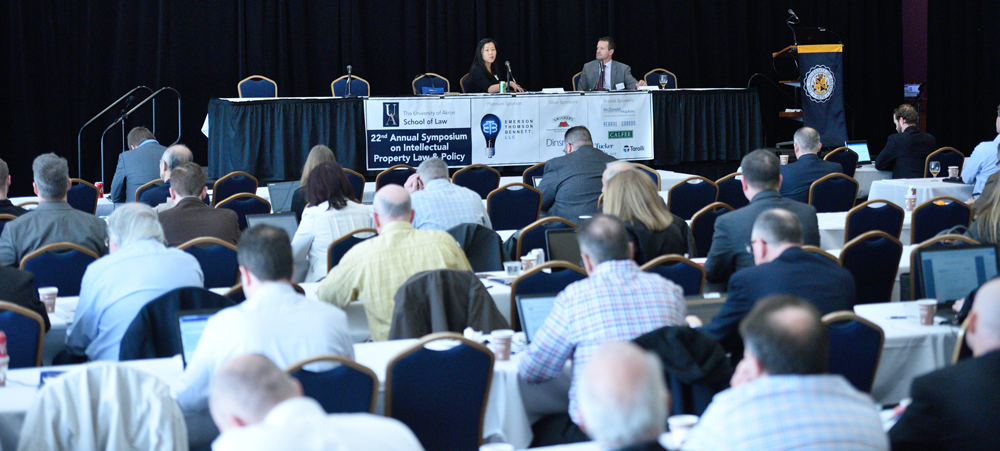 Panelists address a full house at the 2020 Symposium.
The Midwest's premier intellectual property law CLE returns to an-person format for the 24th annual event on Monday, March 28, at The University of Akron.
The 2022 University of Akron School of Law Annual Symposium on Intellectual Property (IP) Law and Policy is a full day Continuing Legal Education (CLE) event that brings together hundreds of IP law practitioners, professors, patent holders, policymakers, jurists and students for presentations and panel discussions covering all areas of IP law.
The luncheon keynote speaker at this year's symposium is Matthew Pugmire, assistant general counsel at Pfizer, Inc. He will be speaking on the role of IP in the fight against Covid-19 in a speech titled, The Role of IP in Biopharma Innovation: Insights from the Covid-19 Pandemic.
As Pfizer's Assistant General Counsel, Pugmire played a leading role on Pfizer's IP strategy and partnerships that delivered its Covid-19 vaccines and treatments. Pugmire earned a J.D. from the University of Texas and a Ph.D. in Chemistry and Chemical Biology from Cornell University.
"We are so happy to welcome guests back to our traditional in-person symposium on campus next month," said Mark F. Schultz, Goodyear chair in intellectual property law and director of the Center for Intellectual Property Law and Technology.
"Our primary purpose is to provide a high-quality program that attracts IP law practitioners to the University. Events like this serve our local legal community while giving our students the opportunity to learn from and network with practitioners."
About the Symposium
7.5 hours of Ohio CLE accreditation is pending, including 1.25 hours of professional conduct credit covering ethics, professionalism, substance abuse and access to justice.
Corporations represented on the panels include Materion Corp., The Hillman Group, and The Sherwin-Williams Company.
Register here today. You will receive email updates in the coming weeks.
The symposium will take place at the Jean Hower Taber Student Union on the UA campus, beginning with breakfast and check-in at 8 a.m. and running until 5:30 p.m. Parking will be provided, along with opportunities for discounted room rates at local hotels.
For questions, please contact Mark Schultz.
See the symposium webpage for more details
Thank you to our sponsors
Platinum:
Emerson Thomson Bennett LLC
Silver:
The J.M. Smucker Company
Bronze:
McDonald Hopkins LLC
Renner Otto
Tarolli, Sundheim, Covell & Tummino LLP
Tucker Ellis LLP
Contact us to learn more about sponsorship opportunities
Share