Best and brightest are problem solvers at UA Hackathon
04/25/2017

Sleep was in short supply this past weekend, but ideas were abundant as students from other universities joined some of UA's own for a marathon session of problem solving known as a hackathon.

Participants were challenged to take a glimmer of an idea and create a fully formed product or program to solve a problem during the 24-hour period of the hackathon.

This was the first hackathon organized by UA students — all electrical engineering, computer engineering and computer science majors. HAkron, as the team is known, handled all aspects of the event — from arranging sponsors to lining up a panel of judges.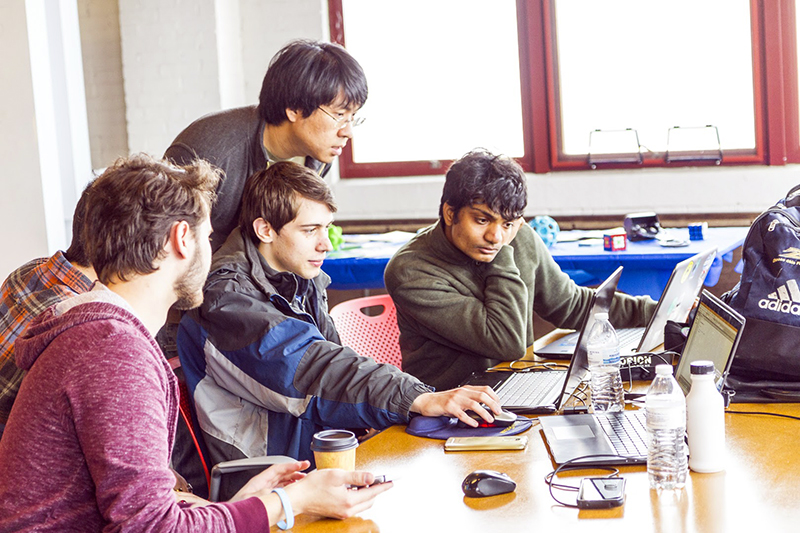 The 24-hour hackathon drew participants from across Northeast Ohio.
---
The UA Hackathon was held at The Bit Factory, a software startup accelerator in Akron. UA's Experiential Learning Center for Entrepreneurship and Civic Engagement (EXL Center) sponsored the event, which drew more than 85 hackers.
The projects submitted for judging ranged from self-balancing robots to a custom "Siri-like" web application. Winners were:
A safe system with a variety of security features called "Locked 'n Loaded" — a programming system in a cardboard box — took first place and a $1,000 prize for the team that developed it.
Second place went to an echolocation device to help people hear better. The device is a series of wires that attach to a hand, much like a glove.
UA's Bubble Tank Team members took third place with their computer-controlled, bubble-blowing robot. It might not solve any problems, but it sure gets a lot of smiles.
The Bit Factory and Akron Accelerator provided mentoring and representatives from the Morgan Foundation, Launch League, Fund for Our Economic Future and the Akron Mayor's Office attended the UA Hackathon.
Team looks ahead to next hackathon
Team HAkron is pleased with the inaugural effort and hopes to host another hackathon this fall with double the number of attendees, says team member Matt Morris. "Throughout the event we also had talks aimed at teaching the students about things ranging from app building to biomimicry."
Joining Morris on HAkron were Emerson Cloud, Kyle Vasulka, Matt McDade, Julie Aichinger, Rodney Morgan, Steven Gates, Elissa Peters and Cam Sinko.
"These students – many of whom are just sophomores – undoubtedly represent the very best of The University of Akron," notes Annal D. Vyas, co-director of the EXL Center. "I am personally proud of HAkron. The team members worked very hard to make their event a success. And this event is a great example of how the University and the community are working together as partners."