Coding a Williams Honors Scholar: Michael Ameteku
01/10/2022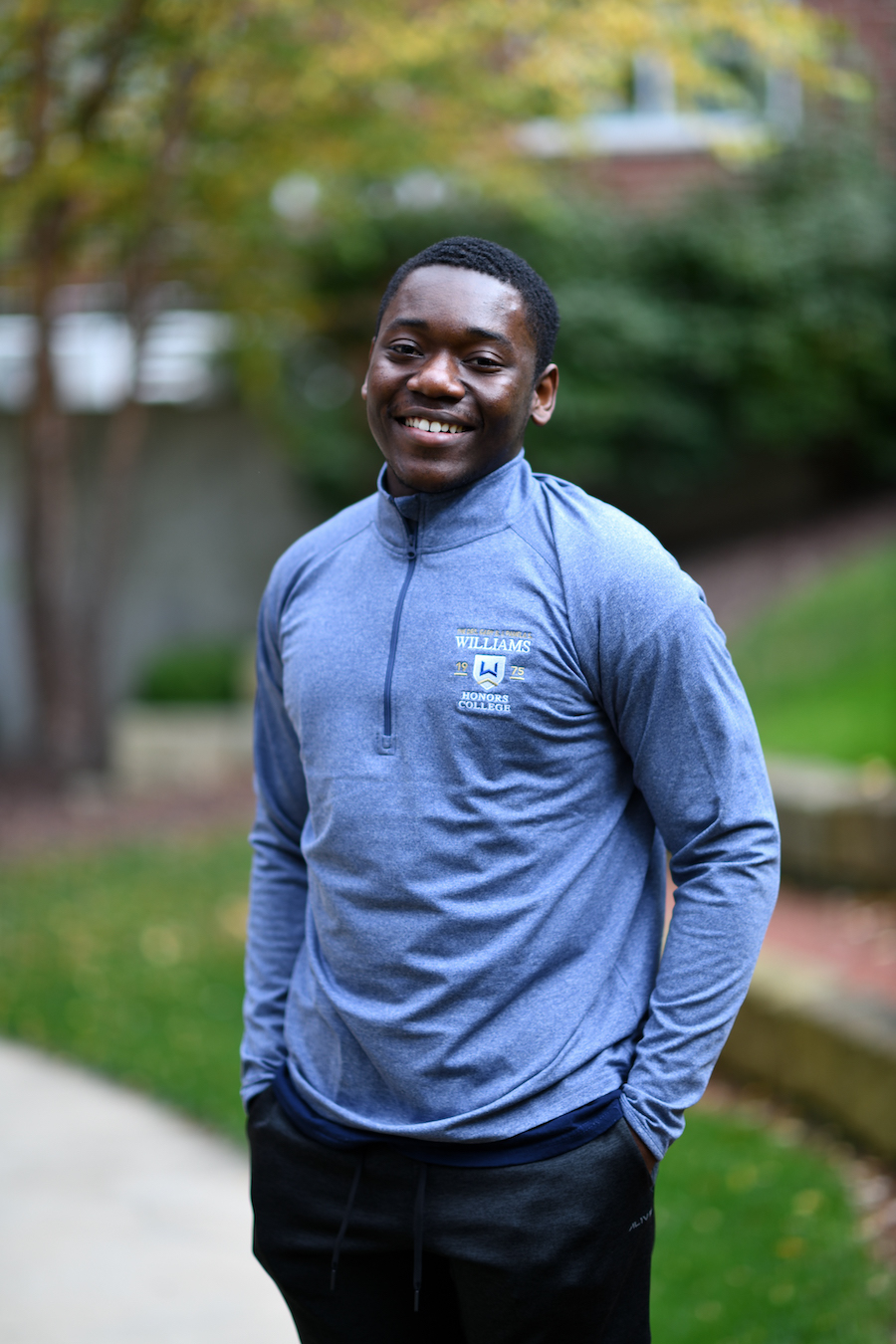 Michael Ameteku
Michael Ameteku wants to, as he puts it, "impact lives through code."
To the average person, that might mean spending lots of time in front of a computer typing thousands of lines of letters and special characters to create digital software. But to Ameteku, it's more than that—it's about changing the world for the better.
"I have noticed that my country of Ghana is still in its infancy when it comes to utilizing the power of technology to solve problems in areas such as health care, emergency situations, flood prevention, land ownership and other things," says Ameteku, a senior at The University of Akron (UA) working toward his B.S./M.S. computer science degree. "I believe I can solve some of these problems by first learning and improving my ability to code, exposing these skills and their benefits to more people and collaborating with other people who have the same or similar goals as I do."
And UA's Drs. Gary B. and Pamela S. Williams Honors College (WHC) is providing Ameteku with the additional opportunities and skills—or the perfect code, rather—he needs just to do that.
Value of Honors education and opportunities
The WHC has already enabled Ameteku to begin impacting lives. For his Honors research project, which is a capstone project required for all Honors students, Ameteku is tackling the problem of laptop theft in libraries and public areas. Specifically, he's building a system that consists of a mobile app and computer application that uses the laptop's camera to detect whether there is any suspicious activity around the laptop—such as an unknown person trying to steal it—by tracking suspicious movements around the laptop or scanning faces that get too close and notifying the owner.
The Honors project is one of the unique ways in which the WHC prepares its graduates for careers anywhere in the world. The WHC's Honors Distribution program requires students to complete courses in several disciplines; likewise, the college's Honors Colloquia courses bring together honors students from various majors to discuss timely topics in the sciences and humanities.
"The Honors Colloquia have given me the opportunity to learn about other really interesting subjects outside of my field that I did not think I would like, such as international politics or how plastics are formed," says Ameteku. "But the colloquia also gave me a better understanding of how my major of computer science is related to other disciplines."
Turning sacrifices into opportunities
But it's more than being a high-achieving scholar that motivates Ameteku to perform just as well as the digital software he aspires to create.
"At the time of my coming to the U.S., my parents' electrical company had lost its main client which provided a large portion of revenue," describes Ameteku. "We were comfortable but had just enough money to support our daily life needs like food and electricity. When my parents decided that I was coming to the study in the U.S., not knowing how they were going fund my fees through even the first year of college, they sold the only car the company was using and really reduced the amount of money being spent at home."
Like his parents, Ameteku is working hard to earn his college education. He is the recipient of numerous scholarships, including automatic scholarships provided by the WHC. He is also the recipient of The Akron Guarantee International Scholarship from the International Center and the Catherine Dow Scholarship and The William and Albert King Scholarship from the College of Engineering and Polymer Science, which houses his degree program.
"I want to make great use of the opportunity my family back home sacrificed so much to enable me to come to the U.S. to study, and make sure they enjoy the returns of what they've sowed," says Ameteku.
Honors College = 'Great college experience'
The determination Ameteku and his parents have for him earning an education are paying off.
Ameteku is currently an intern with Novvia LLC, a Columbus-based software development company, and has already accepted two more internships next year with Amazon and Coursera, an online learning platform. After graduating next year, Ameteku is planning to continue working towards his master's degree and aspires to work full-time with a software development company.
"Being an honors student has made me realize that I can absorb more than I initially thought I could and has in turn further built up my confidence in taking on challenges I never would have thought of," says Ameteku. "The University of Akron and its Honors College is a safe space where the staff and classmates you interact with aim to help you succeed and will go the extra mile to ensure you do so. Ever since I started school here, I have felt welcomed and never regretted the decision to study here. If you want to have a great college experience, come to UA, and make sure you join the Honors College."
More: See other Williams Honors College students' stories
---
Media contact: Cristine Boyd, 330-972-6476 or cboyd@uakron.edu
Share