College of Engineering and Polymer Science Career Fair goes online
08/04/2020

The Co-op and Placement Office recently wrapped up their first ever virtual Career Fair. The fair was held via Zoom and was designed to prepare students for their co-op or permanent job search. The event attracted 40 employers and 130 students.

Student were able to schedule meetings with companies in 10-minute increments in advance. Co-op staff then provided employers with student resumes in the lead-up to the fair. During the event, students entered the employers "room" at their scheduled time. They spent the time telling the employer about their skills and interest in the company.
"This was a great alternative to the traditional, in-person career fair," said Peter Miller, a spring 2020 mechanical engineering graduate. "Advance scheduling eliminated wait times to speak to employers. This used my time more efficiently and allowed me to talk with more company representatives. I was able to meet with 10 companies in two days."
Participating employers included the Federal Bureau of Investigation, NASA Glenn Research Center, Federal Reserve Bank of Cleveland, Garney Construction, Nationwide Children's Hospital, and Northeast Ohio Regional Sewer District.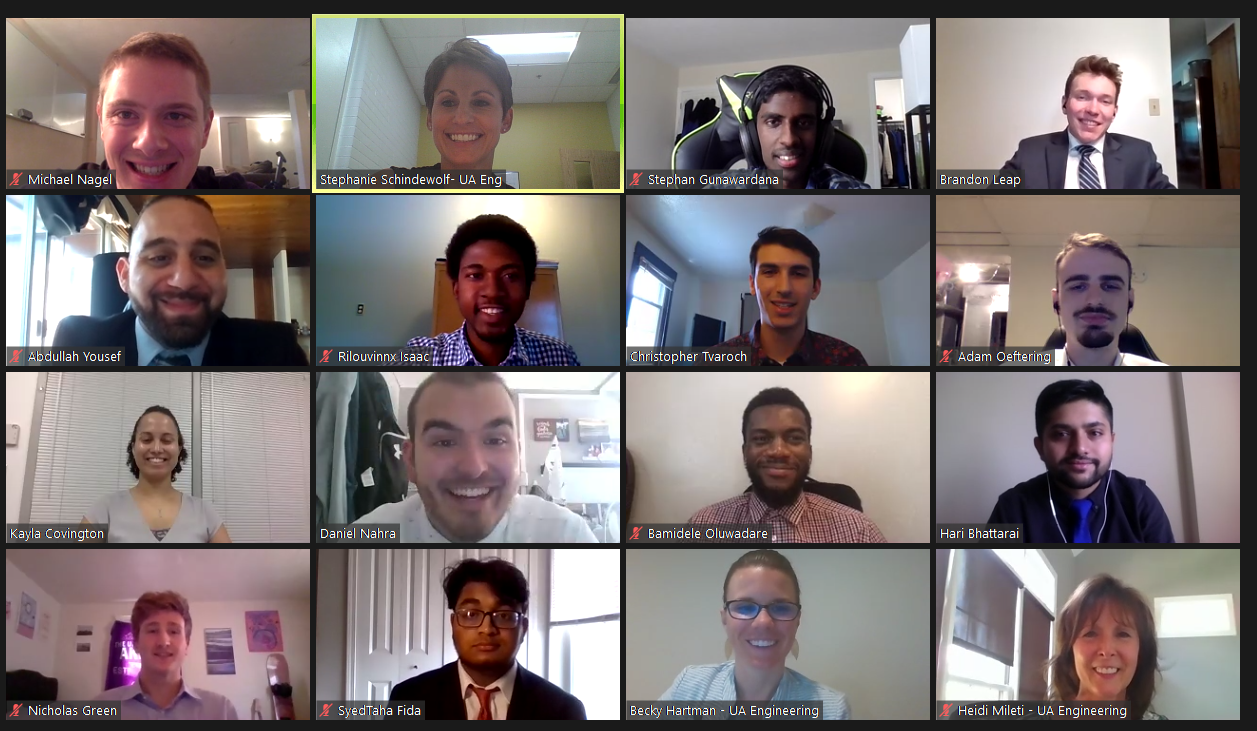 This Career Fair wrapped up the Career and Personal Development Workshop that the Co-op and Placement Office offered to all engineering sophomores, juniors, and seniors as well as May 2020 graduates. The workshop featured College staff presenting workshops on everything from cover letter and resume writing to how to request references and craft your elevator pitch.
"The benefit of this workshop was learning to be more professional," said Ryan Best, majoring in mechanical engineering. "Co-ops teach you hard skills and unwritten rules in the workplace but a workshop solely dedicated to career and personal development will give me the edge I was looking for."
As part of the curriculum, local engineering leaders presented a series of "Coffee Talks" where they discussed their career path and answered questions from students. The speaker lineup included William Considine, CEO Emeritus at Akron Children's Hospital; Chris Minor, Vice President Private Banking Relationship Manager at Fifth Third Bank; Jim Black Director of Engineering at Test-Fuchs; Erin E. Makarius, MBA, Ph.D., Associate Professor, Department of Management at UA; and Shon Christy, President, Shon Christy Social Media.
Through a partnership with UA's Institute for Leadership Advancement, all participants will have completed the majority of requirements for UA's Leadership Development Certificate. They will only have to complete a single one-credit class — the Personal Leadership Skills course (6100:200), to receive the certificate.
---
Related content: