Day of Public Discourse: Debates as a Pathway to Civic Participation and Public-Spirited Professions
10/28/2022
On October 11, 2022, the Ray C. Bliss Institute of Applied Politics and UA hosted a day of public discourse by the Ohio Debate Commission at InfoCision Stadium. Participants included students from area high schools, universities, law schools and community members.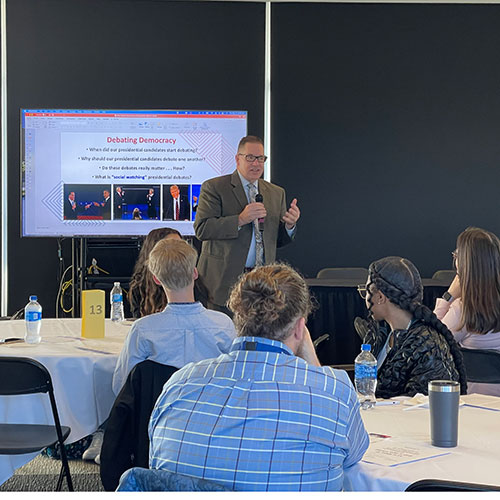 Dr. Mitchell S. McKinney presented "Debating Democracy" to the participants.
Keynote speaker was Dr. Mitchell S. McKinney, dean of the Buchtel College of Arts and Sciences, professor of political communication, and Fellow in the Ray C. Bliss Institute of Applied Politics. He shared his research and facilitated conversations about the historical and contemporary practices and challenges about political debates.
"...the engagement of our youngest and future voters in the political process is key to a vibrant democracy, and candidate debates serve a vital role in creating a more informed electorate!" Dean McKinney noted.

Bliss graduate student Nour Shakaki speaks to participants.
In a community roundtable discussion, the 100+ participants discussed materials collected from the U.S. Senate and Ohio gubernatorial candidates to craft meaningful questions later submitted to their campaigns.
For the U.S. Senate candidates, the students' top questions dealt with issues related to prioritizing women's reproductive rights, reducing gun violence, and ensuring that "students receive a diverse education and curriculum that includes correct representation of LGBTQ+ and multicultural history."
For the gubernatorial candidates, students asked about inequality in public education funding, the impact that bills informing what is taught in schools on the identity and education of Ohio constituents, and how the candidates will ensure that "all victims of violence receive the services and protection they need within our communities regarding human trafficking."
"The Bliss Institute co-sponsored this programming because we are committed to helping high school and college students embrace their civic obligations as the next generation of Ohio voters," remarked Bliss Institute Director Dr. J. Cherie Strachan. "Their willingness to process political information and to pose questions to the candidates running for statewide office exceeded our expectations."
After lunch, a panel of journalists spoke about the Ohio political and media ecosystem moderated by Dr. Emily Metzger, professor and director in the School of Media & Journalism at Kent State University. Panelists were Jim Crutchfield, editor-in-chief of the Marshal Project's first local news team in Cleveland; Karen Kasler, bureau chief of the Ohio Statehouse News Bureau; Lucia Walinchus, executive director of Eye on Ohio; and Anthony Shoemaker, Ohio Bureau Chief at Gannett.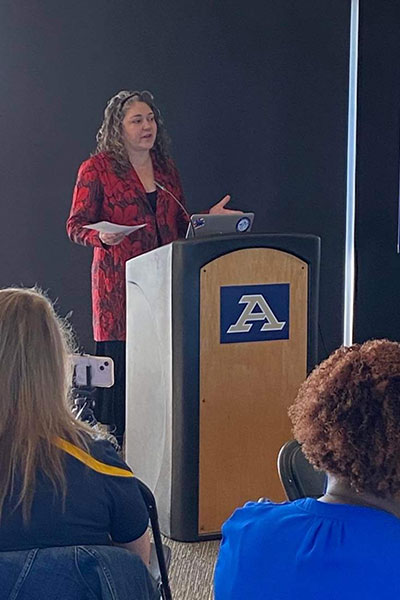 Bliss Institute Director Dr. J. Cherie Strachan
Later in the afternoon, Strachan moderated a panel of professionals to speak to career opportunities. The panelists: Kayla Atchison, government affairs director for Stark Trumbull Area Realtors; James Crooks, owner of JC Power Strategic Communications; and Morgan Ferrell, executive director of the Summit County Democratic Party.
---
RELATED CONTENT:
---
Story by: Lisa Craig
Share