Diverse Engineering podcast is back, this time with a focus on women
10/13/2021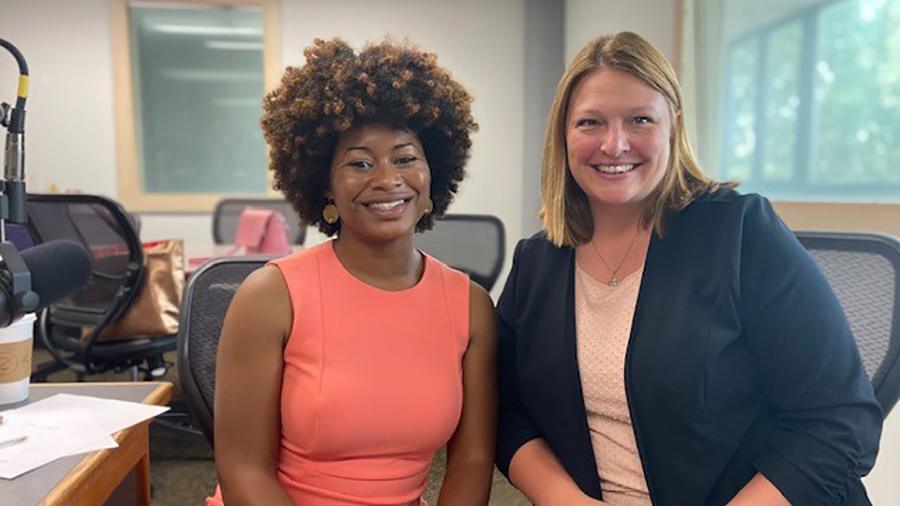 Host EbaNee Bond along with guest Brandy Moorhead at WZIP Studios.
The latest installment of "Diverse Engineering – Women Engineers Through the Decades," an initiative of the College of Engineering and Polymer Science, is back! This podcast celebrates the unique voices and stories of UA engineering alumni. The initiative was coordinated by Heidi Cressman, the College's Director of Diversity and Inclusion.
"The women in this podcast, although all on separate journeys, had the intellect, humor, and courage to enter into a male dominated field where, in many cases, they were not welcome," says Cressman. "Despite this adversity, they managed to create highly successful careers. Their stories are compelling, funny and inspiring and will leave you with a greater understanding of what it has been like to be a woman in engineering over the last few decades."
"Diverse Engineering" is an eight-episode series hosted by EbaNee Bond, a UA alumna who received her Bachelor of Science in Mechanical Engineering in 2018. Each 30-minute episode will feature interviews of women in engineering to honor their success and inspire future STEM leaders.
Diverse Engineering: Season 2 Trailer
"Our hope is that this podcast will encourage the next generation of girls to follow in the footsteps of these inspiring women engineers and continue to push the envelope of what it means to be successful," says Cressman.
The first episode, "Synthesis of a CEO" featuring Cynthia Slezak of RJS Corporation, will drop next Tuesday on all major podcasting platforms and will be streaming online.
"Diverse Engineering" is sponsored by Bridgestone Americas, GPD Group, Continental Contitech, Goodyear Tire and Rubber Company, and LyondellBasell and will support scholarships in the Women Engineering Program.
---
RELATED CONTENT:
---
Media contact: Cristine Boyd, 330-972-6476 or cboyd@uakron.edu.
Share