Esports Team to represent UA at nationals for second straight season
03/25/2019

Our Akron Esports varsity Rocket League team became the first team in the history of Collegiate Rocket League to qualify for nationals twice in a row after winning the Collegiate Rocket League (CRL) Northern Conference Championships on March 20. The Zips are the only National Championship team from last season to qualify for nationals again in the spring.

Akron's victory will take the team to the NCAA Final Four Fan Fest at the Minneapolis Convention Center in Minneapolis, Minn., where the team will have an opportunity to compete for a $50,000 scholarship prize pool in front of a live audience.

Rocket League is a vehicular action soccer game. Three players control rocket-powered cars to hit a ball into an opponent's goal to score points, much like traditional soccer.

This season, the CRL Nationals event will be part of TBS's ELEAGUE x Rocket League Game Zone Presented by AXE. The activation will occur April 5-8 at the Fan Fest and the competition will be broadcast live on Twitch.tv. UA will face the University of Redlands, University of Central Florida and Rensselaer Polytechnic Institute from the Western, Southern and Eastern Conferences, respectively. ELEAGUE will produce a highlights-driven feature television show based on the competition, which will air on TBS on Friday, April 12.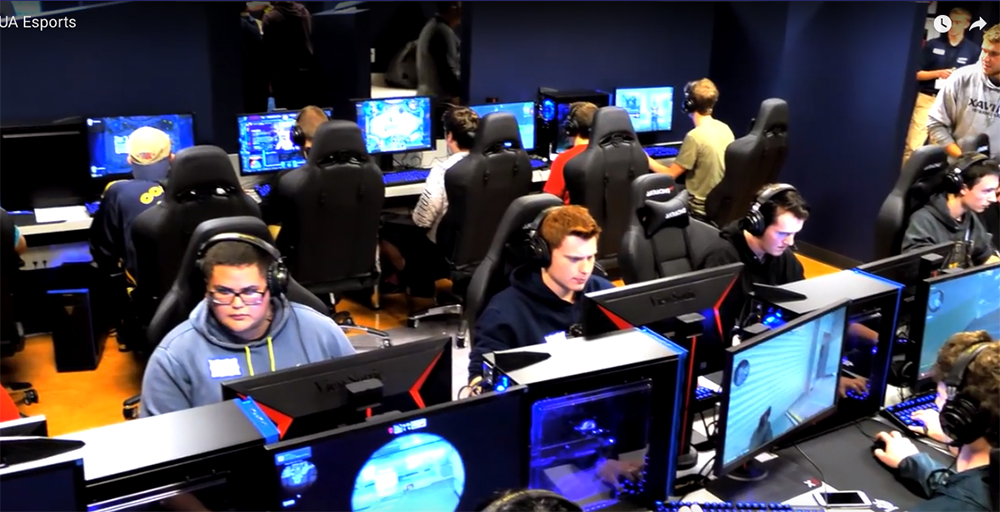 "It's a tremendous honor to be able to represent UA on the national stage for the second time within the esports program's first year," said Michael Fay Jr., director and head coach of esports at UA. "The players have really put in the work needed to go from an unfamiliar group of gamers to a high-performance team of elite competitors in well under a year and they've earned the opportunity to showcase the improvement they've achieved as part of the NCAA Final Four Fan Fest."
RELATED: Watch highlights from Akron Rocket League's win at the Collegiate Rocket League (CRL) Northern Conference Championships.
Sixteen teams qualified to compete within the Northern Conference for the inaugural Spring 2019 CRL season, including The Ohio State University, Kansas State University, University of Nebraska, University of Michigan, and most notably, the University of Illinois - Urbana-Champaign, Akron's opponent from the previous Fall 2018 CRL Northern Conference Finals. Akron Rocket League stormed through this single elimination bracket with dominant 3-0 victories against University of Wisconsin-Whitewater and Ohio State; followed by a 4-0 win against the University of Nebraska in the semi-finals. Players Isaac "Reticence" Stecker, Will "Salt" Weiser and Buzz "Buzz" Krager would meet Illinois in the Finals for a second season and win the best-of-seven match 4-2; concluding with a tremendous 7-0 victory against their Northern Conference rivals. The team scored 51 goals to their opponents 20 collectively across the 15 games they played within their conference this season.
"I believe that our program's ability to provide organizational support and analytical resources to build on the world-class talent these players bring to bear here at The University of Akron every day will go a long way to set them apart from the competition," said Fay. "No college Rocket League team in the country has spent more time competing in a LAN environment or in front of a live audience like the one we provide at Akron on a regular basis and I think that's going to show in Minneapolis."
---
Media contact: Alex Knisely, 330-972-6477 or aknisely@uakron.edu.