Get on your feet and turn up the heat: Studying salsa dancing
12/05/2019
As popular as salsa dancing might be — whether it's seen in movies or on dance competition TV shows — many people are unaware of the rich history behind the moves.
According to Dr. Martha Santos, an associate professor of history at The University of Akron, there are millions of people finding a great deal of enjoyment in salsa dancing, but few know or understand the complex structure of salsa, its origins, its history, and its strong ties to immigration processes and cultural identities, both in Latin America and the United States.
Santos is out to make that point in her new course "Salsa: History in Motion." The course, which combines elements of history and dance, is an "unclass" — a for-credit course that is not tied to any specific major, but is open to students from any academic background and involves hands-on learning activities.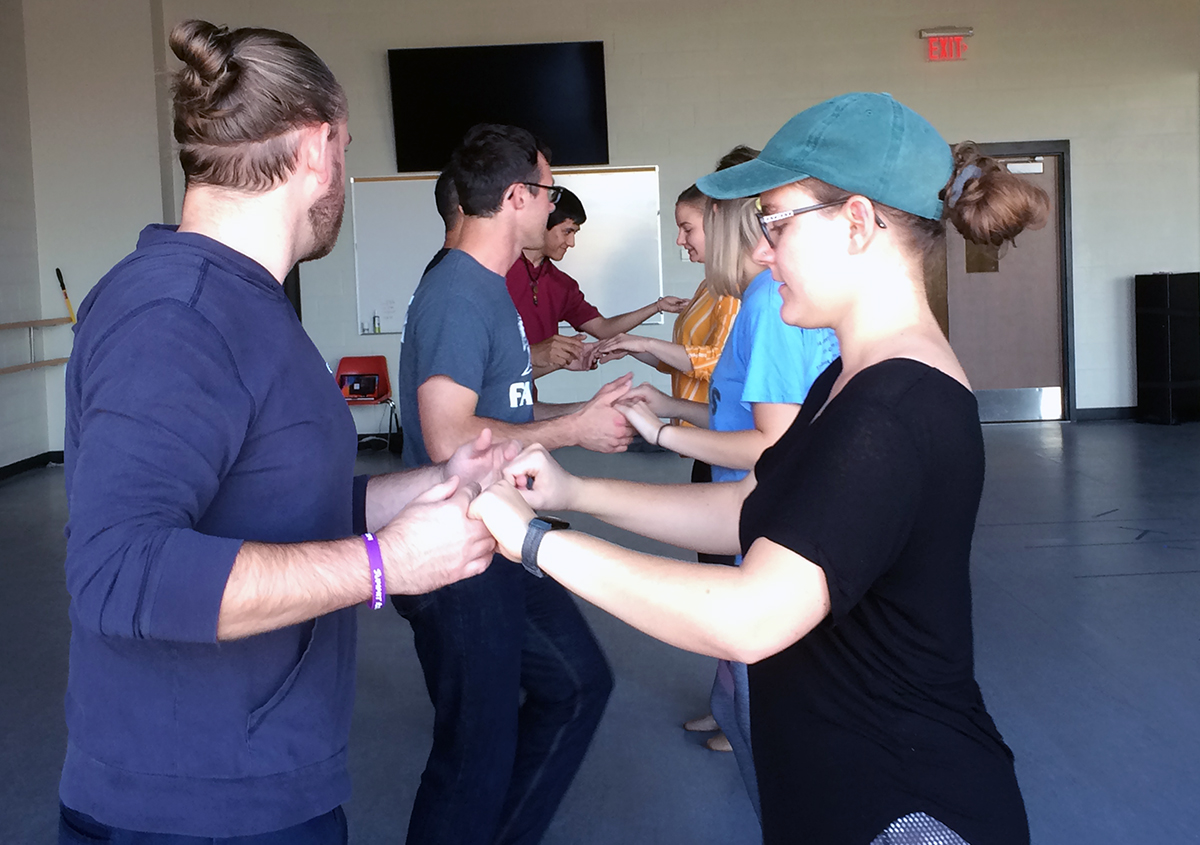 Students in the "Salsa: History in Motion" unclass step outside the classroom and into a dance studio to learn the movements of salsa dancing. — Photo by Dr. Martha Santos
In the course, students examine and experience the history, aesthetics and movement of salsa dancing. Rather than being a purely intellectual exercise in which students only analyze written texts and visual materials on salsa history, explained Santos, this unclass makes the embodied practice of salsa dancing a central component of the learning experience. In addition, students learn to dance salsa, while appreciating the complex history behind it.
"I think the dance becomes 'cheap' when it's done without understanding that salsa dancing gets its movements from other dances that originated centuries ago, particularly in Cuba. Those movements often represent harsh times for many people, especially those of African descent. They are dances of resilience and survival. Some of these were prohibited dances, slave dances. The students in my course are really appreciating these complexities," said Santos.
The course meets twice a week. In the classroom on Wednesdays, the nine students examine how dance and music can shape social and cultural identity through lectures and discussions of scholarship from the fields of music history, dance history, anthropology and cultural studies. On Mondays, the students meet in Guzzetta Hall with dance instructor Lenin Guerrero Maldonado, director of Salcity of Angels Dance Co. near Cleveland. Guerrero guides the students in dance to help them become acquainted with several of the rhythmic "ingredients" of salsa.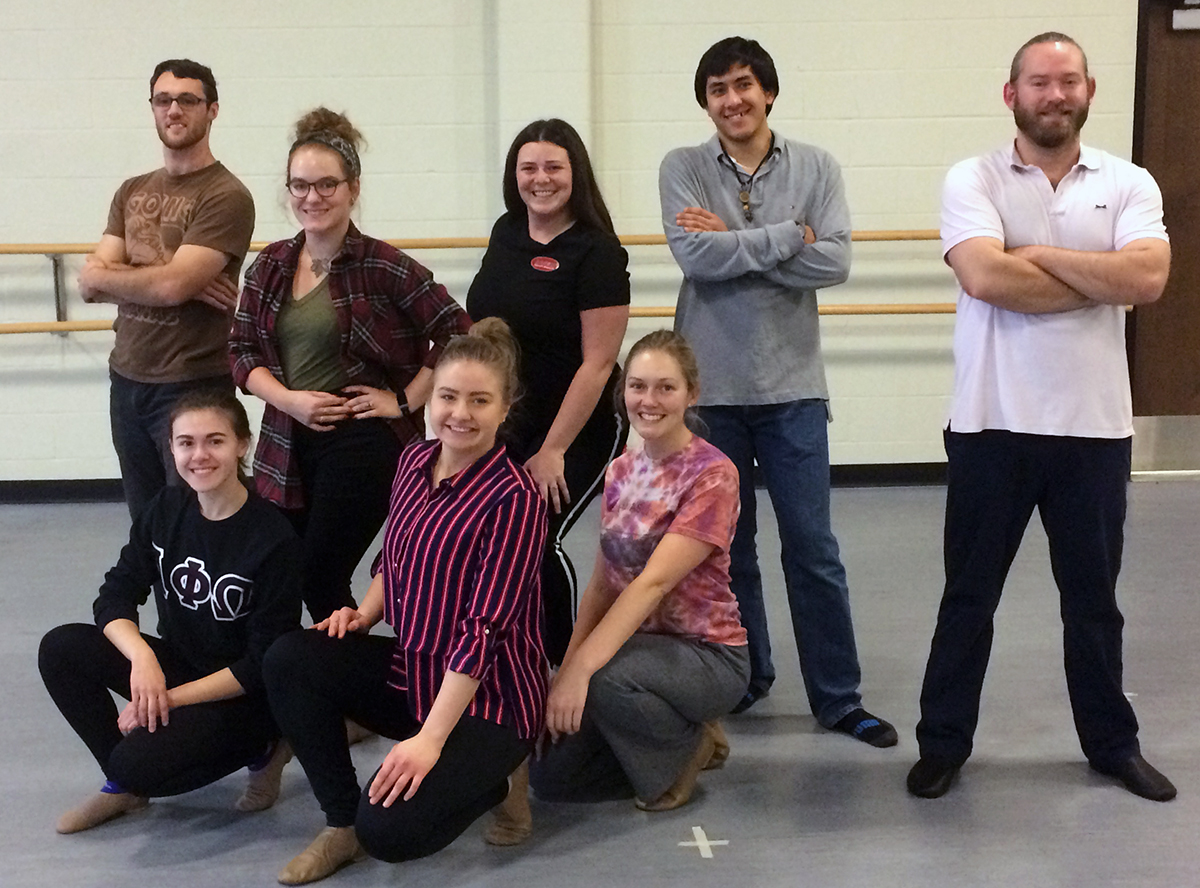 Students in the "Salsa: History in Motion" unclass pose together in a dance studio after being guided in the movements of salsa dancing by instructor Lenin Guerrero Maldonado, far right, director of Salcity of Angels Dance Co., near Cleveland. — Photo by Dr. Martha Santos
One of the reasons Santos, a self-admitted "obsessive salsa dancer," wanted to offer the course was to take advantage of the dance's popularity in the U.S., even in northeast Ohio, where she said there's an opportunity every night of the week to find a place to salsa dance.
"There are lots of theories on why salsa dancing is so popular," Santos said. "These Latin dances are partner dances. In the 1950s and 1960s, a lot of people in the U.S. danced structured partnered dances, but they went away from it in the late 60s and dancing solo became fashionable in clubs. But salsa is a 'touch' dance that emerged in the 1970s and helped bring popularity to partner dancing again. In salsa, you hold someone. Somehow, it's fulfilling a certain connection that people might not want to admit that they want to have. Also, salsa dancing is often marketed in popular culture as the 'hot dance.' When people see Latino celebrities such as Jennifer Lopez or Mark Anthony, they want to try these 'exotic' dances. People respond to the selling of Latin dances as hot, exotic and sexual."
Students in the course are also assigned to participate in a class Tumblr blog to reflect their own experiences and responses to what they're learning. One student humorously wrote this class is redemption for botching a dance routine in an elementary school play. Another student, a sophomore Spanish and biology double-major, wrote that her desire to take this course stemmed from interest in Latina culture after studying abroad and attending salsa dances in places such as Spain, Peru and Puerto Rico. Another student wrote that what he enjoys most about studying salsa is learning the dance movements and stories of the people from centuries ago who came together to create the art forms that influenced salsa dancing.
Another way in which students are expressing their personal experiences is through their participation in the "Video Production" course instructed by Juan Contreras, general manager of Z-TV and a professor of practice in the School of Communication. In that course, students created a news package about the unclass, complete with interviews with Santos and her students. They are now producing a short documentary and a longer formatted documentary about the course. Students gather footage, interview the subjects and edit the material.
"I am blown away by the effort of students in my class," said Santos. "This is a life-changing experience for me and I think it is for them. I've even seen myself become closer to my students through our connection in dancing together in this class."
The course culminates with students performing a group choreography project on Friday, Dec. 6, at 1:30 p.m. in Guzzetta Hall, Studio 194.
---
Media contact: Alex Knisely, 330-972-6477 or aknisely@uakron.edu.
Share