Good morning, Vietnam! Akron Law professor to teach at Hanoi Law University as a Fulbright Scholar
05/06/2019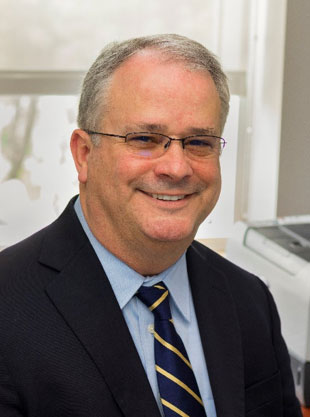 Patrick H. Gaughan, associate professor of law and associate dean of global engagement at The University of Akron School of Law, has been accepted as a Fulbright Scholar to Hanoi Law University in Vietnam for next year's spring term. He will be the first U.S. Fulbright Scholar to teach at Hanoi Law University and is the first Core U.S. Fulbright Scholar among Akron Law faculty.
Through the Fulbright Scholarship, Gaughan hopes to expand the relationship between Akron Law and Hanoi Law. Gaughan initiated discussions with the school in early 2016 and met with officials in person in Hanoi that summer. He traveled to Vietnam again in January 2017 along with then-University of Akron president Matthew J. Wilson, who signed a memorandum of understanding with the president of Hanoi Law.
Gaughan's preliminary plans include the cross-development of instructional programming and some real-time video coordination of existing international course offerings. Gaughan hopes that these activities will culminate in a Vietnam Summer program with Hanoi Law to complement Akron Law's existing programs in Japan and Korea. Gaughan also hopes to conduct research into the international legal context of public-private partnerships.
"Thanks to the support of the Fulbright Program, and the enthusiastic engagement of both Hanoi Law and Akron Law, I am really looking forward to the potential presented by this unique scholarly experience," Gaughan said.
At Akron Law, Gaughan currently teaches Entrepreneurship, Contracts, Basic Business Associations, Corporations, Uniform Commercial Code (UCC) Sales, and The Valuation of Firms and IP. Gaughan's research interests also include the relationship between international business and law.
Gaughan joined the Akron Law faculty in 2014 after 11 years at Youngstown State University. He continues to support entrepreneurs through his activities at the Youngstown Business Incubator. He holds a J.D. from the University of Virginia School of Law; a Ph.D. in Business Administration from Cleveland State University; an M.B.A. from Trinity College Dublin in Ireland; and a B.A. in Political Science/Religion from Columbia University. Gaughan is also licensed as an attorney in Ohio.
"We are thrilled that Professor Gaughan's innovative research has been recognized with the award of a Fulbright Scholarship," said Christopher J. (C.J.) Peters, dean of Akron Law. "We also are excited about the prospect of a stronger relationship between Hanoi Law and Akron Law as a result of Professor Gaughan's visit."
About the Fulbright Program
Established in 1946 and sponsored by the United States Department of State, the Fulbright Program is the U.S. government's flagship international educational exchange program. Its aim is to increase mutual understanding between the people of the United States and the people of other countries. The program seeks to achieve these goals by providing funding for students, scholars, teachers, artists and professionals to undertake graduate study, advanced research, university lecturing and teaching in countries across the world. For more information, see https://eca.state.gov/fulbright.
---
Share