International students find support and success at Akron Law
01/16/2020

International students come to The University of Akron School of Law from countries across the globe: Brazil, Canada, China, Ghana, India, Nigeria, South Korea and more. They bring with them a variety of different undergraduate and often graduate credentials, and they follow different paths through law school and into — or back into — their careers.

"They also contribute to a richer, more worldly, law school experience for all our students," Akron Law dean Christopher J. (C.J.) Peters said. "Right now we have a dozen international students among our J.D. (Juris Doctor) enrollment of about 420," Peters continued. "Although we anticipate that the program will continue to grow, we take a very conservative approach to these admissions decisions to ensure the potential for success, particularly with applicants for whom English is a second language."
An attractive joint degree
Zhenlong (Max) Zhang, a 2020 J.D. candidate, came to Akron Law in 2017 after earning a B.A. in English language and English literature from Liaoning Normal University in China, an MBA from Bloomsburg University of Pennsylvania, and then working in New York for most of five years. He chose Akron for its joint J.D./Master of Science in Accountancy program.
"There aren't many programs like this," he said. "It's very rare. You can get both degrees in three years."
When Zhang was in New York, he lived in a community where 60% of the people were born overseas. 
"I saw how seriously this population was underserved when it came to legal representation," he said. "People were getting in trouble for things like selling DVDs and watches on the street. The police would cite them and confiscate their inventory. They were devastated. Others might have had a business background, but they didn't understand how taxes work in America."
Along with pursuing the two degrees, Zhang also competes on the Akron Law trial team. He intends to graduate in May with a Certificate in Litigation so he can argue his clients' cases in court. And he may pursue CPA certification in the future, he said.
An accelerated J.D.
One of Akron Law's distinctions is its accelerated two-year J.D. program for foreign-trained lawyers. Only 25 other law schools in the country offer this type of program, according to The International Jurist.
As Peters explained, the Bachelor of Laws (LL.B.) degree is no longer offered at universities in the U.S., but it is the standard prerequisite for becoming a lawyer almost everywhere else in the world. When holders of an LL.B. wish to sit for a bar exam and practice law in the U.S., however, they are required by most states to obtain a J.D. first.
"The American Bar Association allows us to transfer up to 29 credits from a qualified foreign law degree program toward a J.D. degree at Akron Law," Peters said. "Such a student would need only 59 credits — the equivalent of four semesters — to graduate. Our accelerated J.D. students must take all of the regular first-year classes, and the second-year curriculum is fairly fixed too."
After graduating, the holder of the accelerated J.D. (which has the same value as the three-year J.D.) can sit for the bar exam and become a licensed U.S. attorney in any state. This is in contrast to the specialized LL.M. degree, which is widely promoted to international lawyers, Peters added. Only a few states allow foreign lawyers with an LL.M. to take the bar exam.
Akron's Peruvian diplomat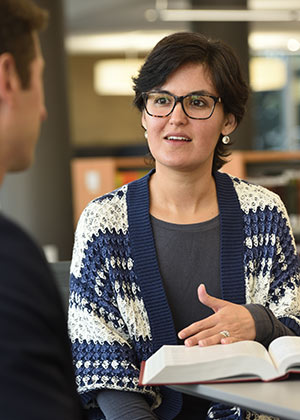 Magaly Norton, a 2020 J.D. candidate, is a native of Peru with an LL.B. from the University of Lima and an M.A. from the Diplomatic Academy of Peru. After serving in the Peruvian diplomatic corps for eight years, including a posting to Switzerland, she took a leave of absence to come to the U.S. with her husband, an American who works as a freelance interpreter and translator.
While they were living in Washington, D.C., she started looking into adding a J.D. to her resume. When her husband's work took him to Ohio for a time, she visited Akron Law and liked it. The accelerated J.D. program was exactly what she was looking for.
"I'm really glad I decided to go to Akron Law," she said. "I'm benefitting from a good, affordable, and flexible program that allows me to earn a J.D. in two years. I will return to my career as a diplomat in September better equipped, having Peruvian and American law degrees."
Opting for the traditional J.D.
Like Norton, Aditya Ghatpande, J.D. '19, came to Akron with an LL.B. from a foreign university (ILS Law College in India) and a plan to enroll in the accelerated J.D. program. But he opted for the traditional three-year J.D.
"Looking back, it was a good decision. I wanted to take as many bar exam prep courses as I could, and I wanted to take enough courses to earn a litigation certificate and a business law certificate. I thought it would enable me to graduate more qualified for employment," he said.
Ghatpande applied to a dozen law schools offering an accelerated J.D. for foreign lawyers and was accepted at seven or eight of them. But when he realized how high the cost of living was in most of those cities, he looked more closely at Akron. He saw that the cost of living was reasonable, and the school had high rates for bar passage and employment.
"Akron Law was definitely the best choice. The people were very helpful during the entire application and getting-started process. It's a very collegial atmosphere," he said.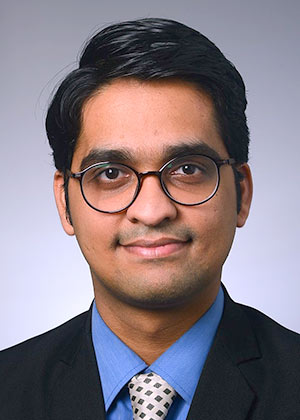 "One of the things I loved that contributed to my overall success was being involved with the student organizations. I was an executive board member of the International Law Society throughout my time at Akron Law. The society has a program that pairs an incoming international student with an American to smooth the transition. That was a great help to me."
A few months after graduating in May, Ghatpande started work in the legal department at Cafaro Co. in Niles, Ohio. Cafaro is the largest privately owned shopping center development and management company in the country.
He was admitted to the bar in November, but he's not finished at The University of Akron. He was just accepted into the Saturday MBA program at the College of Business Administration and will start in the fall.
"I'm doing it to better understand the business end. I think that will help me in my role as an attorney at the company," he said.
For more information
Learn more about the accelerated Two-year International J.D. Program. International applicants to the traditional three-year J.D. program should apply through the regular admissions process. In either case, it is advisable not to delay your application, given the time required to obtain a student visa.