Internship program immerses students in med-tech commercialization
10/06/2020
A six-week summer internship program at Northeast Ohio Medical University (NEOMED) in Rootstown, Ohio, provided a unique opportunity for University of Akron School of Law students Colton Orr (3L) and Luke Elbert (1L) to learn about medical technology commercialization while making valuable connections with researchers, investors, professionals, and peers.
The Future MedTech Entrepreneur Internship program was established in 2019 with the support of the Burton D. Morgan Foundation of Hudson, Ohio. Offered through NEOMED's REDIzone business incubator, the program aims to create a regional ecosystem supporting the next generation of health care entrepreneurs.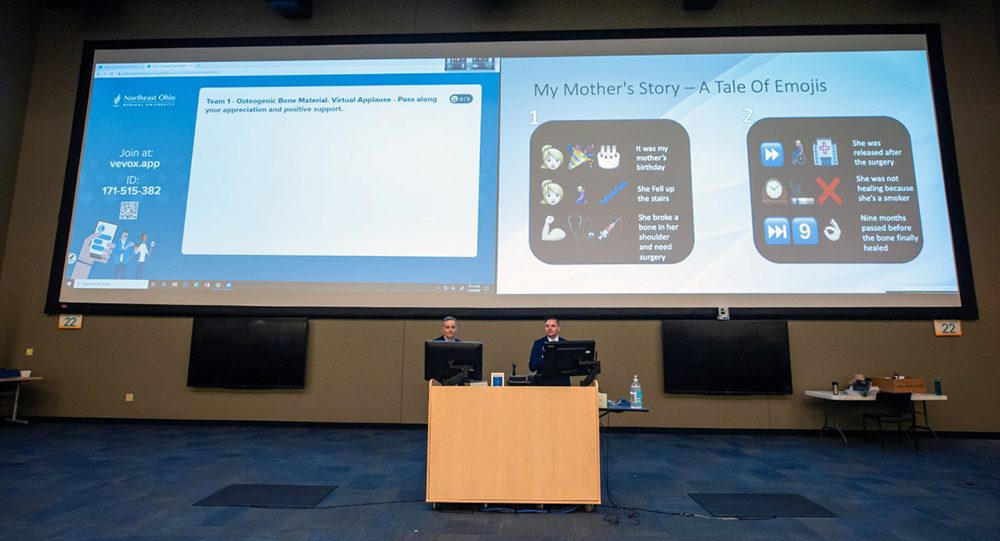 Akron Law's Colton Orr (right) makes his pitch in the wrap-up event at Future MedTech Entrepreneur Internship program. To Orr's right is his teammate, Ezio Cutarelli, an MBA candidate at Youngstown State University.
"The program started as an experiment," explained Elliot Reed, executive director for innovation, commercialization and economic development at NEOMED and REDIzone program manager. "Could medical, pharmacy, business and law students come together and experience the key commercialization concepts needed to become the future leaders in medical innovation with the goal of improving global health care outcomes?"
Learn, watch, do
Orr and Elbert were among the 12 interns and one extern selected from 27 professional student applicants to be part of the Class of 2020. The format was reconfigured to be mostly virtual due to COVID-19.
In the first two weeks, students participated in classroom instruction and discussion with successful medical technology entrepreneurs and professionals. In the next two weeks, students observed and analyzed investment presentations by entrepreneurs to the Innovation Fund of Lorain County.
The students then had two weeks to apply what they'd learned and prepare their own investment pitch of a technology being developed at NEOMED. For the culminating Pitch Day experience, accommodations were made for both live presentations on the NEOMED campus and via livestream.
Training for tech transfer
Orr, who earned his bachelor's degree in chemistry at UA, found the NEOMED internship program to be a perfect fit with his plans for a career in technology transfer.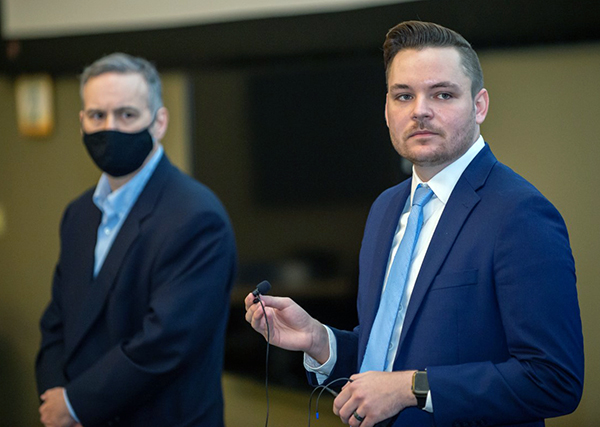 Colton Orr (right) with his pitch teammate Ezio Cutarelli.
"I had worked with medical technologies on an externship last year with the tech transfer office at Summa Health, and I worked as a legal intern for almost a year at the University's tech transfer organization," Orr said.
"The awesome part of the MedTech program was the opportunity to interact with the other students," Orr continued. "The pharmacy students did a great job of walking us through the regulatory issues for drugs. My background was strong on the intellectual property (IP) side. And of course, the medical students have a great understanding of medical terminology and anatomy. You could see how it really takes bringing all those areas together to succeed."
In addition to courses in IP law and studying for the patent bar exam, Orr is also working on a research project for Professor Mark Schultz, director of UA's Center for Intellectual Property Law & Technology. Orr is creating an overview of the technology transfer process in the United States that will support Schultz's role as an advisor to the legislature in India, which is considering adopting the U.S. system.
From pharmacy to IP
Like Orr, Luke Elbert also brought relevant credentials— a Doctor of Pharmacy degree — to the program, along with his legal studies.
"The MedTech internship was a great overall experience for me because I don't have much business background," Elbert said. "I enjoyed learning how to align a reimbursement strategy with marketing goals and how to protect new ideas through intellectual property."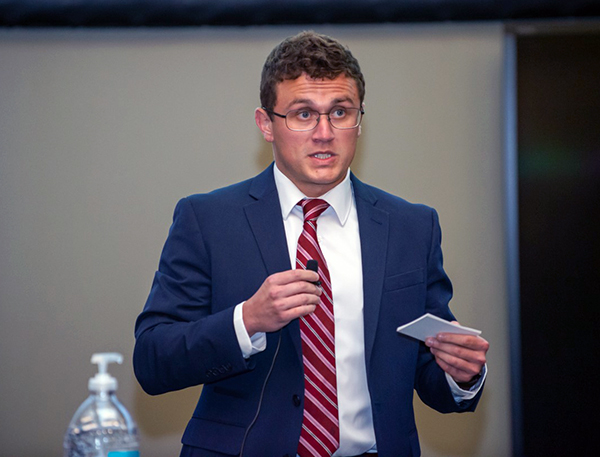 Luke Elbert pitches his technology on Pitch Day.
One of the most interesting things, he said, was sitting in on the closed-door meeting where the Innovation Fund team decided if they were going to invest in any of the startup companies they had just heard from.
"There was one pitch I worked on that I thought, wow, what a great idea," Elbert said. "But the investors identified weaknesses that had nothing to do with the technology itself — like that big companies are already in the space so the startup was never going to have the freedom to operate."
As Elbert had hoped, the internship experience was in line with his plan of focusing on IP and going to work for the Food and Drug Administration (FDA) following law school. His ultimate goal is to work in IP law for a pharmaceutical or medical device company.
"The biggest thing for me this summer was getting an understanding of the regulatory complexities involved in obtaining FDA premarket approval," Elbert said. "I think the regulatory side is a big part of health law that not a lot of people want to do. But that's where my interest is."
Program to evolve
The Future MedTech Entrepreneur program is expected to evolve into a graduate certificate in entrepreneurship and innovation, Reed announced at the Pitch Day event. The certificate would be offered to the same set of professional graduate students, and the program would have the same interdisciplinary emphasis at its core. He expects that the certificate will have more value in the marketplace than an internship, and that more students would be able to earn it.
Watch the REDIzone pages of the NEOMED website for updates on the program.
Related: Akron Law student's IP prowess adds value in 2019 internship program
---
Media contact: Lisa Craig, 330-972-7429 or lmc91@uakron.edu.
Share