Justice Yvette McGee Brown to speak at Law School Commencement
04/21/2021
Former Ohio Supreme Court Justice Yvette McGee Brown will be the keynote speaker at the 2021 Commencement of The University of Akron School of Law on Sunday, May 16, at 2 p.m. at InfoCision Stadium. This year's ceremony marks the law school's 96th commencement.
"We are honored to have Justice McGee Brown speak to our graduates and their families at the 2021 commencement as the students embark upon their legal careers," said Christopher J. (C.J.) Peters, dean of the law school. "She offers a wonderful example of a lawyer who has excelled in both the private and public sectors. Justice McGee Brown practiced law, served as a Common Pleas Court judge, and developed and led a child and family advocacy center on her way to becoming a Justice on the Supreme Court of Ohio. All the while she has devoted her time and talent to numerous professional, civic and volunteer organizations and corporate boards.
"For the past eight years, she has been a partner at the global law firm Jones Day, where a number of Akron Law alumni are also employed, and where two Class of 2021 graduates will work after passing the bar."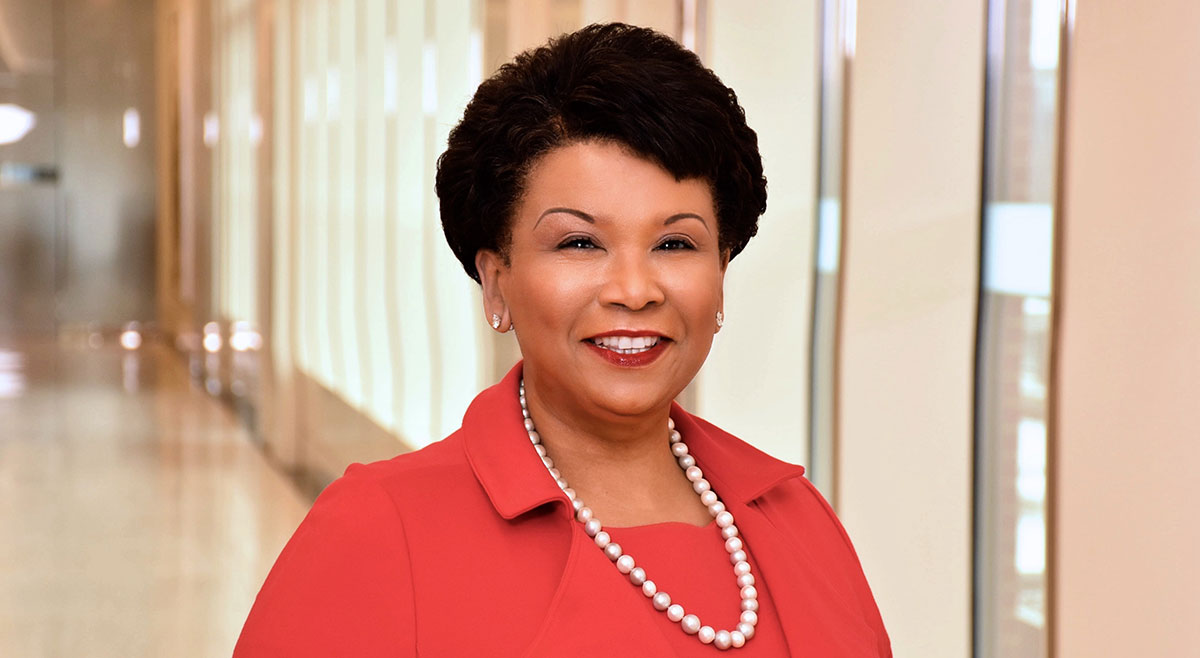 Yvette McGee Brown
A series of firsts define the judicial and professional career of Yvette McGee Brown. In 1992, she became the first African American woman elected to the Franklin County Common Pleas Court. She was the founding president of the Center for Child and Family Advocacy at Nationwide Children's Hospital. And, in January 2011, she became the first African American woman to serve as a Justice on the Supreme Court of Ohio.
She was appointed to the court by former Ohio Governor Ted Strickland to fill the seat vacated by Justice Maureen O'Connor, who became Chief Justice in November 2010. Today, McGee Brown is the partner-in-charge of diversity, inclusion, and advancement at Jones Day, where she represents clients in litigation and appellate matters.
McGee Brown was elected to the Franklin County Court of Common Pleas, Domestic Relations and Juvenile division, in 1992. As lead Juvenile Court judge, she led the creation of the Family Drug Court and the SMART Program, a truancy and educational neglect intervention program. She served on the Common Pleas Court until 2002, when she retired from the bench to create the Center for Child and Family Advocacy at Nationwide Children's Hospital. The Center is a multi-disciplinary child abuse and family violence program that co-locates prevention, assessment, treatment, research and advocacy services for children and families experiencing abuse.
In addition to her professional work, McGee Brown is an active community and corporate leader. She serves on the National Council for The Ohio State University Moritz College of Law, and the board of directors for Encova Insurance, Claremont McKenna College, and The African American Leadership Academy. She has also served on the board of directors for Ohio University, M/I Homes, Fifth Third Bank of Central Ohio and The Dave Thomas Foundation for Adoption. She is a former chair of the United Way of Central Ohio, The Ohio State University Alumni Association and the YWCA Columbus Board of Directors.
Savoy Magazine recognized her as one of the 2019 Most Influential Women in Corporate America, and she was honored by The American Red Cross as Humanitarian of the Year, 2019.
She is included in The Best Lawyers in America, including 2020 Lawyer of the Year. The American Lawyer recently recognized her as a Midwest Trailblazer. She has been inducted into the Ohio Women's Hall of Fame and the Central Ohio Business Hall of Fame.
McGee Brown graduated from Ohio University with a degree in Journalism/Public Relations. She earned her Juris Doctorate from The Ohio State University Moritz College of Law. She has honorary degrees from Urbana University, Ohio Dominican University, and Wilberforce University.
She has three adult children and two grandchildren. She is married to Tony Brown, a retired educator.
Related:
---
Media contact: Lisa Craig, 330-972-7429 or lmc91@uakron.edu.
Share