Kudos for UA's bar exam prep, low student debt
12/02/2016

It goes without saying that the bar exam is the most essential test for aspiring lawyers. Preparing for this all-important step for a career in law gets much attention at Akron Law, and according to The National Jurist magazine, UA's School of Law has been named one of the Top 40 best schools in the nation for bar exam preparation. The study will be published in the Winter 2017 issue.

Once a law student has passed the bar and landed his or her first job, there is the repayment of student loans to consider. U.S. News and World Report analyzed the indebtedness of law school graduates in 2015, and Akron Law students have the lowest debt when they graduate of any Ohio law school, according to an analysis by JDJournal.com.

Both of these indicators signify student success for anyone considering law school at The University of Akron (UA).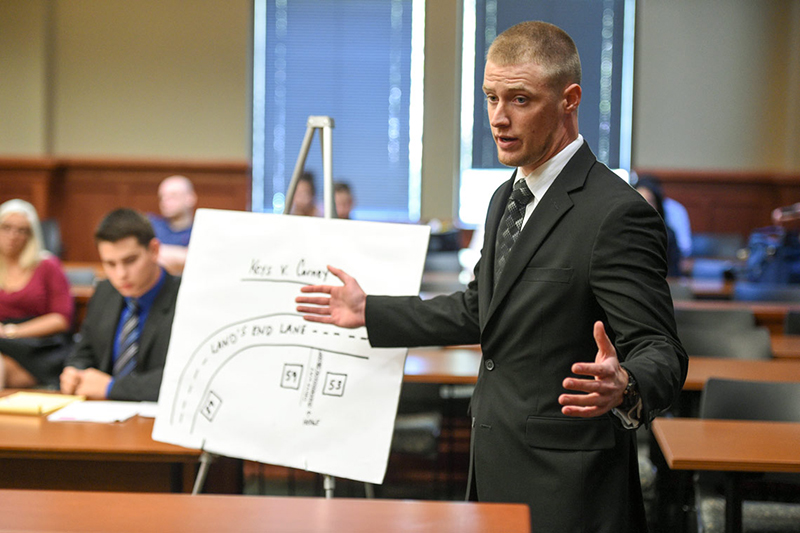 ---
"Championing the success of our students is our top priority," said Ryan Vacca, co-dean of Akron Law. "We've made a concerted effort to keep the cost of legal education low while also providing students with the tools to succeed on the bar exam and in their careers. I'm proud of the dedication and hard work of our students, faculty and staff that has resulted in these well-deserved recognitions."
RELATED
Sarah Cravens, co-dean of Akron Law, affirmed the law school's commitment. "We are focused on providing the very best for our students, from top-notch foundational doctrinal courses to innovative skills and experiential training," she said. "And we look out for them from before they start orientation, with free workshops on how to succeed in law school, and beyond when they leave our classrooms with scholarships to defray their bar study costs."
The National Jurist study predicts bar exam pass rates using average LSAT scores, then identifies the schools that perform better than expected. Akron Law was among forty law schools that performed 4 percentage points better than predicted for the classes of 2013 and 2014, the most recent data available at the time of the study.
Extensive support to students is key
"Akron Law provides extensive support to students preparing for the bar exam," stated Nancy Reeves, the director of academic success programs at the law school. "That support includes unlimited essay review, individual tutoring, phone and email support, workshops, and an early start study group the semester before graduation."
In addition, she said, almost half of the students in each graduating class take Advanced Legal Applications in their final semester. "ALA teaches the skills necessary for our alumni to effectively communicate their legal knowledge to the bar examiners, while serving as a review of select content on the exam," continued Reeves. She added that Akron Law also makes financial support available to every graduate to ensure each has access to a commercial bar preparation course.
Barbara C. Weinzierl, chief of staff to UA's president and assistant dean for admissions and strategic initiatives at the law school, explained the cost efficiency of the degree.
Akron Law a 'Best Value'
"Akron Law's very affordable tuition, generous scholarships for incoming students that are guaranteed for their entire law school career, and the very reasonable cost of living in Akron make Akron Law very affordable and a best value law school," she said. "In addition, through the generosity of alumni and friends, after their first year of law school, students can apply for extensive upper division scholarships."
These recent recognitions join the list of distinctions for Akron Law, including a national ranking in the first tier of U.S. law schools by Above the Law based on objective outcomes such as quality employment, affordability, and alumni satisfaction. Akron Law's clinics, national championship trial team program, and intellectual property program have also received national recognition.
---
Media contact: Lisa Craig, 330-972-7429 or lmc91@uakron.edu.