National party leadership comes once again from UA
12/15/2016

Ohio is known as the home of many of our country's presidents. It is now becoming home to superstars of the Republican National Committee. The University of Akron's Ray C. Bliss Institute of Applied Politics is named for the Akron native who became a living legend in the Republican Party, serving as its national chairman from 1965 to 1969.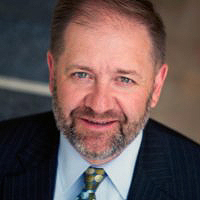 Robert Paduchik
Now, following in the footsteps of Ray C. Bliss ('35) is UA political science graduate Bob Paduchik ('89), the recently named deputy co-chair of the Republican National Committee. Serving as the manager of President-Elect Donald Trump's successful campaign in Ohio propelled him into the national party's second-highest position.
Dr. John C. Green, the director of the Bliss Institute of Applied Politics, taught Paduchik and has followed his career.
"Ray Bliss would be very proud of Bob's accomplishments in 2016 and in previous Ohio campaigns," said Green. "He is one of the many Bliss Institute alumni — Democrats and Republicans — who are excelling in the nuts-and-bolts of practical politics."
Paduchik, a Tallmadge native, entered The University of Akron in 1985. He won election as student government vice president by seven votes. He received a Bliss scholarship, volunteered for Vice President George H.W. Bush's 1988 presidential campaign, and earned a bachelor's degree in political science in 1989.
In 2000, Paduchik began to make his mark nationally by managing Texas Governor George W. Bush's Ohio presidential campaign. His counterpart in Vice President Al Gore's Ohio campaign was fellow Bliss Institute alumnus Derrick Clay. In 2001, the Bliss Institute honored both Paduchik and Clay with Honorary Certificates in Applied Politics.
A test of Paduchik's skills came four years later when he managed Bush's 2004 presidential reelection campaign in Ohio. He also ran U.S. Sen. Rob Portman's 2010 successful election campaign. Chris McNulty, a former RNC political director and longtime Ohio Republican political operative, said in an interview with the Cleveland Plain Dealer that he thinks. "Bob is the best campaign tactician that's ever been in the co-chair's office."
About a week before becoming appointed as deputy co-chair, Paduchik agreed to address students at "Trump's Triumph," a new class at the Bliss Institute starting in the spring.
"Paduchik is a loyal alumnus and a wonderful example of what our graduates can accomplish," said Dr. Matthew Akers, who will be teaching the course. Paduchik will join a roster of Democratic and Republican guest speakers in the course.
---
Media contact: Lisa Craig, 330-972-7429 or lmc91@uakron.edu.