Nearly two dozen UA undergraduates on path to medical school
08/10/2020
This summer, 22 undergraduate students at The University of Akron (UA) were provisionally admitted to the Northeast Ohio Medical University (NEOMED) through UA's Early Assurance Pathway (EAP) program — the most in a single year in the program's three-year history at UA.
The EAP program allows students to secure an early seat at the nationally recognized medical school in Rootstown, Ohio, so long as they maintain a 3.40 GPA at UA, earn a minimum score of 500 on the MCAT and meet other requirements.
This year, of the 25 students who applied for the EAP program, 22 were invited to interview with NEOMED and passed their interviews — punching first-class tickets to medical school before earning their bachelor's degrees.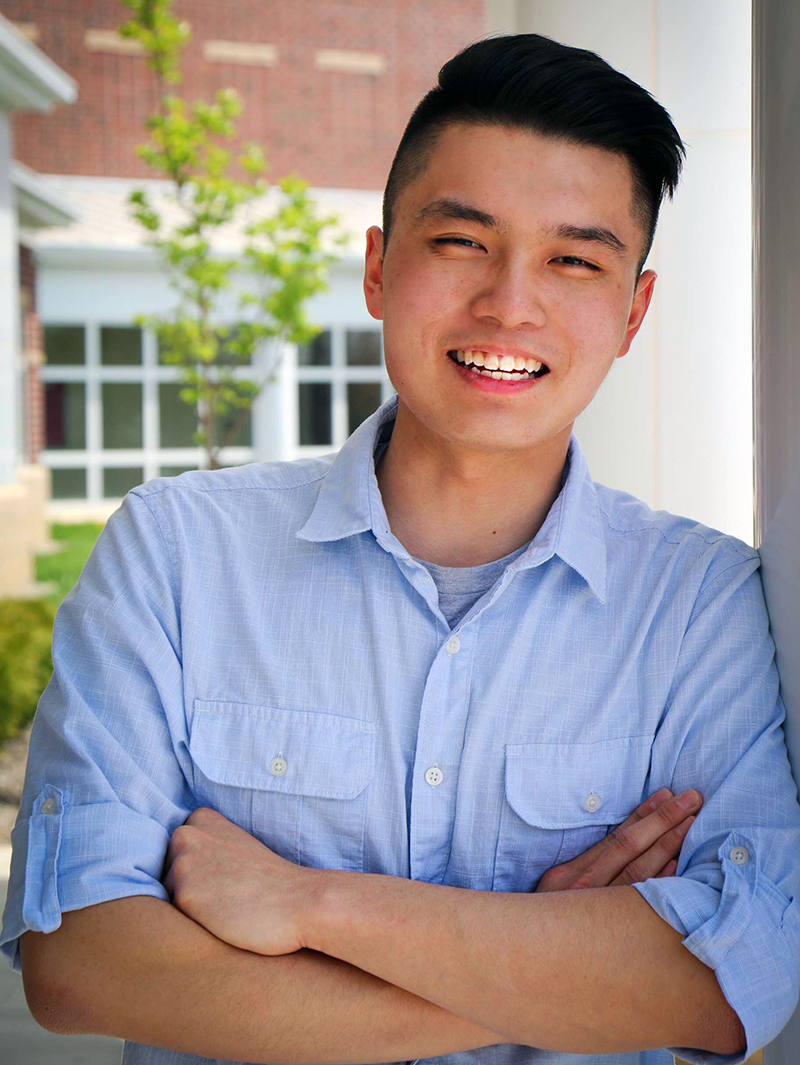 Daniel Gao
"This is a big win for our students," said Ashley Rini, the director of advising for UA's pre-professional health programs who, alongside faculty volunteers, coached the students through mock interviews. "We finally got the word out about the EAP, and students are taking advantage of this great opportunity."
Charting his course
One of those 22 students, Daniel Gao, graduated with his bachelor's degree in biomedical science earlier this spring and will begin at NEOMED in fall 2021.
"I believe that the coursework at The University of Akron will prove to be immensely helpful in my future studies," said Gao, who hopes to specialize in internal medicine and mitigate health disparities in the community. "Also, my volunteer experiences at Crisis Text Line, the Embrace Clinic and Faithful Servants … and my research with Summa Health's internal medicine department … will help me become a well-rounded physician."
---
POPULAR DEGREE CHOICE
Many of our premed students choose to major in biomedical science. Learn about the degree.
---
Knowing that his seat at medical school is secure, Gao can spend the next year gaining even more clinical experience, rather than anxiously applying for expensive medical schools, "which is known to be strenuous," he says.
Program advantages
"One of the perks of the EAP program is it's less stress and less of a financial burden," Rini added. "Applying the traditional way can get very expensive, easily $1,500 in applications for an average number of schools — and the more schools you apply to, the more expensive it gets. Students in the EAP apply to one school, and when most students would be worrying about the MCAT and the application, EAP students can just focus on the MCAT."
Another advantage of the program is that it provides a clearer and more certain path to medical school, which is notoriously competitive, and not always predictable, in its admissions.
UA also offers EAP programs for NEOMED's College of Pharmacy and the Lake Erie College of Osteopathic Medicine, including its dental and pharmacy schools. Students who have earned one year of college credit through College Credit Plus (CCP) can be provisionally admitted to these professional schools as early as their senior year of high school.
UA students prepare for medical, pharmacy, dental and other professional programs by taking advantage of UA's pre-professional health services, such as advising, mock interviews and resume building, mentoring from alumni, living-learning communities, student clubs, research with faculty and clinical experiences at nearby hospitals and clinics.
Several career options
With the help of these services, UA students who applied to medical, dental, pharmacy, optometry, veterinary and physician assistant schools had an acceptance rate above the national average last year, according to Rini.
"The University of Akron has a large amount of resources available which all students should try to utilize," Gao said. "This includes research with faculty, or elective courses such as Human Anatomy for biology majors. … All of my courses and experiences helped me score well on the MCAT and will provide me with a great foundation for my future medical studies."
---
Media contact: Cristine Boyd, 330-972-6476 or cboyd @uakron.edu.
Share